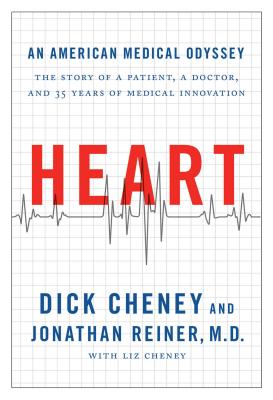 Heart (Hardcover)
An American Medical Odyssey
Scribner, 9781476725390, 352pp.
Publication Date: October 22, 2013
Other Editions of This Title:
Digital Audiobook (10/21/2013)
CD-Audio (10/22/2013)
Paperback (7/23/2016)
Hardcover, Large Print (2/12/2014)
* Individual store prices may vary.
Description
Former Vice President Dick Cheney and his longtime cardiologist, Dr. Jonathan Reiner, share the story of Cheney's thirty-five-year battle with heart disease—providing insight into the incredible medical breakthroughs that have changed cardiac care over the last four decades.

For as long as he has served at the highest levels of business and government, Vice President Dick Cheney has also been one of the world's most prominent heart patients. Now, for the first time ever, Cheney, together with his longtime cardiologist, Jonathan Reiner, MD, shares the very personal story of his courageous thirty-five-year battle with heart disease, from his first heart attack in 1978 to the heart transplant he received in 2012.

In 1978, when Cheney suffered his first heart attack, he received essentially the same treatment President Eisenhower had had in 1955. Since then, cardiac medicine has been revolutionized, and Cheney has benefitted from nearly every medical breakthrough. At each juncture, when Cheney faced a new health challenge, the technology was one step ahead of his disease. Cheney's story is in many ways the story of the evolution of modern cardiac care.

Heart is the riveting, singular memoir of both doctor and patient. Like no US politician has before him, Cheney opens up about his health struggles, sharing harrowing, never-before-told stories about the challenges he faced during a perilous time in our nation's history. Dr. Reiner provides his perspective on Cheney's case and also gives readers a fascinating glimpse into his own education as a doctor and the history of our understanding of the human heart. He masterfully chronicles the important discoveries, radical innovations, and cutting-edge science that have changed the face of medicine and saved countless lives.

Powerfully braiding science with story and the personal with the political, Heart is a sweeping, inspiring, and ultimately optimistic book that will give hope to the millions of Americans affected by heart disease.
About the Author
Dick Cheney served at the highest levels of government and the private sector for more than forty years. He was White House Chief of Staff under President Gerald Ford and was elected six times to the US House of Representatives from Wyoming, eventually becoming the minority whip. He served as Secretary of Defense under President George H.W. Bush, overseeing America's military during the 1991 Operation Desert Storm. He served as chairman and CEO of a Fortune 100 company, and as the forty-sixth Vice President of the United States, he served two terms under President George W. Bush during the dawn of the Global War on Terror, playing a key role in events that have shaped history.

Jonathan Reiner, MD, is the director of the cardiac catheterization laboratory at The George Washington University Hospital and professor of medicine at The George Washington University in Washington, DC. A graduate of the University of Pennsylvania and Georgetown University, Dr. Reiner completed a residency in medicine at North Shore University Hospital and Memorial Sloan-Kettering Cancer Center in New York. He began a fellowship in cardiology at The George Washington University Medical Center in 1990. In 1994, he completed a fellowship in interventional cardiology, which, along with the management of patients with complex coronary artery disease, remains his focus today.
Praise For Heart: An American Medical Odyssey…
"Fascinating...a must-read for anyone facing heart disease, as well as their families and friends."
— Hugh Hewitt

"Heart represents a rare glimpse into the personal side of a former vice president... with his political career behind him and the [heart] transplant a success, he decided to open up in a way he never had before."

"Extraordinary. . . . intertwines the fascinating ups and downs (mostly ups) of Cheney's political career with his heart incidents and his cardiologist's recollections of Cheney's condition and the development of cardiac medicine at the time. . . . Heart will remind readers of Dick Cheney's humanity and his long service to the nation."
or
Not Currently Available for Direct Purchase