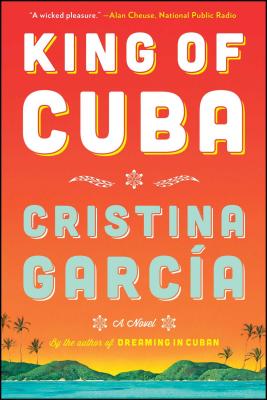 King of Cuba
A Novel
Paperback

* Individual store prices may vary.
Description
A "darkly hilarious" (Elle) novel about a fictionalized Fidel Castro and an octogenarian Cuban exile obsessed with seeking revenge by the National Book Award finalist Cristina García, this "clever, well-conceived dual portrait shows what connects and divides Cubans inside and outside of the island" (Kirkus Reviews).

Vivid and teeming with life, King of Cuba transports readers to Cuba and Miami, and into the heads of two larger-than-life men: a fictionalized Fidel Castro and an octogenarian Cuban exile obsessed with seeking revenge against the dictator. García's masterful twinning of these characters combines with a rabble of other Cuban voices to portray the passions and realities of two Cubas—on the island and off— in a pulsating story that entertains and illuminates.
Praise For King of Cuba: A Novel…
García's tremendous empathy for her characters is the magnetic force of her fiction, and her lifeblood theme is the scarring legacy of oppression and brutality, particularly the horrors and absurdities of the Castro regime. In her most honed and lashing novel to date, she goes directly to the source...An ingeniously plotted, boisterous, and brilliantly castigating tale."
— Booklist

"Garcia's writing is laced with candor and wit as she portrays the lives of two men united by the past."
— Gabe Habash

"Darkly hilarious, García braids...parallel stories with consummate ease. With a fine balance of wry absurdity and existential poignancy, García builds not just a tale of the end of days but a snapshot of the past impact and future reverberations of Cuba's revolution—a theme more fascinating than ever as the once-isolated island nation opens itself to the world."
— Elle Magazine

"Mordantly funny and insightful...King of Cuba has its roots in long-simmering political strife, but it is finally a novel about the human condition, about aging and loss and undying love for a country that once was paradise, at least in memory."
— Colette Bancroft

"[A] wry new novel, King of Cuba… tell[s] the story of two macho, aging men in alternating voices. These two narratives, interspersed with a chorus of other Cuban voices, combine to define an exhausted country and the bonds between its people."
— Bookpage

"Garcia's serio-comic novel gives us all the pop delight of a musical based on major historical events and a devastating portrait of two men and a tyrannical government on the way out. Anyone with an interest in late 20th century politics will find this book a wicked pleasure."
— Alan Cheuse

"Fabulously absurdist. Much has been written about Havana vs. Miami... but Garcia's satirical version of events...feels fresh because Garcia sets the novel in modern times. Passions may have cooled, but the anger remains, ossified but still there. King of Cuba is about wish fulfillment, that long-imagined moment for many exiles when they have a chance to confront the man they blame for ruining their country and so many lives. Garcia delivers the conclusion in style but with a caveat: Revenge isn't always what you think it might be."
— Amy Driscoll

"García takes one of the most fascinating political figures of the 20th century and…imagines him as a man—and, through him, imagines his country. [She] invests her characters and their memories with rich detail. In the end, her subject matter…is Cuba."
— New York Times Book Review

"Merges the exhaustive research of historical fiction with the suspense of a thriller. Think of King of Cuba as a beach read with great depth, the ideal vacation book for anyone interested in the history and culture of that embargoed island to the south. Whatever your view of this country's ongoing embargo with Cuba, whatever your opinion or hopes...García's book will pique your interest in all things Cuban."
— Chapel Hill Herald Sun

"This novel, for the 'initiated' in the political, cultural, and linguistic realities of the two worlds inhabited by Goyo and the Comandante, is an absolute must read. For those not initiated, it should be placed very high on the agenda of books that should be read. King of Cuba is a major achievement by Cristina García. This is an author who will leave her mark on contemporary literature."
— Philadelphia Inquirer

"A bittersweet story whose power far outweighs its simple structure. The portrait García paints of [El Coamndante]—nostalgic but utterly unsentimental, evil but magnetic — is the best thing she's ever written, a pitch-perfect study of tyranny in winter."
— Steve Donoghue
Scribner, 9781476725666, 256pp.
Publication Date: October 8, 2013
About the Author
Cristina García is the author of six novels, including the National Book Award finalist Dreaming in Cuban; children's books; anthologies; and poetry. She is the recipient of a Guggenheim Fellowship and a Whiting Writers' Award, among other honors, and is currently University Chair in Creative Writing at Texas State University-San Marcos. Visit her website at CristinaGarciaNovelist.com.