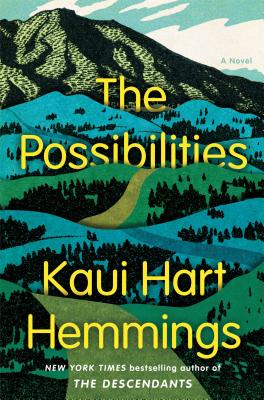 The Possibilities
A Novel
Hardcover

* Individual store prices may vary.
Other Editions of This Title:
Digital Audiobook (5/12/2014)
Paperback (2/24/2015)
Hardcover, Large Print (6/18/2014)
Description
In this highly anticipated novel from the bestselling author of The Descendants, a grieving mother struggles to overcome her son's death, when a strange girl enters her life with a secret that changes them both forever.

From New York Times bestselling author Kaui Hart Hemmings comes the highly anticipated follow-up to The Descendants.

IN THE IDYLLIC SKI TOWN of Breckenridge, Colorado, Sarah St. John is reeling. Three months ago, her twenty-two-year-old son, Cully, died in an avalanche. Though single, Sarah is hardly alone in her grief. Her father, a retiree, tries to distract her with gadgets from the QVC home shopping channel. Sarah's best friend offers life advice by venting details of her own messy divorce. Even Cully's father reemerges, stirring more emotions and confusion than Sarah needs. Still, Sarah feels she is facing the stages of grief—the anger, the sadness, the letting go—alone.

Barely ready to face the fact she will never again hear the swoosh of her son's ski pants, or watch him skateboard past her window, Sarah is surprised when a strange girl arrives on her doorstep. Unexpected and unexplained, she bears a secret from Cully that could change all of their lives forever.

Kaui Hart Hemmings highlights the subtle poignancies of grief and relationships in this stunning look at people faced with impossible choices in the wake of a tragedy. With the unsentimental and refreshingly wry style famous for presenting trouble in paradise in The Descendants, Hemmings in The Possibilities considers the difficult questions of what we risk to keep our loved ones close.
Praise For The Possibilities: A Novel…
"Kaui Hart Hemmings' novel is a graceful, subtle primer on freedom—the means by which we free (and forgive) ourselves, our parents, and our children, as well as the almost unbearable getting-of-wisdom by which we free our beloved dead. The Possibilities is familiar to us, in all its wit and intelligence, because we know the characters. We are the characters."
—Susanna Moore, author of The Life of Objects

"In smooth, nuanced prose, Kuai Hart Hemmings deftly captures the emotional hurtles that pin our day-to-day lives to the map of the universe. The Possibilities is a heartrending story of grief, resilience, and ultimately joy in all the tumult that loving other people inevitably demands. A soulful gem of a novel that reminds us to treasure every fleeting, crystalline moment of family love and our imperfect lives."
—Carol Cassella, author of Gemini

"As she did in The Descendants (2007), Hemmings deftly deploys her idyllic setting, leavens tragedy with humor, avoids sentimentality, and offers characters whom readers will find very appealing."
—Booklist (starred review)

"A strong second showing for readers who enjoy modern characters, some laughs, and a good cry." —Library Journal

"Hemmings writes a piercing, empathetic story about parenthood and unfathomable heartbreak and manages to bring humor and hope to her characters. Emotionally complex and relatable to all, it will be particularly understandable to those who've experienced the inexplicable, devastating loss of a loved one."
—Kirkus (starred review)

"A grieving mother tries to make peace with her son's death in this wry and heartwarming second novel from the author of The Descendants…With a deft and dry humor, Hemmings tackles the unique and unexpectedly humorous ways in which one is expected to mourn… a treatise on parenthood." —Publishers Weekly (starred review)

"No question this talented writer owns paradise."
—Houston Chronicle

"Hemmings has dreamed up a beguiling assortment of characters…Funny, insightful and unsentimental, the book confirms that yes, people drive each other crazy much of the time, but as often as they fail, they never stop trying to rise to the occasion."
—People (4 stars)

"What's fresh about Hemmings's book isn't the various story lines but the characters' antic personalities and the language with which she creates them… surprisingly entertaining and intermittently moving…The Possibilities is a novel about learning to move forward, even while haunted by such dark thoughts."
—New York Times Book Review

"[The Possibilities] is engagingly direct and unsentimental, somehow familiar yet richly, astutely observant and reflective. Hemmings has created a vivid, memorable group of flawed yet likable kindred spirits in whom we become deeply invested, charmed by the realistic rhythms and irreverent non sequiturs of their lively conversations."—The Boston Globe

"The Possibilities stands on its own, and despite its popular appeal, Hemmings' second novel has literary chops too….The inconsistency of humanity is gorgeous and sad and exhilarating, and Hemmings captures it as well as she ever has."
—Chicago Tribune

"The characters are so real, so warm and sympathetic, that you'd be happy to follow them to and from the grocery store just for the pure pleasure of their company. The language is frisky and funny…A gorgeous, smart book about letting go, and seeing all that remains, and then learning to cherish all the possibilities left to you with gratitude and grace."
—San Francisco Chronicle

"Lifelong Breckenridge resident Sarah St. John narrates her story with wry, honest reflections on unattained dreams, friendship and, mainly, parenthood…It feels good to be along for the ride."
—Seattle Times
Simon & Schuster, 9781476725796, 288pp.
Publication Date: May 13, 2014
About the Author
Kaui Hart Hemmings has degrees from Colorado College and Sarah Lawrence, and she was a Stegner Fellow at Stanford University. Her first novel, a New York Times bestseller, The Descendants, has been published in twenty-two other countries and is now an Oscar-winning film directed by Alexander Payne and starring George Clooney. She is also the author of a story collection House of Thieves, the novels How to Party with an Infant and The Possibilities, and the YA novel Juniors. She lives in Hawaii.
or
Not Currently Available for Direct Purchase