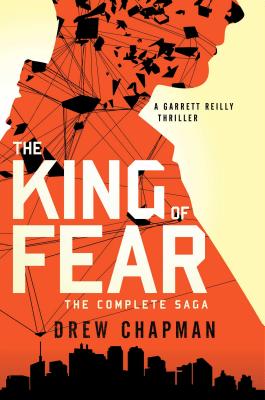 The King of Fear
A Garrett Reilly Thriller (King of Fear Series)
Paperback

* Individual store prices may vary.
Description
The blistering sequel to The Ascendant: An action-packed thriller starring a bond trader turned antihero. Unlikely patriot Garrett Reilly can identify threats against America from both inside and outside the nation's borders. But now the whole world's economy is at risk…

Garrett Reilly sees what others do not: numbers, patterns, a nation on the brink of collapse. His unique talents saved countries from falling into a world war in The Ascendant. But it also made him a marked man―marked by terrorist groups; marked by the US Government.

In The King of Fear, Garrett recognizes a string of events that could lead to economic Armageddon in the US: banks closing, grocery shelves lying empty, the nation's currency rendered worthless. Total chaos could engulf society within a matter of days. Garrett and the Ascendant team reunite to face enemies on all sides: a wounded Russia bent on keeping its crumbling empire in place, a cyber genius fixated on Garrett, a femme fatale willing to do anything to establish a new world order. In the midst of this, Garrett must also confront his own demons: his class rage, growing paranoia, and a dependency that he cannot seem to shake. After all, it only takes one card to make the whole house fall…

A hero with complete disregard for rules and boundaries, Drew Chapman's rogue genius gives readers "a wild ride through the headlines of our times" (Kirkus Reviews on The Ascendant) and this sequel will not disappoint.
Praise For The King of Fear: A Garrett Reilly Thriller (King of Fear Series)…
Praise for The Ascendant:

"Chapman's novel is The Hunt for Red October meets Hackers...a must-read for international-thriller fans."
— Booklist (Starred Review)

"Fans of Homeland and 24 will love The Ascendant--a rocket of a thriller that's fresh and cool and totally real."
— Joseph Finder, New York Times bestselling author of Paranoia and Buried Secrets

"From its first page, The Ascendant pulls you into a compellingly suspenseful story, and delivers it at a break-neck pace. Drew Chapman demonstrates the assured hand of an author on his twentieth novel, not his first. I couldn't put it down!"
— Alex Grecian, New York Times bestselling author of The Yard

"Political thriller? International thriller? Financial thriller? Whatever you call it, The Ascendant is smart, edgy, fast-paced storytelling at its best. Its unlikely hero, Garrett Reilly, reminded me of a young Jack Reacher as a tech-savvy bond analyst. Drew Chapman is a debut novelist to watch."
— Alafair Burke, bestselling author of If You Were Here

"Like his intriguing protagonist Garrett Reilly, author Drew Chapman possesses startling skills and this first novel just blows the doors off. The Ascendant is a rollicking, globe-hopping, timely and prescient page-turner—a Twenty-First Century thriller that once begun refuses to yield or loosen its grip on the reader. A stunning debut."
— C.J. Box, New York Times bestselling author of Breaking Point
Simon & Schuster, 9781476725918, 384pp.
Publication Date: February 16, 2016
About the Author
Drew Chapman has written on numerous studio movies. He also directed the indie film Standoff. Currently, he creates and writes TV shows for network television, most recently working on the TNT spy show Legends. Married with two children, Chapman divides his time between Los Angeles and Seattle.
or
Not Currently Available for Direct Purchase