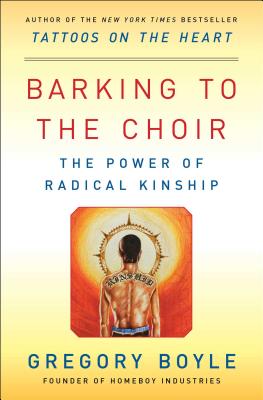 Barking to the Choir (Paperback)
The Power of Radical Kinship
Simon & Schuster, 9781476726168, 224pp.
Publication Date: September 18, 2018
Other Editions of This Title:
Digital Audiobook (11/13/2017)
Hardcover (11/14/2017)
Compact Disc (1/15/2019)
* Individual store prices may vary.
Description
In a moving example of unconditional love in dif­ficult times, Gregory Boyle, the Jesuit priest and New York Times bestselling author of Tattoos on the Heart, shares what working with gang members in Los Angeles has taught him about faith, compassion, and the enduring power of kinship.

In his first book, Tattoos on the Heart: The Power of Boundless Compassion, Gregory Boyle introduced us to Homeboy Industries, the largest gang-intervention program in the world. Critics hailed that book as an "astounding literary and spiritual feat" (Publishers Weekly) that is "destined to become a classic of both urban reportage and contemporary spirituality" (Los Angeles Times). Now, after the suc­cessful expansion of Homeboy Industries, Boyle returns with Barking to the Choir to reveal how com­passion is transforming the lives of gang members.

In a nation deeply divided and plagued by poverty and violence, Barking to the Choir offers a snapshot into the challenges and joys of life on the margins. Sergio, arrested at age nine, in a gang by age twelve, and serving time shortly thereafter, now works with the substance-abuse team at Homeboy to help others find sobriety. Jamal, abandoned by his family when he tried to attend school at age seven, gradually finds forgive­ness for his schizophrenic mother. New father Cuco, who never knew his own dad, thinks of a daily adventure on which to take his four-year-old son. These former gang members uplift the soul and reveal how bright life can be when filled with unconditional love and kindness.

This book is guaranteed to shake up our ideas about God and about people with a glimpse at a world defined by more compassion and fewer barriers. Gently and humorously, Barking to the Choir invites us to find kinship with one another and re-convinces us all of our own goodness.
About the Author
Gregory Boyle is the founder of Homeboy Industries in Los Angeles, CA. Now in its 30th year, Homeboy traces its roots to when Boyle, a Jesuit priest with advanced degrees in English and theology, served as pastor of Dolores Mission Church, then the poorest Catholic parish in Los Angeles, which also had the highest concentration of gang activity in the city. Homeboy has become the largest gang-intervention, rehabilitation, and reentry program in the world, and employs and trains gang members and felons in a range of social enterprises, as well as provides critical services to thousands of men and women each year who walk through its doors seeking a better life. Father Boyle has received the California Peace Prize, the James Beard Foundation Humanitarian of the Year Award, and the University of Notre Dame's Laetare Medal. He was inducted into the California Hall of Fame and named a 2014 Champion of Change by the White House. He is also the author of the New York Times bestseller Tattoos on the Heart: The Power of Boundless Compassion.
Praise For Barking to the Choir: The Power of Radical Kinship…
Praise for Barking to the Choir

"This is a beautiful and important and soul-transporting book. It's written by Gregory Boyle, a Jesuit priest in Los Angeles who has worked with (and loved) gang-members for decades. This book is about how to love people. How to really love people. And how to know God when you see God. . . . This is a fantastic book. Please read it." —Elizabeth Gilbert

"If you're in the market for genuine inspiration, I urge you to read Barking to the Choir by Gregory Boyle, a book that shows what the platitudes of faith look like when they're put into action." —Ann Patchett

Praise for Tattoos on the Heart

"Destined to become a classic of both urban reportage and contemporary spirituality." —The Los Angeles Times

"An astonishing book . . . about suffering and dignity, death and resurrection, one of my favorite books in years. It is lovely and tough and tender beyond my ability to describe and left me in tears of both sorrow and laughter." —Anne Lamott, author of Grace (Eventually)

"One of the bravest, most humane, heartbreaking, brilliant, and hopeful stories I've read in ages. Father Greg, the Gandhi of the Gangs, fills Tattoos with unquenchable soul force and down-to-earth love." —Jack Kornfield, author of A Path With Heart

"Father Boyle reminds us all that every single child and youth is a part of God's 'jurisdiction'—and when they know that we are seeing them as God does, they are capable of great things. Father Boyle is a national treasure." —Marian Wright Edelman, President, Children's Defense Fund

"Sometimes we are allowed to see in our own lifetimes what we were supposed to see in the life and ministry of Jesus. Read, and let your life be changed!" —Father Richard Rohr, O.F.M., Center for Action and Contemplation, Albuquerque, New Mexico

"Incandescent, always hope-filled and often hilarious. Boyle somehow maintains an exuberant voice that celebrates the strength, compassion and humanity of people often demonized. He simply highlights charity and goodness wherever they are found. Boyle intersperses his narratives about gang members and his work with them with theological and spiritual reflections from a variety of theologians, poets and other writers. By introducing book-buying, highly educated readers to people we may never otherwise encounter, Boyle aspires to "broaden the parameters of our kinship.'" —The Christian Century

"Tattoos on the Heart is an astounding book and a remarkable testament. No one brings more triumph and tragedy to the street gang story than Greg Boyle. No one brings more conviction and compassion than Greg Boyle. And no one writes the gang story more beautifully." —Malcolm Klein, Professor Emeritus, University of Southern California

"A spiritual masterpiece touching the innermost sanctum of the human soul. Boyle approaches each person as a child of God and fully deserving of love and compassion. His capacity to reach the heart of the most hardened, and to see the best in everyone, inspires. I laughed, wept, and underlined on virtually every page." —Kerry Kennedy, founder of The RFK Center for Justice and Human Rights

"An extraordinary reflection of a life totally committed to reshaping and redirecting the lives of countless young gang members (from L.A.'s gang culture), Greg Boyle's Tattoos on the Heart proves one man with courage is a majority." —Martin Sheen

"Tattoos on the Heart is an honest, raw, and compelling collection from Father Greg Boyle's life and work with gang-involved youth. His commitment should teach us all a lesson in compromise, sharing, learning, loving, and, most important, living life to the fullest." —Anjelica Huston

"In this artful, disquieting, yet surprisingly jubilant memoir, Jesuit priest Boyle recounts his two decades of working with homies in Los Angeles County, which contains 1,100 gangs with nearly 86,000 members. . . . From moving vignettes about gangsters breaking into tears or finding themselves worthy of love and affirmation, to moments of spiritual reflection and sidesplittingly funny banter between him and the homies, Boyle creates a convincing and even joyful treatise on the sacredness of every life. Considering that he has buried more than 150 young people from gang-related violence, the joyful tenor of the book remains an astounding literary and spiritual feat." —Publishers Weekly (starred review)

"A set of stories that will stir many emotions. They will leave you dumbfounded at the power of love and compassion to break down high walls built by anger and pain." —America magazine

"Jaw-dropping. Boyle take[s] us through the human lifecycle of fall/grace/redemption/repeat again and again. Reading this book is a spiritually cleansing experience that won't leave you the same. The compassion Boyle writes of is so deep and wide and strong that nobody is ever beyond its reach. Tattoos on the Heart welcomes all of us to join in the "no matter whatness" of God's unconditional love." —Sojourners



Praise for Barking to the Choir

"This is a beautiful and important and soul-transporting book. It's written by Gregory Boyle, a Jesuit priest in Los Angeles who has worked with (and loved) gang-members for decades. This book is about how to love people. How to really love people. And how to know God when you see God. . . . This is a fantastic book. Please read it." —Elizabeth Gilbert

"If you're in the market for genuine inspiration, I urge you to read Barking to the Choir by Gregory Boyle, a book that shows what the platitudes of faith look like when they're put into action." —Ann Patchett

Praise for Tattoos on the Heart

"Destined to become a classic of both urban reportage and contemporary spirituality." —The Los Angeles Times

"An astonishing book . . . about suffering and dignity, death and resurrection, one of my favorite books in years. It is lovely and tough and tender beyond my ability to describe and left me in tears of both sorrow and laughter." —Anne Lamott, author of Grace (Eventually)

"One of the bravest, most humane, heartbreaking, brilliant, and hopeful stories I've read in ages. Father Greg, the Gandhi of the Gangs, fills Tattoos with unquenchable soul force and down-to-earth love." —Jack Kornfield, author of A Path With Heart

"Father Boyle reminds us all that every single child and youth is a part of God's 'jurisdiction'—and when they know that we are seeing them as God does, they are capable of great things. Father Boyle is a national treasure." —Marian Wright Edelman, President, Children's Defense Fund

"Sometimes we are allowed to see in our own lifetimes what we were supposed to see in the life and ministry of Jesus. Read, and let your life be changed!" —Father Richard Rohr, O.F.M., Center for Action and Contemplation, Albuquerque, New Mexico

"Incandescent, always hope-filled and often hilarious. Boyle somehow maintains an exuberant voice that celebrates the strength, compassion and humanity of people often demonized. He simply highlights charity and goodness wherever they are found. Boyle intersperses his narratives about gang members and his work with them with theological and spiritual reflections from a variety of theologians, poets and other writers. By introducing book-buying, highly educated readers to people we may never otherwise encounter, Boyle aspires to "broaden the parameters of our kinship.'" —The Christian Century

"Tattoos on the Heart is an astounding book and a remarkable testament. No one brings more triumph and tragedy to the street gang story than Greg Boyle. No one brings more conviction and compassion than Greg Boyle. And no one writes the gang story more beautifully." —Malcolm Klein, Professor Emeritus, University of Southern California

"A spiritual masterpiece touching the innermost sanctum of the human soul. Boyle approaches each person as a child of God and fully deserving of love and compassion. His capacity to reach the heart of the most hardened, and to see the best in everyone, inspires. I laughed, wept, and underlined on virtually every page." —Kerry Kennedy, founder of The RFK Center for Justice and Human Rights

"An extraordinary reflection of a life totally committed to reshaping and redirecting the lives of countless young gang members (from L.A.'s gang culture), Greg Boyle's Tattoos on the Heart proves one man with courage is a majority." —Martin Sheen

"Tattoos on the Heart is an honest, raw, and compelling collection from Father Greg Boyle's life and work with gang-involved youth. His commitment should teach us all a lesson in compromise, sharing, learning, loving, and, most important, living life to the fullest." —Anjelica Huston

"In this artful, disquieting, yet surprisingly jubilant memoir, Jesuit priest Boyle recounts his two decades of working with homies in Los Angeles County, which contains 1,100 gangs with nearly 86,000 members. . . . From moving vignettes about gangsters breaking into tears or finding themselves worthy of love and affirmation, to moments of spiritual reflection and sidesplittingly funny banter between him and the homies, Boyle creates a convincing and even joyful treatise on the sacredness of every life. Considering that he has buried more than 150 young people from gang-related violence, the joyful tenor of the book remains an astounding literary and spiritual feat." —Publishers Weekly (starred review)

"A set of stories that will stir many emotions. They will leave you dumbfounded at the power of love and compassion to break down high walls built by anger and pain." —America magazine

"Jaw-dropping. Boyle take[s] us through the human lifecycle of fall/grace/redemption/repeat again and again. Reading this book is a spiritually cleansing experience that won't leave you the same. The compassion Boyle writes of is so deep and wide and strong that nobody is ever beyond its reach. Tattoos on the Heart welcomes all of us to join in the "no matter whatness" of God's unconditional love." —Sojourners



Praise for Barking to the Choir

"This is a beautiful and important and soul-transporting book. It's written by Gregory Boyle, a Jesuit priest in Los Angeles who has worked with (and loved) gang-members for decades. This book is about how to love people. How to really love people. And how to know God when you see God. . . . This is a fantastic book. Please read it." —Elizabeth Gilbert

"If you're in the market for genuine inspiration, I urge you to read Barking to the Choir by Gregory Boyle, a book that shows what the platitudes of faith look like when they're put into action." —Ann Patchett

Praise for Tattoos on the Heart

"Destined to become a classic of both urban reportage and contemporary spirituality." —The Los Angeles Times

"An astonishing book . . . about suffering and dignity, death and resurrection, one of my favorite books in years. It is lovely and tough and tender beyond my ability to describe and left me in tears of both sorrow and laughter." —Anne Lamott, author of Grace (Eventually)

"One of the bravest, most humane, heartbreaking, brilliant, and hopeful stories I've read in ages. Father Greg, the Gandhi of the Gangs, fills Tattoos with unquenchable soul force and down-to-earth love." —Jack Kornfield, author of A Path With Heart

"Father Boyle reminds us all that every single child and youth is a part of God's 'jurisdiction'—and when they know that we are seeing them as God does, they are capable of great things. Father Boyle is a national treasure." —Marian Wright Edelman, President, Children's Defense Fund

"Sometimes we are allowed to see in our own lifetimes what we were supposed to see in the life and ministry of Jesus. Read, and let your life be changed!" —Father Richard Rohr, O.F.M., Center for Action and Contemplation, Albuquerque, New Mexico

"Incandescent, always hope-filled and often hilarious. Boyle somehow maintains an exuberant voice that celebrates the strength, compassion and humanity of people often demonized. He simply highlights charity and goodness wherever they are found. Boyle intersperses his narratives about gang members and his work with them with theological and spiritual reflections from a variety of theologians, poets and other writers. By introducing book-buying, highly educated readers to people we may never otherwise encounter, Boyle aspires to "broaden the parameters of our kinship.'" —The Christian Century

"Tattoos on the Heart is an astounding book and a remarkable testament. No one brings more triumph and tragedy to the street gang story than Greg Boyle. No one brings more conviction and compassion than Greg Boyle. And no one writes the gang story more beautifully." —Malcolm Klein, Professor Emeritus, University of Southern California

"A spiritual masterpiece touching the innermost sanctum of the human soul. Boyle approaches each person as a child of God and fully deserving of love and compassion. His capacity to reach the heart of the most hardened, and to see the best in everyone, inspires. I laughed, wept, and underlined on virtually every page." —Kerry Kennedy, founder of The RFK Center for Justice and Human Rights

"An extraordinary reflection of a life totally committed to reshaping and redirecting the lives of countless young gang members (from L.A.'s gang culture), Greg Boyle's Tattoos on the Heart proves one man with courage is a majority." —Martin Sheen

"Tattoos on the Heart is an honest, raw, and compelling collection from Father Greg Boyle's life and work with gang-involved youth. His commitment should teach us all a lesson in compromise, sharing, learning, loving, and, most important, living life to the fullest." —Anjelica Huston

"In this artful, disquieting, yet surprisingly jubilant memoir, Jesuit priest Boyle recounts his two decades of working with homies in Los Angeles County, which contains 1,100 gangs with nearly 86,000 members. . . . From moving vignettes about gangsters breaking into tears or finding themselves worthy of love and affirmation, to moments of spiritual reflection and sidesplittingly funny banter between him and the homies, Boyle creates a convincing and even joyful treatise on the sacredness of every life. Considering that he has buried more than 150 young people from gang-related violence, the joyful tenor of the book remains an astounding literary and spiritual feat." —Publishers Weekly (starred review)

"A set of stories that will stir many emotions. They will leave you dumbfounded at the power of love and compassion to break down high walls built by anger and pain." —America magazine

"Jaw-dropping. Boyle take[s] us through the human lifecycle of fall/grace/redemption/repeat again and again. Reading this book is a spiritually cleansing experience that won't leave you the same. The compassion Boyle writes of is so deep and wide and strong that nobody is ever beyond its reach. Tattoos on the Heart welcomes all of us to join in the "no matter whatness" of God's unconditional love." —Sojourners