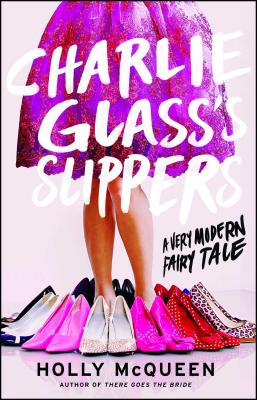 Charlie Glass's Slippers
A Very Modern Fairy Tale
Paperback

* Individual store prices may vary.
Description
In this delightful, clever spin on Cinderella, Charlie Glass—a heroine as loveable as Cannie Shapiro and Bridget Jones—inherits her father's shoe empire and snatches up a drop-dead-gorgeous, multi-millionaire Prince Charming. But is he truly the key to her happily ever after?

When Charlie's beloved father, iconic shoe designer Elroy Glass, dies after a long illness, everyone expects that he'll leave his business to his glamorous wife and eldest daughters. After all, they've been running the company for years. But Elroy surprises everyone from beyond the grave: at the will reading, it's announced that his fashion empire has been left to Charlie, his youngest—and plumpest—daughter.

Before she can run the company, Charlie decides she needs to make a few changes in her life. After several weeks at a California boot camp, she returns to London a new woman: thinner, blonder, and ready to revitalize the Elroy Glass brand. But as she'll soon discover, a good esthetician and a killer pair of stilettos can only go so far, and there's more to reinvention—and running a fashion empire—than meets the eye.

Endlessly entertaining, surprising, and ultimately inspiring, Charlie Glass's Slippers is a modern-day fairytale about finding your own magic and transforming yourself from within.
Praise For Charlie Glass's Slippers: A Very Modern Fairy Tale…
"…a humorous and fast-paced read that will appeal to fans of classic chick lit a la Jane Green, Helen Fielding, or Sophie Kinsella."
— Library Journal

"McQueen's latest tale will delight readers with its Bridget Jones-esque heroine and fluffy plot, but there is also depth here as McQueen subtly critiques today's image-obsessed society."
— Booklist

"With a bit of whimsy, a bushel of laughs and just enough light-hearted intrigue, McQueen leaves readers hoping that dreams do come true. A modern Cinderella story with a fabulous twist."
— Shelf Awareness

"This modern re-telling of the Cinderella story is great fun."
— Sunday Mirror (UK)

"Curl up with this novel for an afternoon of comfort reading."
— Daily Mail

"A romantic and funny battle-of-the-bulge read."
— Closer Magazine (UK)

"Readers will delight in McQueen's lovable cast, the dynamics of Grace's escapist romance, Bella's understated affection for Liam, and Polly's emotional revelation."
— Publishers Weekly

"An appealing heroine...readers will be cheering for Isabel to pull off a winning event against the odds. Those expecting standard chick lit fluff will be pleasantly surprised."
— Publishers Weekly

"Readers who miss Shopaholic's Rebecca Bloomwood can now cheer on Isabel."
— Booklist

"McQueen brings back the charmingly inept heroine [Isabel], for another bubbly misadventure. Isabel is a charming character whose wisecracks and personal evolution help her to stand out in the sea of airheaded urban fashionistas often found in the genre."
— Publishers Weekly

"Full of humor and spunk, this is a delightful installment in the misadventures of McQueen's charmingly farcical character."
— Booklist

"Engaging. As frivolous deckchair escapism…it certainly does the job."
— Daily Mail

"A marvellously funny debut."
— Jilly Cooper

"I quite fell in love with Isabel. Funny, charming and accident prone, she is a perfect heroine for today."
— Penny Vincenzi
Atria Books, 9781476727059, 464pp.
Publication Date: August 5, 2014
About the Author
Holly McQueen is the author of four novels—The Glamorous (Double) Life of Isabel Bookbinder, Fabulously Fashionable, Confetti Confidential, and There Goes the Bride. She lives in London with her husband.