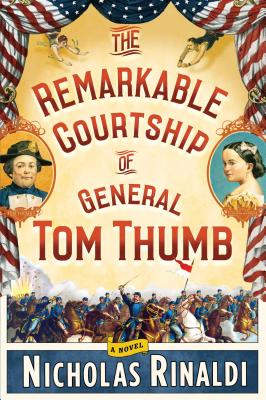 The Remarkable Courtship of General Tom Thumb (Hardcover)
A Novel
Scribner, 9781476727325, 384pp.
Publication Date: August 12, 2014
Other Editions of This Title:
Paperback (7/21/2015)
* Individual store prices may vary.
Description
An irresistible novel set against the backdrop of the American Civil War and based on the real life of Tom Thumb, a young man only twenty-five inches tall, who became America's first internationally recognized entertainer.

By a writer whose previous work has been called "sprawling and elegant" (The New York Times Book Review), this novel weaves together a fascinating behind-the-scenes look at life during the Civil War and a moving tale of one misfit's odyssey to find his place in the world.

Discovered at age four by P.T. Barnum, Tom Thumb soon finds himself traveling internationally, sitting on the laps of the queens of Europe, and entertaining the masses. He meets Czar Nicholas and the King of Saxony, and is invited to the Tuilleries by Louis Philippe. After marrying Lavinia Warren, Tom and wife are hosted at the White House by President Lincoln. With the country at war, Tom and Lavinia set out on their honeymoon tour and witness firsthand the fracture between the states, the heroism of young soldiers, and the unbreakable spirit of the American people.

Written in a voice that is both witty and lyrical, and with a colorful secondary cast including Abraham Lincoln, Walt Whitman, P.T. Barnum, and notable figures of the period, this is an evocative, poignant imagining of one man's story at a unique moment in American history.
About the Author
Nicholas Rinaldi is the author of three previous novels (Bridge Fall Down, The Jukebox Queen of Malta, and Between Two Rivers) and three collections of poetry. His work has been widely reviewed and earned many awards in the United States and abroad. With his wife, Jacqueline, he currently resides in Connecticut. Please visit his website at NicholasRinaldi.net.
Praise For The Remarkable Courtship of General Tom Thumb: A Novel…
"Nicholas Rinaldi is a writer I've admired for some time, but his latest — The Remarkable Courtship of General Tom Thumb — took me by surprise. It's a stunning tour of an era, an American psychological landscape, with its bravura and tragic headstrong drive to command more and more of the world in every sense. Rinaldi doesn't really have to make it up. The absurd history leaps at him. But he catches it, shapes and gives it body and language. This is an achievement — a lively, instructive romp that tells us as much about our time as 'back then.'"
— Jay Parini, author of "The Last Station" and "The Passages of H.M."

"Imaginatively blends fact and fiction... Top-notch entertainment."

"On one level Rinaldi has written a lively historical novel about Tom Thumb. But this book is so much more than that. It is about that most human of conditions, those trembling moments when hot passion and the desire for love just seem too big and overwhelming for our puny bodies trying to contain such powerful emotions."
— Richard C. Morais, author of "The Hundred-Foot Journey" and "Buddhaland Brooklyn"

"In exquisite counterpoint, Rinaldi's book makes history live again in accounts of the Civil War and that of Barnum and the unforgettable General Tom Thumb."
— Sue Walker, Alabama Poet Laureate, Stokes Distinguished Professor of Creative Writing, University of South Alabama

"Rollicking. . .Rinaldi also illuminates the Civil War backdrop to great effect. . . history lovers will find plenty here to appreciate."

"Fast-paced and brightly colored…A cast of thousands, daring escapes, sweeping vistas: Rinaldi does his idea justice with swift pacing and spectacle."

"Charts a harrowing tour through the Civil War…a vivid story."

"A swift paced story... [about] what it means to be small in a world made for big people and have to search for love and acceptance, the price one pays for giving up privacy for fame."

"Charlie and Lavinia's reflections on physical limitations and public persona versus private identity make this book a likely candidate for book club discussion; there are plenty of themes here to generate conversation."
or
Not Currently Available for Direct Purchase