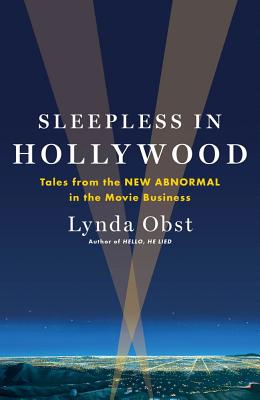 Sleepless in Hollywood
Tales from the New Abnormal in the Movie Business
Hardcover

* Individual store prices may vary.
Other Editions of This Title:
Paperback (6/10/2014)
Description
The veteran producer and author of the bestseller Hello, He Lied takes a witty and critical look at the new Hollywood.

Over the past decade, producer Lynda Obst gradually realized she was working in a Hollywood that was undergoing a drastic transformation. The industry where everything had once been familiar to her was suddenly disturbingly strange.

Combining her own industry experience and interviews with the brightest minds in the business, Obst explains what has stalled the vast moviemaking machine. The calamitous DVD collapse helped usher in what she calls the New Abnormal (because Hollywood was never normal to begin with), where studios are now heavily dependent on foreign markets for profit, a situation which directly impacts the kind of entertainment we get to see. Can comedy survive if they don't get our jokes in Seoul or allow them in China? Why are studios making fewer movies than ever—and why are they bigger, more expensive and nearly always sequels or recycled ideas?

Obst writes with affection, regret, humor and hope, and her behind-the-scenes vantage point allows her to explore what has changed in Hollywood like no one else has. This candid, insightful account explains what has happened to the movie business and explores whether it'll ever return to making the movies we love—the classics that make us laugh or cry, or that we just can't stop talking about.
Praise For Sleepless in Hollywood: Tales from the New Abnormal in the Movie Business…
"[A] fascinating memoir-primer on the movie industry….A great read that illuminates what is really shaping today's movie business."
— The Wall Street Journal

"[A] witty and wise new primer"
— The Washington Post

"[A] must-read on the ever-evolving movie industry…accessible and entertaining…Obst pulls back the curtain on an industry built on lies and illusion, allowing readers to get in on the ongoing joke."
— Publishers Weekly

"From her unique perch as a maker of real movies—not sequels, prequels, or reboots—Lynda Obst explains why the movies we all loved growing up don't get made anymore. With her sharp wit, she gives an inside account of how the industry has changed but also offers hope that Hollywood will meet the challenges of the digital age and the global marketplace. If you love movies, this is a must read."
— Arianna Huffington

"A useful primer if you haven't quite figured out why so many blockbusters take place in China these days."
— Forbes

"A real pro—Lynda Obst—has written a realistic book about making film into reality in these days of extremes....She describes what might, may, will happen...A wonderful text book full of mysteries, loss and longing. I just couldn't stop reading it, even though I have never had movie-making impulses."
— Liz Smith, Huffington Post

"If you find yourself reaching for any excuse not to walk into a movie theater these days, here's producer Lynda Obst to explain why in her wildly readable X-ray of contemporary Hollywood. A must read for anyone wondering what happened to the movies we used to love."
— Peter Biskind, author of Easy Riders, Raging Bulls

"Written in warm, conversational prose, Obst's tales from the movie front together offer an engrossing look at the state of the entertainment industry today."
— Booklist

"Obst...casts a sharp eye over recent developments in Tinseltown. Depth of detail and shrewd illustrative examples make this a must-read for anyone interested in the movie business."
— Kirkus Reviews
Simon & Schuster, 9781476727745, 304pp.
Publication Date: June 11, 2013
About the Author
Lynda Obst, author of the bestseller Hello, He Lied, was an editor for The New York Times Magazine before entering the film industry. She has produced more than sixteen feature films, including How to Lose a Guy in 10 Days, Contact, The Fisher King, Adventures in Babysitting, Hope Floats, and two films with Nora Ephron, Sleepless in Seattle and This Is My Life. She is now producing television as well.
or
Not Currently Available for Direct Purchase