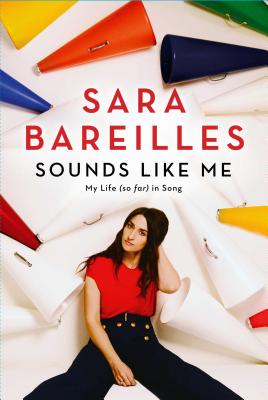 Sounds Like Me (Hardcover)
My Life (So Far) in Song
Simon & Schuster, 9781476727776, 208pp.
Publication Date: October 6, 2015
* Individual store prices may vary.
Description
With refreshing candor, Sounds Like Me reveals Sara Bareilles, the artist—and the woman—on songwriting, soul searching, and what's discovered along the way.

Sara Bareilles shares the joys and the struggles that come with creating great work, all while staying true to yourself. Imbued with humor and marked by Sara's confessional writing style, this collection tells the inside story behind some of her most popular songs. Most recently known for her chart-topper "Brave," Sara first broke through in 2007 with her multi-platinum single "Love Song." She has released five albums that have sold 2.5 million copies and spawned several hits. More than a privileged view inside the experience of a remarkable musical talent—this is a moving tribute to the universal search for growth, healing, and self-acceptance.
About the Author
Sara Bareilles is a five-time Grammy Award-nominated singer, songwriter, and musician. Known for her warm, intimate voice and naturally melodic songs, the Eureka, CA, native has released five albums, including 2013's critically acclaimed The Blessed Unrest. She lives in New York City.
Praise For Sounds Like Me: My Life (So Far) in Song…
"Sara Bareilles is one of my favorite humans, and in my opinion, one of the finest singers and pop music artists of our time... This book, like her songs, is like having a conversation with the lady herself."
— Ben Folds, from the book's foreword

"Her prose has a natural rhythm, and the stories behind each song are organically woven throughout. Fans will be more enamored, as, like Bareilles's music, this biography resonates with authentic and hard-won truths."

"A chart-topping singer/songwriter exposes 'the inner workings of my mind and my heart' through this intimate essay collection anchored with music and humor… Bareilles conveys her life and career in a series of heartfelt, confessional ruminations written with the passion with which she hones her musical craft, forming an entertaining and candid scrapbook chockablock with memories, lyrics, stories, and photographs… A breezy, upbeat, and honest reflection of this multitalented artist."

"Reading the book is like listening to your friend share a really good story over a long overdue coffee date—it just feels so honest."

"Bareilles pours her heart and soul into these essays."