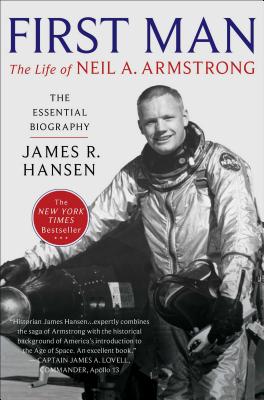 First Man (Paperback)
The Life of Neil A. Armstrong
Simon & Schuster, 9781476727813, 784pp.
Publication Date: November 27, 2012
Other Editions of This Title:
Digital Audiobook (5/28/2018)
Digital Audiobook (10/17/2005)
Paperback (5/29/2018)
Paperback (9/18/2018)
Paperback (10/3/2006)
Mass Market (9/25/2018)
Paperback, Korean (10/1/2018)
* Individual store prices may vary.
Description
Marking the forty-fifth anniversary of Apollo 11's moon landing, First Man by James Hansen offers the only authorized glimpse into the life of America's most famous astronaut, Neil Armstrong—the man whose "one small step" changed history.

"The Eagle has landed."

When Apollo 11 touched down on the moon's surface in 1969, the first man on the moon became a legend. In First Man, Hansen explores the life of Neil Armstrong. Based on over fifty hours of interviews with the intensely private Armstrong, who also gave Hansen exclusive access to private documents and family sources, this "magnificent panorama of the second half of the American twentieth century" (Publishers Weekly, starred review) is an unparalleled biography of an American icon.

Upon his return to earth, Armstrong was honored and celebrated for his monumental achievement. He was also—as James R. Hansen reveals in this fascinating and important biography—misunderstood. Armstrong's accomplishments as engineer, test pilot, and astronaut have long been a matter of record, but Hansen's unprecedented access to private documents and unpublished sources and his interviews with more than 125 subjects (including more than fifty hours with Armstrong himself) yield this first in-depth analysis of an elusive American celebrity still renowned the world over.

In a riveting narrative filled with revelations, Hansen vividly recreates Armstrong's career in flying, from his seventy-eight combat missions as a naval aviator flying over North Korea to his formative transatmospheric flights in the rocket-powered X-15 to his piloting Gemini VIII to the first-ever docking in space. These milestones made it seem, as Armstrong's mother Viola memorably put it, "as if from the very moment he was born—farther back still—that our son was somehow destined for the Apollo 11 mission."

For a pilot who cared more about flying to the Moon than he did about walking on it, Hansen asserts, Armstrong's storied vocation exacted a dear personal toll, paid in kind by his wife and children. For the forty-five years since the Moon landing, rumors have swirled around Armstrong concerning his dreams of space travel, his religious beliefs, and his private life.

In a penetrating exploration of American hero worship, Hansen addresses the complex legacy of the First Man, as an astronaut and as an individual. In First Man, the personal, technological, epic, and iconic blend to form the portrait of a great but reluctant hero who will forever be known as history's most famous space traveler.
About the Author
James R. Hansen is a professor emeritus of history at Auburn University. A former historian for NASA, Hansen is the author of twelve books on the history of aerospace and a two-time nominee for the Pulitzer Prize in History. His 1995 book Spaceflight Revolution was nominated for the Pulitzer by the National Aeronautics and Space Administration, the only time NASA ever nominated a book for the prize. He serves as coproducer for the upcoming major motion picture First Man, which is based on his New York Times bestselling biography of Neil Armstrong. Hansen lives in Auburn, Alabama.
Praise For First Man: The Life of Neil A. Armstrong…
"Historian James Hansen…expertly combines the saga of Armstrong with the historical background of America's introduction to the Age of Space. An excellent book."

"Most of the astronauts books are about the adventure. Jim Hansen¿s well-researched and documented book is about the adventurer. First Man is a compelling story of a modern day Columbus, which provides the rare opportunity to understand the personal qualities driving explorers. Quiet, complex, and deep, Armstrong, as fuel was running out, was the right man at the right time to take America and the world to the surface of the moon

"Jim Hansen has captured the essence of Neil Armstrong, not only as the first man on the Moon, but also as an outstanding aviator and astronaut. I was there for Neil¿s other major ¿space step¿ ¿ he recovered Gemini 8 from the ultimate end game with aggressive action, cool skill and creative judgment seldom performed in any aviation or space endeavor. Just 16 days after the deaths of the Gemini 9 crew, he probably saved the Moon. Jim Hansen has written an exceptional and accurate account of a unique period in aerospace history and the adventures of Neil Armstrong."

"A fine authorized biography brimming with groundbreaking research, fresh anecdotes and fair-minded analysis. . . . Hansen should be commended for decoding the enigmatic Armstrong: a space hero short on words but sky-high on Midwestern integrity."

"For Americans who lived through it all, and for those who came later and can't imagine such an achievement, First Man is compelling reading."

"A powerful, unrelenting biography of a man who stands as a living testimony to everyday grit and determination. . . . A magnificent panorama of the second half of the American twentieth century. . . . A must for astronaut buffs and history readers alike."

"A lot of us have been waiting a long time for a book like this one, and it was well worth the wait. . . . Will likely stand as the definitive biography of Neil Armstrong."

"Masterfully written . . . technically accurate, scholarly yet independent and accessible. . . . Mission accomplished and a perfect touchdown."

"First Man burrows deep into Armstrong's past and present. . . . What emerges is an earnest and brave man."

"To understand Armstrong on his own terms is to see a large truth of our time. . . .A compelling and nuanced portrait."

"Armstrong raises the mirrored visor for the first time."

"Hansen capably captures both Armstrong's expertise and his Garbo-like demurral of fame."

"Thoroughly researched... incredibly detailed . . . Hansen's attention to detail serves the story well, relaying the difficulty and danger inherent in the Apollo program. Along with this comes an understanding of Neil Armstrong himself."

"[A] taut, well-told tale of our nation's race to the moon and the man who took the first step."

"More than the most complete story of Armstrong's remarkable life, [First Man] is a fascinating study of how the modern world treats a historical figure . . . Hansen does a fine job of retelling Armstrong's childhood and remarkable career in aviation. The NASA years have been covered in many other books, but Hansen manages to keep them fresh, benefiting from Armstrong's perspective . . . As Hansen shows, the way Armstrong chooses to carry the heavy burden of history only proves once again that he has the right stuff."

"A great read."
or
Not Currently Available for Direct Purchase