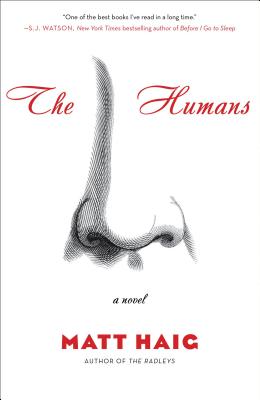 The Humans
A Novel
Hardcover

* Individual store prices may vary.
Other Editions of This Title:
Paperback (1/1/2015)
Description
The critically acclaimed author of The Radleys shares a clever, heartwarming, and darkly insightful novel about an alien who comes to Earth to save humans from themselves.

"I know that some of you reading this are convinced humans are a myth, but I am here to state that they do actually exist. For those that don't know, a human is a real bipedal life form of midrange intelligence, living a largely deluded existence on a small waterlogged planet in a very lonely corner of the universe."

The bestselling, award-winning author of The Radleys is back with what may be his best, funniest, and most devastating dark comedy yet. When an extraterrestrial visitor arrives on Earth, his first impressions of the human species are less than positive. Taking the form of Professor Andrew Martin, a prominent mathematician at Cambridge University, the visitor is eager to complete the gruesome task assigned him and hurry back home to the utopian world of his own planet, where everyone enjoys immortality and infinite knowledge.

He is disgusted by the way humans look, what they eat, their capacity for murder and war, and is equally baffled by the concepts of love and family. But as time goes on, he starts to realize there may be more to this weird species than he has been led to believe. Disguised as Martin, he drinks wine, reads poetry, develops an ear for rock music and a taste for peanut butter. Slowly, unexpectedly, he forges bonds with Martin's family, and in picking up the pieces of the professor's shattered personal life, he begins to see hope and beauty in the humans' imperfections and begins to question the mission that brought him there.

Praised by the New York Times as a "novelist of great seriousness and talent," author Matt Haig delivers an unlikely story about human nature and the joy found in the messiness of life on Earth. The Humans is a funny, compulsively readable tale that playfully and movingly explores the ultimate subject—ourselves.
Praise For The Humans: A Novel…
"A literary virtuoso… Matt Haig is a supreme talent and a writer to cherish, and The Humans is undoubtedly his magnum opus."

"Funny, poignant and full of heart."

"Matt Haig is a novelist of stunning talent, with a laser eye for the absurd and endless reserves of compassion."

"The Humans is by turns silly, sad, suspenseful and soulful….Haig manages…to burrow beneath clichés as he explores the meaning of sentimentality, loyalty, love, and mortality….Haig's insights are often compelling."

"At its heart, this novel is really about the art of being human and all that entails."

"A surprisingly touching and often hilarious tale….Haig elevates the premise with his deft, humor-rich storytelling skills. A reverence for mathematics and history also runs through the book, cutting through some of the sentimentality with a healthy dose of intellectualism. The Humans is an engaging summer read."

"The Humans is a breathtaking novel…eye-opening and endlessly fascinating. Matt Haig has created a masterpiece of fiction that should be required reading for all who inhabit this great big ball we call Earth."

"A thought-provoking, compulsively readable delight."

"Delightful."

"Quick-paced, touching, and hilarious."

"[The Humans] is a poignant and emotional examination into the value of the human experience, complete with a central character that you care for, root for and perhaps even cry for….engaging….a good read."

"[Matt Haig has] a keen eye for homo sapien goofiness, spot-on observations on our foibles, and satire you could spread with a knife….There's cleverness and wit all over each page."

"Haig writes with wit and surety, so convincingly other-worldly that it could cause a person to wonder."

"Beautifully written…inspiring."

"Matt Haig's The Humans boasts the best sci-fi concept we've heard in years."

"An engrossing new novel."

"A funny and touching tale about an alien who visits and experiences the weird and often frightening beauty of being human."

"Matt Haig's keen sense of observation stands out….[The Humans is] a careful examination of the very things that make us human….Haig has written a book that causes readers to consider the flaws in humanity while also appreciating its powerful beauty."

"The Humans is a laugh-and-cry book. Troubling, thrilling, puzzling, believable and impossible. Matt Haig uses words like a tin-opener. We are the tin."
— Jeanette Winterson

"A brilliant exploration of what it is to love, and to be human, The Humans is both heartwarming and hilarious, weird, and utterly wonderful. One of the best books I've read in a very long time."
— S.J. Watson

"The Humans is tremendous; a kind of Curious Incident meets The Man Who Fell to Earth. It's funny, touching and written in a highly appealing voice."
— Joanne Harris

"Lovely stuff. So heartfelt, touching and funny."
— Patrick Ness

"Utterly wonderful."
— Mark Billingham
Simon & Schuster, 9781476727912, 304pp.
Publication Date: July 2, 2013
About the Author
Matt Haig is the bestselling author of several children's books and novels, including The Radleys, winner of the ALA Alex Award. An alumnus of Hull University and Leeds, his work has been translated into twenty-nine languages. He lives in York with his wife, UK novelist Andrea Semple, and their two children.
Book Videos
or
Not Currently Available for Direct Purchase