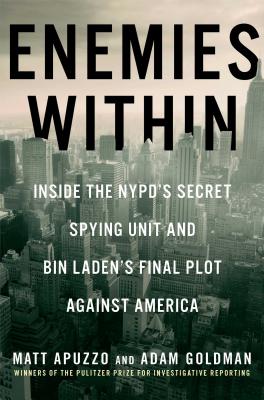 Enemies Within (Hardcover)
Inside the NYPD's Secret Spying Unit and Bin Laden's Final Plot Against America
Touchstone Books, 9781476727936, 336pp.
Publication Date: September 3, 2013
* Individual store prices may vary.
Description
Two Pulitzer Prize-winning journalists take an unbridled look into one of the most sensitive post-9/11 national security investigations, a breathtaking race to avert a second devastating terrorist attack on American soil. How safe are we? What do we sacrifice to feel safe? And who pays the ultimate price? Two Pulitzer Prize-winning journalists examine one of the most sensitive post-9/11 national security investigations--a breathtaking race to prevent an al-Qaeda bomber from launching Osama bin Laden's final attack on American soil. In Enemies Within, Matt Apuzzo and Adam Goldman lay bare the complex and often contradictory state of counterterrorism and intelligence in America through the pursuit of Najibullah Zazi, a terrorist bomber who trained under one of bin Laden's most trusted deputies. Zazi and his coconspirators represented America's greatest fear: a terrorist cell operating inside America. Apuzzo and Goldman lift the veil of secrecy to reveal the strengths and weaknesses of our counterterrorism measures. This real-life spy story--uncovered in previously unpublished secret NYPD documents and interviews with intelligence sources--shows that while many of these programs are more invasive than ever, they are often counterproductive at best. After 9/11, New York Police Commissioner Ray Kelly initiated an audacious plan for the Big Apple: dispatch a vast network of plainclothes officers and paid informants--called "rakers" and "mosque crawlers"--into Muslim neighborhoods to infiltrate religious communities and eavesdrop on college campuses. Police amassed data on innocent people, often for their religious and political beliefs. But when it mattered most, these strategies failed to identify the most imminent threats. Enemies Within tackles the tough questions about the measures that we take to protect ourselves from real and perceived threats. Apuzzo and Goldman take readers inside America's sprawling counterterrorism machine while it operates at full throttle. They reveal what works, what doesn't, and what Americans have unknowingly given up.
About the Author
Matt Apuzzo and Adam Goldman are investigative reporters for the Associated Press in Washington, D.C. They shared in the 2012 Pulitzer Prize for Investigative Reporting for a series on the New York Police Department's clandestine spying program targeting American Muslims. Together, Apuzzo and Goldman have uncovered the location of a CIA prison, revealed widespread cheating on FBI exams, and showed how the CIA's haphazard disciplinary system resulted in promotions for officers who kidnapped and killed the wrong people. They have shared the Goldsmith Prize for Investigative Reporting, a George Polk Award, the Paul Tobenkin Memorial Award, and the Edgar A. Poe Award from the White House Correspondents' Association. Apuzzo has covered organized crime, corruption, and law enforcement in Massachusetts, Connecticut, and Washington. Goldman has covered crime and government for newspapers in Virginia and Alabama. He reported from Las Vegas and New York for the AP.
Praise For Enemies Within: Inside the NYPD's Secret Spying Unit and Bin Laden's Final Plot Against America…
"The authors use their investigative know-how like skilled surgeons, utilizing their scalpel to expose a malignant growth in the heart of the NYPD."
-Frank Serpico

"Two of America's best reporters pull back the curtain to reveal how New York really works. In the process, they also raise troubling questions about the price that America has paid, particularly in its moral standing, in prosecuting the war on terror. They ask the hardest question of them all. They ask Americans to look in the mirror."
-James Risen, author of State of War: The Secret History of the CIA and the Bush Administration

"Apuzzo & Goldman are the new Woodward and Bernstein."
-Spencer Ackerman, national security editor, The Guardian

"Enemies Within combines the quick-paced storytelling of a mystery novel with the intellectual altitude of intelligence experts. It offers insights into the methods that work the best against would-be terrorists, as well as those that are not only a waste of money and time, but abuse the nature of our democracy. A great, informative read."
-Dana Priest, investigative reporter, The Washington Post and author of Top Secret America: The Rise of the Nation

"Despite all the hype around NSA's secret Prism surveillance program, Apuzzo and Goldman show how the Zazi case really got made. This book is both a thriller and a hard-hitting expose of the NYPD Intel unit set up after 9/11. While the American people have shown some willingness to give up privacy for the hope of greater security, the reader can be the judge of whether the shocking excesses of this unit are justified by its results."
-Vicki Divoll, former general counsel of the Senate Intelligence Committee and former assistant general counsel of the Central Intelligence Agency

"Like too many stories about the post-9/11 fight against terrorism, this is a tale in which American boldness, cunning, and ingenuity are frequently undermined by American arrogance, recklessness, and narrow-mindedness. Apuzzo and Goldman's revelatory investigation casts a troubling light on the NYPD and reverberates far beyond New York City, exposing the risks of waging an ill-defined 'war on terror.'"
-Justin Vogt, senior editor, Foreign Affairs

"Enemies Within is a deeply reported and well written account of the NYPD's aggressive efforts to monitor the Muslim-American community and the most threatening al-Qaeda plot since 9/11---the plot to bomb the New York City subway system in 2009-- a plot that NYPD's surveillance efforts did not detect."
-Peter Bergen
or
Not Currently Available for Direct Purchase