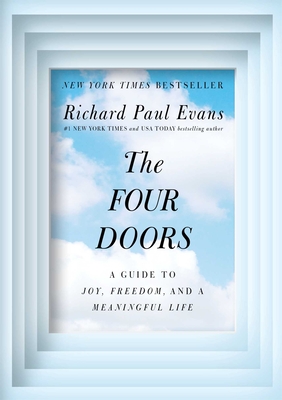 The Four Doors (Hardcover)
A Guide to Joy, Freedom, and a Meaningful Life
Simon & Schuster, 9781476728179, 160pp.
Publication Date: October 29, 2013
* Individual store prices may vary.
Description
The #1 New York Times bestselling author of The Walk and The Christmas Box, Richard Paul Evans has met hundreds of thousands of people and heard many of their stories in his travels over the past two decades. Most of the people he meets are hungry for inspiration; they love his novels because his characters are also searching for meaning and understanding.

The Four Doors is Evans's message to those who seek inspiration in their lives. It began as a talk he gave on the spur of the moment, and over the course of ten years, it has evolved into a message he has shared with successful business people, students, and even addicts and prisoners. It includes stories his readers have told him, stories about great achievers who overcame hardships, and stories about his own struggle growing up in a large family with financial difficulties and a suicidal mother, and about his diagnosis of Tourette's Syndrome later in life. These inspiring stories are woven through his identification and careful explanation of the four doors to a more fulfilling life:

BELIEVE THERE' S A REASON YOU WERE BORN

FREE YOURSELF FROM LIMITATION

MAGNIF Y YOUR LIFE

DEVELOP A LOVE-CENTERED MAP

Evans believes that we all want to know the meaning of our lives. In The Four Doors, he shows how even the most quiet life can be full of purpose and joy, if we choose to take that first step over the threshold.
About the Author
Richard Paul Evans is the #1 bestselling author of The Christmas Box. Each of his more than thirty-five novels has been a New York Times bestseller. There are more than thirty-five million copies of his books in print worldwide, translated into more than twenty-four languages. He is the recipient of numerous awards, including the American Mothers Book Award, the Romantic Times Best Women's Novel of the Year Award, the German Audience Gold Award for Romance, five Religion Communicators Council Wilbur Awards, the Washington Times Humanitarian of the Century Award and the Volunteers of America National Empathy Award. He lives in Salt Lake City, Utah, with his wife, Keri, and their five children. You can learn more about Richard on Facebook at Facebook.com/RPEFans, or visit his website RichardPaulEvans.com.