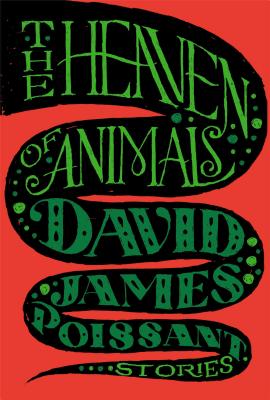 The Heaven of Animals
Stories
Hardcover

* Individual store prices may vary.
Other Editions of This Title:
Digital Audiobook (5/22/2014)
Paperback (3/24/2015)
Description
Named one of Amazon's Best Short Story Collections of 2014
One of Atlanta Journal Constitution's 9 Best Books of 2014
Best Short Story Collection of the Year, Tweed's Magazine
Winner of GLCA New Writers Award for Fiction
2014 LA Times Book Prize Finalist
Winner of the Florida Book Awards Silver Medal for Fiction
Nominated for the PEN/Robert W. Bingham Prize for Debut Fiction

In each of the stories in this remarkable debut, award-winning writer David James Poissant explores the tenuous bonds of family—fathers and sons, husbands and wives—as they are tested by the sometimes brutal power of love.

His strikingly true-to-life characters have reached a precipice, chased there by troubles of their own making. Standing at the brink, each must make a choice: Leap, or look away? Pulitzer Prize finalist Lee Martin writes that Poissant forces us "to face the people we are when we're alone in the dark."

From two friends racing to save the life of an alligator in "Lizard Man" to a girl helping her boy­friend face his greatest fears in "The End of Aaron," from a man who stalks death on an Atlanta street corner to a brother's surprise at the surreal, improb­able beauty of a late night encounter with a wolf, Poissant creates worlds that shine with honesty and dark complexity, but also with a profound compas­sion. These are stories hell-bent on hope.

Fresh, smart, lively, and wickedly funny, The Heaven of Animals is startlingly original and compul­sively readable. As bestselling author Kevin Wilson puts it, "Poissant is a writer who knows us with such clarity that we wonder how he found his way so easily into our hearts and souls."
Praise For The Heaven of Animals: Stories…
"[A] wise debut collection... Poissant's characters are often a mess-belligerent, impulsive, smart in all the wrong ways-but he manages their lives with precision, intelligence, and clarity... Beautiful [stories], with a rogue touch."
— Rebecca Lee

"A penetrating look at American manhood in the new century."

"The Heaven of Animals targets the tough and tender dynamics that make and break families."

"Poissant's work has been compared to Anton Chekhov, Raymond Carver and George Saunders, so it goes without saying that his debut short-stories collection is something special."

"Early reviews have compared Poissant's stories, which ply the literary territory between realism and allegory, to the work of Anton Chekhov and Raymond Carver."

"The Heaven of Animals might remind readers of two stylistically disparate story collections — Richard Ford's A Multitude of Sins and Amy Hempel's The Dog of the Marriage — which are surely not bad company to keep."

"The Heaven of Animals avoids bleakness, no matter how sad its stories may be, and this is a real achievement...[Poissant's] overall project—trying to wring hope from despair—shows great compassion….This is Poissant's first book, and if Brock Clarke predicts (in blurb form) that Poissant will become 'his generation's Richard Ford,' who am I to argue?"

"An engaging, well-crafted collection... The author's deep caring for his characters surfaces in his compassionate attempts to unpack the perplexities of the human condition. Poissant's thoroughly realist style and tight storytelling will appeal to fans of Raymond Carver, Richard Ford, and George Saunders."

"[Poissant] presents layered storylines and realistically flawed characters in his first collection of short stories.… Through his artful storytelling, [Poissant] gives us a glimpse into the loneliness, the brokenness, and ultimately, the importance, of our emotional connections with others."

"[A] collection of vicious and heartbreaking vignettes."

"Masterful…Poissant's gift of fiction writing [is] a great big gift. So big that it stretches the short story form a bit; he turns typical short story writing pitfalls into strengths…You can move among William Faulkner, Harry Crews, and Flannery O'Connor to find the muscle that is in ["Lizard Man"] (and many of the others here), and among Eudora Welty, Lee Smith, and Jill McCorkle for the tenderness….A great strength of this collection: Though many of the characters are not like us readers one bit (some are) Poissant shows us how much alike we all are—as fathers, mothers, friends, children, liars, and lovers—no matter our pedigree….Poissant can do the seemingly impossible…I hear a novel is on the way. Look out."
— Clyde Edgerton

"Poissant demonstrates that mankind, especially American males, may not be so separate from the animal kingdom after all.… His finest stories focus on the nuts and bolts of narrative. Despite the preponderance of scales, tails, fangs and feathers that occupy The Heaven of Animals, its real subject is all too human."

"Unlikeable characters demand attention and hold it wildly from page to page, bringing unexpected beauty to a world that is often wicked. . . . [The Heaven of Animals] is great fun to read. . . . There are no clear happy endings in The Heaven of Animals, but there is a feeling of satisfaction regardless of a story's outcome. By book's end you know you've spent your time valuably, and in the hands of a deft and skillful writer."
— Kim Winternheimer

"Told in honest and inventive prose, The Heaven of Animals is not afraid of the beautiful but painful complications of the heart."

"As its title suggests, The Heaven of Animals contains a menagerie of creatures—from bees to bison to wolves to iguanas. Yet, the human characters within David James Poissant's debut story collection are often wilder and more disorderly than the animals they encounter.... These characters become overwhelmed with emotion, make unpredictable decisions, and let their instincts guide them. They are dangerous to others and, perhaps more often, to themselves. Of course, that is what makes them so remarkably human."
— Liz Wyckoff

"The Heaven of Animals is full of stories that linger long after you have closed the book and turned off the light."

"We care about and sympathize with Poissant's characters, even the most conflicted and difficult ones. The pieces vary greatly in length, style, and subject matter. . . . Poissant is an excellent writer. . . the brief and beautiful moments of human connection shine through in every story."

"The much-anthologized Poissant justifies his status as a favorite of the literary quarterlies with this debut collection of unsparing yet warmly empathetic stories.... Rueful and kind, akin to both Anton Chekhov and Raymond Carver in humane spirit and technical mastery"

"The Heaven of Animals is an extraordinary debut from Florida author David James Poissant--a Venn diagram of the miraculous and the absurd. Like Flannery O'Connor, Poissant's stories are marked by violence, humor, and grace; like Saunders, Poissant can spoon-bend reality; like Carver and Diaz, he writes scenes soaked in kerosene and seconds from combustion. In these pages you'll find charming reprobates and self-deluded hustlers, young lovers, alligators and dead dogs, fathers and sons, all the warped love of family, the batshit hilarity of the South, and the 'geometry" of loss.'"
— Karen Russell

"Wow. David James Poissant has written a fantastic, beguiling book. Often offbeat and always enthralling, The Heaven of Animals seduces the reader, again and again, with our weird, urgent attempts to understand each other. These stories lure the loners and romantics out of America's backwaters, then march them into the moonlight to break your heart."
— Claire Vaye Watkins

"Wild as two men wrestling an alligator, tender as a father stretching out on the floor next to his sleeping son, the stories in The Heaven of Animals will make you stop and wonder. David James Poissant digs deep until he reaches the heart of each tale, unearthing unexpected connections with his vivid and graceful prose. These men and women, parents and children, all stand at the precipice of loss, and in their final moments, reach out for each other."
— Hannah Tinti

"It's not often you read stories with this much range, precision, power, and emotional depth in a first collection. It's not like a "first collection" at all, in fact. This is beautiful, exciting, accomplished work. David James Poissant is one of the best-of-the-best new writers out there, and I have no doubt there's a lot more to come."
— Brad Watson

"A character in "Lizard Man" has tattoos that, if you look closely, secretly hold another image in the design. David James Poissant's writing has that same effect, the initial and wonderful strangeness giving way, slowly but surely, to something deeper, something difficult, something beautiful. Poissant is a writer who knows us with such clarity that we wonder how he found his way so easily into our hearts and souls."
— Kevin Wilson

"David James Poissant is one of our finest young writers, with a taut and subtle prose style, a deep knowledge of craft, and a heart so vast it encompasses whole worlds. I read his fiction and became a lifelong fan; I promise that you will too."
— Lauren Groff

"There is much to admire in David James Poissant's excellent debut story collection. His men and women are never mere caricatures.They are flawed but fully human and their stories are compelling and true to life's complexities. There is a refreshing lack of glibness in his work; he is a serious writer and these are serious stories."
— Ron Rash

"'What thehell do you do with twelve feet of living, breathing alligator?' Such is thedilemma for the narrator of David James Poissant's 'Lizard Man.' Beneath thatquestion lies the age-old problem of fathers and sons and the wrong turns andmissteps that turn love monstrous. Poissant is a first-ratestoryteller who has an appreciation for the absurd turns of events that pressdown into all we try to keep buried until we have no choice but to face thepeople we are when we're alone in the dark."
— Lee Martin

"David James Poissant's "Lizard Man" delivers all you could want from a story: searing tensions, the irresistible strangeness of the Floridian landscape, incandescent prose, and characters alight with wisdom and pain, with hope and violence and regret. Throw in an alligator in a kiddie pool and, dear reader, you've got one hell of a story. Poissant is an extraordinary talent, and Lizard Man is nothing short of unforgettable."
— Laura van den Berg

"'Lizard Man,' a richly atmospheric story set in the swampland of Florida, explores the legacy of one father's mistakes, and the improbable beauty of his attempts to make things right."
— Dani Shapiro

"David James Poissant will end up being his generation's Richard Ford: his fiction is full of big ideas, of startling insights into how we live now; and his writing is so smart, so sensitive and self-deprecating and full of empathy. He is one of our very best young writers. I know, know that we will be talking about him for years and years to come."
— Brock Clarke
Simon & Schuster, 9781476729961, 272pp.
Publication Date: March 11, 2014
About the Author
David James Poissant's stories have appeared in The Atlantic, Playboy, One Story, The Southern Review, Glimmer Train, and in the New Stories from the South and Best New American Voices anthologies. His writing has been awarded the Matt Clark Prize, the RopeWalk Fiction Chapbook Prize, the George Garrett Fiction Award, and the Alice White Reeves Memorial Award from the National Society of Arts & Letters, as well as awards from the Chicago Tribune, The Atlantic, and Playboy. He teaches in the MFA program at the University of Central Florida and lives in Orlando with his wife and daughters.
or
Not Currently Available for Direct Purchase