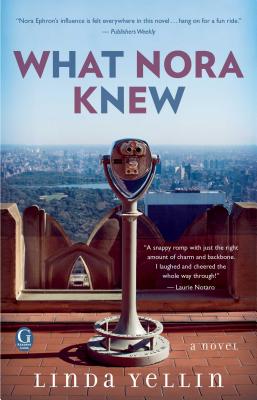 What Nora Knew
Paperback

* Individual store prices may vary.
Description
Molly Hallberg is a thirty-nine-year-old divorced writer living in New York City who wants her own column, a Wikipedia entry, and to never end up in her family's Long Island upholstery business. For the past four years Molly's been on staff for an online magazine, covering all the wacky assignments. She's snuck vibrators through security scanners, speed-dated undercover, danced with the Rockettes, and posed nude for a Soho art studio.

Fearless in everything except love, Molly is now dating a forty-four-yearold chiropractor. He's comfortable, but safe. When Molly is assigned to write a piece about New York City romance "in the style of Nora Ephron," she flunks out big-time. She can't recognize romance. And she can't recognize the one man who can go one-on-one with her, the one man who gets her. But with wit, charm, whip-smart humor, and Nora Ephron's romantic comedies, Molly learns to open her heart and suppress her cynicism in this bright, achingly funny novel.
Praise For What Nora Knew…
"Beautifully emulating the Ephron-esque vibe, Linda Yellin's easygoing style and light humor elicit plenty of laughs - and lots of introspection. A fun and delightful read."
— New York Journal of Books

"We'll have what she's having. A buoyant second novel that will really keep you smiling."
— More magazine

"This lighthearted, fast-paced tale makes readers laugh out loud and root for the underdog."
— RT Book Reviews

"Hilarious. Unexpected. Knife-in-the-Side Sharp. Somewhere, surely, Nora Ephron is smiling."
— Jennie Fields, author of The Age of Desire, on What Nora Knew

"As romantic and fun as When Harry Met Sally or Sleepless in Seattle, Linda Yellin's hilarious, heartfelt novel is an urban fairy tale of sophisticated humor and touching charm."
— Amanda Robb, national magazine journalist, on What Nora Knew

"Reading Linda Yellin is like spending much-needed time with your funniest, dearest friend."
— Mia March, author of Finding Colin Firth, on What Nora Knew

"Filled with a delightful cast of characters, What Nora Knew is a smart, laugh-out-loud love story with a sparkling heroine. I loved it!"
— Anita Hughes, author of Lake Como, on What Nora Knew

"With What Nora Knew, Linda Yellin has written an irresistibly funny, authentic novel about the two-steps-forward-one-step-back pursuit of life, love and career in New York City. She writes for all of us with Molly Hallberg's laugh-out-loud, poignant inability to accept she's met her equal, while everyone around her takes the plunge. Yellin is a Nora Ephron inspired humorist with a voice of her own."
— Kathryn Leigh Scott, author of Down and Out in Beverly Heels, on What Nora Knew

"A snappy romp with just the right amount of charm and backbone. I laughed and cheered the whole way through!"
— Laurie Notaro, author of The Potty Mouth at the Table, on What Nora Knew

"A roller-coaster romp about a writer careening through love and work in Manhattan as she nears 40…Ephron's influence is felt everywhere in this novel, from Sleepless in Seattle references to the emphasis on the need to make grand gestures…Any woman in the heroine's age range who's lived in New York will both laugh and wince at the accuracy of Yellin's details. Those who want to live in New York can hang on for a fun ride."
— Publishers Weekly on What Nora Knew

"Funny, fresh and written with flair."
— Kirkus Reviews

"I laughed my way through Linda Yellin's What Nora Knew—when I wasn't nodding in recognition. Witty, wise, insightful,and altogether charming."
— Emily Listfield, author Best Intentions, on What Nora Knew

"Linda Yellin's lively story sparkles and dances off the page."
— Tracey Jackson, author Between a Rock and a Hard Place, on What Nora Knew

"An engaging romp through one woman's quest to find love and happiness in Manhattan, Linda Yellin's novel is by turns touching and funny, and her heroine has charm and chutzpah to spare."
— Christine Haag, author of Come to the Edge, on What Nora Knew
Gallery Books, 9781476730066, 320pp.
Publication Date: January 21, 2014
About the Author
Linda Yellin writes humor pieces for More magazine. She wrote numerous short stories for Redbook magazine back when they still published short stories and was a regular guest on SiriusXM Radio's women's talk show, "Broadminded." Her writing career began in advertising where she wrote headlines for shampoos, hamburgers, and cheese. Get the scoop at LindaYellin.com.
or
Not Currently Available for Direct Purchase