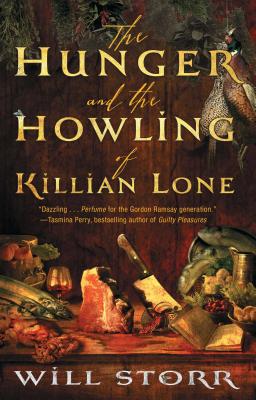 The Hunger and the Howling of Killian Lone
The Secret Ingredient of Unforgettable Food Is Suffering
Paperback

* Individual store prices may vary.
Description
Part sinister fairy tale, part gothic horror, this debut novel pulls back the curtain on the celebrity chef's kitchen, revealing a disturbing world of ambition and brutality.

Killian Lone comes from a long line of gifted cooks stretching back to the 17th century, and he yearns to become a famous chef himself. When he starts an apprenticeship under Max Mann, the most famous chef in London, he looks set to continue the family tradition. But the reality of kitchen life is brutal. Even his fellow apprentice, Kathryn, who shows Killian uncharacteristic kindness, can't stop him being sucked into the vicious and debauched world of 1980s fine dining; and gradually he is forced to surrender his dream.

Then he discovers a dark family secret – the legacy of an ancestor who was burnt as a witch for creating food so delicious it was said to turn all who tasted it mad. Killian knows he can use this secret to achieve his ambitions and maybe, finally, to win Kathryn's affections. But is he willing to pay the price?
Praise For The Hunger and the Howling of Killian Lone: The Secret Ingredient of Unforgettable Food Is Suffering…
"Riveting... Entices the senses with luscious descriptions of food while offering a grim, destructive vision of a brutal, personality-driven profession."
— Publishers Weekly, Starred Review

"A fascinating glimpse into the seething kitchens of London's dining elite… [and] an insidiously creepy—yet heartbreaking—story of ambition, love, phenomenal food, and sensual, diabolical magic."
— Library Journal

"Storr's debut features a complex title character, gothic undertones and an unnerving plot…Readers with a taste for the unusual…will find this a palatable novel about ambition, human fallibility and revenge."
— Kirkus Reviews

"A fine, well-crafted debut from a talented, ambitious writer…the joy of this book is in anticipating and discovering where Storr will take the story next."
— The Independent (UK)

"Fascinating… A thriller, yes, but with many additional flavors in the stew."
— Booklist

"Dazzling! 'Killian Lone' is Perfume for the Gordon Ramsay generation."
— Tasmina Perry, Sunday Times bestselling author

"A pitch-dark, highly original fable about family, ambition and the redemptive power of cooking. By turns enchanting and grotesque, I couldn't tear myself away from it."
— Internationally bestselling author Erin Kelly

"An intensely gripping tale of love, loss, ambition and ego…epic themes play themselves out to their inexorable, gut-wrenching finale."
— Craig Pearce, BAFTA award-winning screenwriter
Atria Books/Marble Arch Press, 9781476730431, 368pp.
Publication Date: March 11, 2014
About the Author
Will Storr is a journalist, novelist, and photographer. His features have appeared in numerous newspapers, including The Guardian, The Times (London), and The Observer (London). He has been named New Journalist of the Year and Feature Writer of the Year. The Hunger and the Howling of Killian Lone is his first novel.
or
Not Currently Available for Direct Purchase