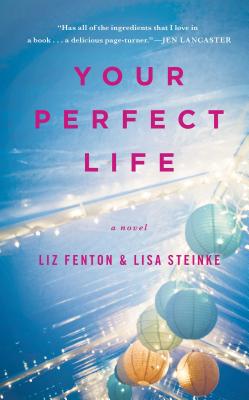 Your Perfect Life
A Novel
Paperback

* Individual store prices may vary.
Other Editions of This Title:
Digital Audiobook (7/6/2015)
MP3 CD (7/7/2015)
Compact Disc (7/7/2015)
Description
Two childhood best friends wake up the morning after their twentieth high school reunion to discover that they've switched bodies in this hilarious and heartwarming debut by two childhood best friends.

With "a delicious, page-turning premise, and sweet and surprising insights" (New York Times bestselling author Jen Lancaster), Your Perfect Life perfectly illustrates that old adage: Sometimes, you have to walk a mile in someone else's shoes to see what's in her heart.

Best friends since childhood, Casey and Rachel couldn't lead more different lives. While workaholic Casey rubs elbows with celebrities daily as the host of Gossip TV and comes home nightly to an empty apartment, stay-at-home mom Rachel juggles an "oops" baby, two fiery teenagers, and a husband who barely seems the man she fell in love with two decades before. After an argument at their twentieth high school reunion, Casey and Rachel throw back shots to get the night back on track. Instead, they get a life-changing hangover.

Waking up in each other's bodies the next morning, they must figure out how to navigate their altered realities. Rachel is forced to face the broadcasting dreams she gave up when she got pregnant in college, and Casey finally steps out of the spotlight to face the real reason why she's alone. And they soon discover that they don't know themselves—or their best friend—nearly as well as they thought they did.

Liz Fenton and Lisa Steinke bring their "witty, winning style" (Sarah Pekkanen, author of The Best of Us) to every page of this novel that is sure to please fans of In Her Shoes and The Opposite of Me. Your Perfect Life is a story of humor and heart about two best friends, what they didn't know about each other, and how, by switching lives, each learns to appreciate her own.
Praise For Your Perfect Life: A Novel…
"I loved this from the very first line (which will go down in history as the funniest, bravest first line ever). Hilarious, honest and truly touching, Liz Fenton and Lisa Steinke are two important new voices in women's fiction who write about life in such a real, relatable way."
— Sarah Jio

"Your Perfect Life has all of the ingredients that I love in a book—relatable characters who make me laugh out loud, a delicious, page-turning premise, and sweet and surprising insights about the perfect life may be the one you've already got."
— Jen Lancaster

"Sassy, heartfelt, and smart, Your Perfect Life is a clever take on switched identities that will make you think hard about the choices you've made in your life and what matters most to us all in the end."
— Amy Hatvany

"For every woman who's ever wondered about the path not taken, Fenton and Steinke mine—with tremendous humor and insight—the mixed blessing of unexpected second chances."
— Emma McLaughlin and Nicola Kraus

"Liz Fenton and Lisa Steinke blend their voices seamlessly and hilariously and remind us that even though the grass often looks greener under our friends' lives, nobody gets happily ever unless they go after it. Your Perfect Life is clever, quirky, fresh, and ultimately, empowering!"
— Claire Cook

"Liz and Lisa's voices are warm and comforting, like a relaxed chat with great friends while wearing cozy PJ's and sipping wine. I highly recommend Your Perfect Life!"
— Beth Harbison

"Your Perfect Life puts a fresh twist on a 'Freaky Friday'-scenario: What if you switched bodies with your best friend, and got the life you'd always secretly coveted? I adore Liz Fenton and Lisa Steinke's witty, winning style and gobbled up their debut novel."
— Sarah Pekkanen
Washington Square Press, 9781476730578, 304pp.
Publication Date: June 10, 2014
About the Author
Liz Fenton and Lisa Steinke have been best friends for twenty-five years and survived high school and college together. Liz lives in San Diego with her husband and two children. Lisa, a former talk show producer, now lives in Chicago with her husband, daughter, and two bonus children.