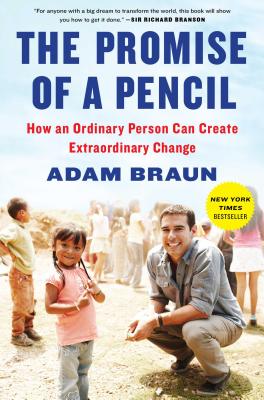 The Promise of a Pencil
How an Ordinary Person Can Create Extraordinary Change
Hardcover

* Individual store prices may vary.
Other Editions of This Title:
Digital Audiobook (3/17/2014)
Paperback (2/3/2015)
Description
The riveting story of how a young man turned $25 into more than 200 schools around the world and the guiding steps anyone can take to lead a successful and significant life.

Adam Braun began working summers at hedge funds when he was just sixteen years old, sprinting down the path to a successful Wall Street career. But while traveling he met a young boy begging on the streets of India, who after being asked what he wanted most in the world, simply answered, "A pencil." This small request led to a staggering series of events that took Braun backpacking through dozens of countries before eventually leaving one of the world's most prestigious jobs to found Pencils of Promise, the organization he started with just $25 that has since built more than 200 schools around the world.

The Promise of a Pencil chronicles Braun's journey to find his calling, as each chapter explains one clear step that every person can take to turn your biggest ambitions into reality, even if you start with as little as $25. His story takes readers behind the scenes with business moguls and village chiefs, world-famous celebrities and hometown heroes. Driven by compelling stories and shareable insights, this is a vivid and inspiring book that will give you the tools to make your own life a story worth telling.

*All proceeds from this book will support Pencils of Promise.
Praise For The Promise of a Pencil: How an Ordinary Person Can Create Extraordinary Change…
"For anyone with a big dream to transform the world, this book will show you how to get it done."
— Sir Richard Branson

"A compelling and singular story filled with universal truths everyone needs to hear."
— United States Senator Cory Booker

"A remarkably inspiring story that shares the essential lessons to creating a life of meaning, passion and purpose."
— Deepak Chopra, Founder of The Chopra Foundation

"A vivid, heartfelt account of the power of education and the ability of one person to impact the world."
— Wendy Kopp, Founder of Teach For America and Co-Founder & CEO of Teach For All

"Braun takes you on a mesmerizing round-the-world adventure, while sharing the concrete steps necessary to turn your own ideas into reality. He has his finger on the pulse of what's next and when he speaks you should be listening."
— Keith Ferrazzi, #1 NY Times bestselling author of Never Eat Alone and Who's Got Your Back

"A perfect step-by-step guide to building the life you've always wanted on your own terms. . . Start reading and don't put the book down until you're finished."
— Gary Vaynerchuk, CEO of VaynerMedia and New York Times bestselling author of Jab, Jab, Jab Right Hook and Crush It!

"Braun's lessons are memorable, accessible, and powerful. This is a must-read, and a must-re-read, and a must-keep-in-view-on-bookshelf kind of book."
— Jessica Jackley, Co-Founder of Kiva

"[An] exuberant testimony to the power of idealism. . . Braun's story forcefully presents the advantages of silencing the head andlistening to the heart."
— Publishers Weekly starred review and Book of the Week

"[Braun] skillfully weaves together his personal memoir and the professional challenges he faced... Informative and inspiring."
— Kirkus Reviews

"Braun combines his laid-back storytelling style with simple yet sage advice….The Promise of a Pencil is engaging, instructive and inspiring reading for anyone who wants to change his or her life, change the world, or simply feel better about humanity."
— Success Magazine

"Braun shares his story of how he started Pencils of Promise, what he learned from Wall Street that has helped him...how he's leveraged social networks to generate donations, and his best career advice."
— Forbes.com

"[A] page-turning debut."
— MTV Act
Scribner, 9781476730622, 272pp.
Publication Date: March 18, 2014
About the Author
Adam Braun is the Founder of Pencils of Promise, an award-winning for-purpose organization that has built more than 200 schools across Africa, Asia, and Latin America and delivered over 30 million educational hours to children in poverty. PoP was founded with just $25 and has grown under Braun's stewardship with his unique approach that blends nonprofit idealism with for-profit business principles. He has been a featured speaker at the White House, Clinton Global Initiative, and United Nations. All proceeds from The Promise of a Pencil will go to support Pencils of Promise.