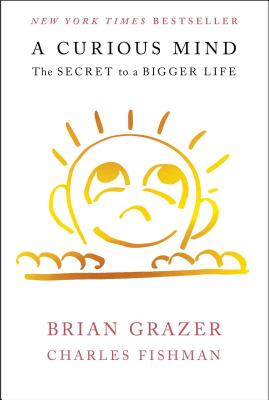 A Curious Mind
The Secret to a Bigger Life
Hardcover

* Individual store prices may vary.
Other Editions of This Title:
Digital Audiobook (4/6/2015)
Paperback (4/26/2016)
CD-Audio (4/7/2015)
Paperback, Spanish (6/15/2017)
Paperback, Chinese (8/1/2015)
Description
From Academy Award–winning producer Brian Grazer and acclaimed business journalist Charles Fishman comes the New York Times bestselling, brilliantly entertaining peek into the weekly "curiosity conversations" that have inspired Grazer to create some of America's favorite and iconic movies and television shows—from 24 to A Beautiful Mind.

For decades, film and TV producer Brian Grazer has scheduled a weekly "curiosity conversation" with an accomplished stranger. From scientists to spies, and adventurers to business leaders, Grazer has met with anyone willing to answer his questions for a few hours. These informal discussions sparked the creative inspiration behind many of Grazer's movies and TV shows, including Splash, 24, A Beautiful Mind, Apollo 13, Arrested Development, 8 Mile, J. Edgar, Empire, and many others.

A Curious Mind is a brilliantly entertaining, fascinating, and inspiring homage to the power of inquisitiveness and the ways in which it deepens and improves us. Whether you're looking to improve your management style at work or you want to become a better romantic partner, this book—and its lessons on the power of curiosity—can change your life.
Praise For A Curious Mind: The Secret to a Bigger Life…
"A Curious Mind is a window on Brian Grazer's restless, relentless, remarkable imagination. It is a captivating account of how the simple act of asking questions can change your life."
— Malcolm Gladwell

"I love Brian Grazer's soulful message about the power of curiosity. He inspires, entertains, and shows how we can use curiosity to tap into the power of wonder and wisdom we are all born with."
— Arianna Huffington

"Curiosity leads to insights and fuels the creative process – and nobody knows more about curiosity than Brian Grazer. In his delightful book, A Curious Mind, we get to see that curiously creative process in action."
— Dick Costolo

"An excellent and very important discussion of economics... Readers would be wise to buy Grazer's brilliant book."
— John Tammy

"The greatest of all graduation speeches."
— Chris Matthews

"A Curious Mind is not a classic autobiography but a rumination on how one trait, curiosity, reinforced by a readiness to pay attention and then to act, has forged such a remarkable career.... It's like spending a couple of hours in the bar of a Hollywood hotel with an amusing raconteur."
— The Wall Street Journal

"If you feel stuck in your business or career, or if your company is failing to stay ahead of its competition, perhaps Grazer's method of "curiosity conversations" might provide the spark you need to ignite your best ideas."
— Forbes

"In A Curious Mind, Brian Grazer not only captures the essence and the potential of a great, curious mind, but he provides a wonderful perspective on what curiosity has meant to him and how it shaped his long and very successful career. As a close friend, I've had a front row seat to Brian's curious mind, and the energy his curiosity generates is infectious and thoroughly enjoyable to observe and experience."
— Bob Iger

"As Brian's friend and partner, while reading A Curious Mind I was returned to many key turning points in our movies and TV shows that were inspired by experiences he gained on his unique quest for understanding. I also learned a hell of a lot that I didn't actually know, even after thirty years. How is that possible? Well, Brian is a hell of a storyteller."
— Ron Howard

"To read a book written by one of the most creative and high quality human beings talking about his love affair with curiosity and how it can help you to have a more rewarding life is a real privilege."
— Robert K. Kraft

"To have a great life, you need to be curious. Curiosity is what makes us human and moves our world forward. Brian Grazer tells this story in an exceptional way and demonstrates how everyone can tap into curiosity to live a bigger life."
— Eric Schmidt

"A powerful tribute to the ways innovation and disruptive thinking stem from a common trait: curiosity. Because the little girl who asks 'Why is the sky blue?' becomes the woman who can change the world."
— Sheryl Sandberg

"A very stimulating blend of behind-the-scenes Hollywood machinations and business and personal self-help. VERDICT This unusual and quick read is ideal for public libraries and as nonrequired reading in business schools."
— Library Journal

"An appealing argument for maintaining open-minded receptivity, with special appeal for film buffs."
— Kirkus Reviews

"Lively…. As Grazer further explores how curiosity has shaped his life, he sprinkles in numerous anecdotes about the hundreds of people whom he's sought out for one-on-one sessions he terms "curiosity conversations."
— Publishers Weekly

"[A Curious Mind] is straightforward and full of great advice for anyone trying to rise and shine. You don't have to try to become a movie producer. In its own way, the book could be a guide for anyone with ambition, nerve and common sense. But first comes curiosity."
— The Huffington Post

"Grazer himself comes across as a humble seeker, who never let his huge Hollywood success crush his inner child – the child who wants to know everything."
— 2paragraphs

"Stories like de Negri's take Grazer's book beyond Hollywood dish into the mysteries of existence. What makes you curious, it turns out, can also make you stronger."
— 7x7

"Grazer knows that curiosity doesn't merely kill the cat, it morphs it into a roaring lion worthy of a Hollywood logo — in this case, a cool cat with a wild, spiky mane after a career of petting his projects against the grain."
— WTOP

"It'll encourage you and your partner to engage in novel conversations."
— Bustle

"Grazer's book is conversational, funny and inspiring. A business book like this one can be an excellent resource when it provides a different perspective of thinking and taking action."
— Palm Beach Post
Simon & Schuster, 9781476730752, 320pp.
Publication Date: April 7, 2015
About the Author
Brian Grazer is an Oscar-winning producer and New York Times bestselling author. His films and television shows have been nominated for forty-three Academy Awards and 187 Emmys. His credits include A Beautiful Mind, Apollo 13, Splash, Arrested Development, 24, Empire, 8 Mile, J. Edgar, The Da Vinci Code, Parenthood, Friday Night Lights, American Gangster, and Genius, among others. He is the author of Face to Face and the New York Times #1 bestseller A Curious Mind: The Secret to a Bigger Life and was named one of Time's 100 Most Influential People in the World. Grazer is also the co-founder of Imagine Entertainment along with his longtime partner, Ron Howard.

Charles Fishman is the acclaimed author of One Giant Leap, A Curious Mind (with Brian Grazer), The Wal-Mart Effect, and The Big Thirst. He is a three-time winner of the Gerald Loeb Award, the most prestigious prize in business journalism.
or
Not Currently Available for Direct Purchase