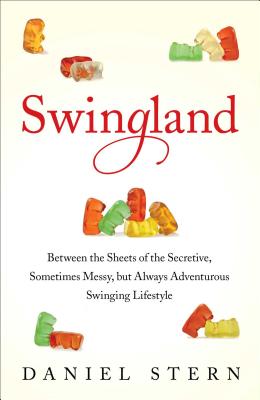 Swingland
Between the Sheets of the Secretive, Sometimes Messy, but Always Adventurous Swinging Lifestyle
Hardcover

* Individual store prices may vary.
Other Editions of This Title:
Paperback (7/18/2015)
Description
The wryly amusing and revealing story of one man's journey into the swinger lifestyle that pulls back the curtain on one of the most fascinating—and least understood—subcultures in the nation.

A wry and revealing story of one man's journey into the swinger lifestyle that pulls back the curtain on one of our most fascinating—and private—subcultures

An estimated fifteen million strong worldwide, swingers are everywhere—a huge community hiding in plain sight whose erotic pastime remains a complete mystery to the rest of us. In Swingland, Daniel Stern outs himself and the secretive society he loves, recounting his transformation from a bumbling neophyte terrified of all things carnal into a veteran sexual adventurer.

Once confined to suburban key parties and private clubs, "swinging" has transformed, via the Internet, into a free-for-all. Today only a few mouse clicks locates your perfect couple (or couples), far easier and less riskily than ever before (no worrying about running into them at PT A meetings). There are plenty of bumps and bruises along the way for Stern, including countless rejections, missed opportunities, and one particular AARP orgy. But slowly and surely, through an impressive series of threesomes, foursomes, and moresomes, this "Vanilla" newbie becomes a much sought-after partner for couples looking to spice up their relationships. During his exploits, he learns a whole new lexicon (there aren't many single women swingers, or "Unicorns," but plenty of MFMs, FMFs, MFMFs, and GBs), as well as invaluable advice (be honest, open, and know your limits).

But Swingland is much more than a titillating exposé. Stern's wit and infectious enthusiasm make Swingland as improbably safe as it is fun—and impossible to put down. All are welcome, but bring flip-flops (it can get messy).
Praise For Swingland: Between the Sheets of the Secretive, Sometimes Messy, but Always Adventurous Swinging Lifestyle…
"Transcends most of the usual boundaries of sexuality.…Leaves the vanilla world behind."

"Stern hilariously recounts his life in the swingers community…Equal parts memoir and guide book."

"Los Angeles screenwriter Stern penetrates the unconventional world of swinging… A unique, voyeuristic expose of a taboo bedroom counterculture."

"Daniel Stern's Swingland is brave, funny, eye-opening, entertaining and well-written . . . everything one could ask, really, of a book about sex. But for all its titillations, Swingland is also something more rare: it is humane, and vulnerable. The book is a genuine delight."
— Matthew Specktor, author of American Dream Machine

"If you want to know your MFM from your MMF, your NSA from your GB and so much more, here's a man who's been there and done everything! Swingland is the erotic equivalent of a travelogue, Stern is an excellent X-rated tour guide through the often misunderstood world of swinging."
— Rachel Kramer Bussel, Editor, The Big Book of Orgasms

"Swingland is everything you need to know about swinging, whether it's your thing or it isn't. Stern isn't trying to pull punches here. He's the real deal, and it shows. Especially in chapters like Synthesis, bedded down in a lovely little section called Intercourse. This book is a must-read. I also thought it was really funny that he says 'DON'T be creepy' in a guidebook to swingers. Brilliant."
— Oriana Small a.k.a. Ashley Blue, author of Girlver: A Porno Memoir

"Delightfully self-deprecating, and unrelentingly honest. Swingland offers an insightful glimpse into a strange sexual world."
— Sam Benjamin, author of American Gangbang
"Daniel Stern navigates the naked frontier of consensual, casual group sex with a firm, polite grip. Never pedantic, Swingland shimmies like the mingling souls of James Brown (The Los Angeles Diaries) and Augusten Burroughs to the Boogie Nights soundtrack."
— Antonia Crane, author of Spent

"SWINGLAND is a seductive story about a mysterious subculture, but ultimately, it's about transformation and one man's search for his own naked truth."
Atria Books, 9781476732534, 320pp.
Publication Date: October 1, 2013
About the Author
Daniel Stern is director of operations at an entrepreneurial company, a screenwriter who placed in the top four in Project Greenlight, and was a Sundance Lab screenwriting finalist. He lives in Los Angeles.
or
Not Currently Available for Direct Purchase