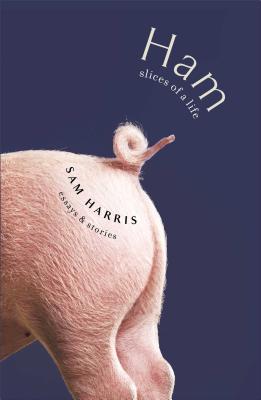 Ham
Slices of a Life: Essays and Stories
Hardcover

* Individual store prices may vary.
Other Editions of This Title:
Digital Audiobook (1/13/2014)
Paperback (10/7/2014)
Description
For fans of David Sedaris and Chelsea Handler, these stories and essays about friendship, celebrity, growing up and getting sober will have you laughing and crying in equal measure.

ham (noun) [hæm]
1 the hind leg of a hog, salted, smoked, and cured
2 second son of Noah
3 somebody who performs in an exaggerated showy style
-always hamming it up

Just when you thought you knew everything about ham, you discover that ham is also:
4 a reason to laugh about everyday life, and
5 an irresistible collection of humorous essays from a man who was born to entertain us.

In sixteen brilliantly observed true stories, Sam Harris emerges as a natural humorist in league with David Sedaris, Chelsea Handler, Carrie Fisher, and Steve Martin, but with a voice uniquely his own. Praised by the Chicago Sun-Times for his "manic, witty commentary," and with a storytelling talent the New York Times calls "New Yorker– worthy," he puts a comedic spin on full-disclosure episodes from his own colorful life. What better place to find painfully funny material than in growing up gay, gifted, and ambitious in the heart of the Bible belt? And that's just the first cut: From partying to parenting, from Sunday school to getting sober, these slices of Ham will have you laughing and wiping away salty tears in equal measure with their universal and down-to-earth appeal. After all, there's a little ham in all of us.
Praise For Ham: Slices of a Life: Essays and Stories…
"A vividly crafted series of essays...a charmingly candid collection."
— Publishers Weekly (starred review)

"Reading singer-actor Harris's essays is like having your smartest gay BFF propped up on your pillow sipping cosmos, regaling you with gossip and his keen wit."

— People

"The essays in Ham are both rip-roaringly funny and sentimental, drawing natural (and justified) comparisons to David Sedaris and David Rakoff."
— Esquire

"The show's title is also the name of Mr. Harris's just-published book of essays and stories. Funny, touching and cheerfully self-deprecating, the show consists of enthusiastic readings from his book with full-tilt renditions of songs....The darker side of Mr. Harris's tale concerns his struggle with his homosexuality, his attempted suicide and his eventual self-acceptance. It is an archetypal coming-out story to which he brought an inspirational spin...every move generates excitement. The word "ham" says it all."
— Stephen Holden, The New Yorker (on the musical performance based on Ham)

"[Harris] has the writing chops to tell a good tale...entertaining and occasionally moving tales from the wilds of showbiz."
— Kirkus

"With a wry sense of humor, Harris writes about his life through humorous essays. Touching on everything from parenting to show business, he dishes on the ups and downs of his life through a witty lens."

— PopSugar

"Harris is such a marvelously engaging, clever, storyteller that you'll be enraptured by every word that comes out of his mouth. With a fine eye for detail and actor's expressiveness, Harris paints wonderfully vivid portraits of various episodes of his life. And then there's that still glorious, blow-the-roof-off, remarkable singing."
— Theater Pizazz

"Sixteen short stories of a triumphant, tragic, and most of all, hilarious life in show business make up Sam Harris' new memoir."
— Jackie Lyden, NPR

"This neo-vaudevillian stage persona, Harris has opted to launch Ham the only way he knows how: extravagantly, theatrically and, most of all, big…refreshingly self-effacing observations and playful humor."
— The Huffington Post

"Ham is a fabulous and funny, tasty treat; sweet and savory with just right touch of tang."
— Broadway World

"Sam Harris, singer, songwriter, actor, and general multi-hyphenate, puts a comedic spin on episodes from his life…he's up there with David Sedaris and David Rakoff."
— The Advocate

"Harris writes with bouncing-on-your-toes energy, rushing from subject to subject with the occasional lingering moment to ponder things that are important to him. His is an eagerness that's endearing….hilarious…teary. With humor, soul-baring, name-dropping, and just the right mix of vulnerability, Ham is a definite pleasure to read. If you're looking for a memoir that you can enjoy, embrace this one whole-hog."
— Dallas Voice

"Ham is, by turns, harrowing and hilarious, uplifting and soul-shattering, agonizing and liberating."
— Oklahoma Magazine

"Ham is honest and heartbreaking, entertaining and devastating all at the same time."
— The Steadfast Reader

"Ham is humorous, soul baring, name dropping, and just the right mix of vulnerability and snarkiness."
— Washington Blade

"Ham is a dishy celebrity memoir combined with profoundly harder things like 9/11, alcoholism, suicide attempts, coming out, marriage and parenting. There is as much hilarity in the book--he knows how to make people laugh, especially at him. He really opens up, showing us his struggles, and has far deeper dimensions that I wasn't expecting when I picked up this book. He's clearly added writing into his stable of talents, and I am hoping folks will give this book a try."
— The Tattered Cover

"Ham is a collection of heartfelt, sharply funny memoirs. At a time when other essayists in the style of David Sedaris and Augusten Burroughs seem to have scraped the bottom of their autobiographical barrels, Harris arrives with great observational writing chops and a deep well of material to draw upon."
— Passport Magazine

"Harris is wry, witty, bitchy, pensive, inspirational, and laugh-out-loud funny in this winning collection of essays."
— Courier-Journal-Gannett Press
Gallery Books, 9781476733418, 304pp.
Publication Date: January 14, 2014
About the Author
Sam Harris's diversified career has run the gamut from singer and songwriter to actor on Broadway, film, and television to writer, director, and producer. His now legendary performances on TV's Star Search led to a multi-million selling recording career. Sam has several studio CDs to his credit and has toured the world in concert, played the White House, Carnegie Hall, with the Boston Pops, and with Cyndi Lauper's True Colors tour. He is also a Tony nominated Broadway star (The Life, Grease, The Producers), and starred in numerous off-Broadway productions including Joseph and the Amazing Technicolor Dream Coat, Hair, Pippin, Jesus Christ Superstar, Cabaret, The Jazz Singer, and The First Wives Club. Sam was a series regular on the CBS series, The Class, and has appeared on numerous television shows as an actor and also a popular talk show guest. Behind the scenes, he created and co-wrote the TBS television series, Down to Earth, the musical Hurry! Hurry! Hollywood!, and Liza's Back at the Palace (which won the Tony Award), co-produced the television special Love Letter to New York, and wrote and directed the concert event New York's Finest. He now adds author to his long list of accomplishments with the release of his first book: Ham: Slices of a Life. Sam lives in Los Angeles with his husband, Danny, and their child, Cooper. For more information, please visit: SamHarris.com.
Coverage from NPR
or
Not Currently Available for Direct Purchase