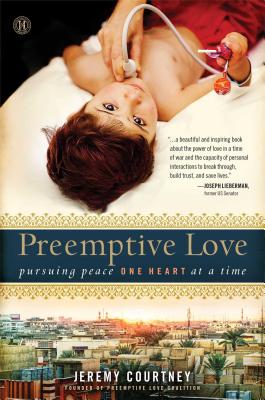 Preemptive Love: Pursuing Peace One Heart at a Time (Hardcover)
Pursuing Peace One Heart at a Time
Howard Books, 9781476733463, 229pp.
Publication Date: October 1, 2013
* Individual store prices may vary.
or
Not Currently Available for Direct Purchase
Description
Love first. Ask questions later. Preemptive Love invites you to walk alongside Jeremy Courtney and his family on their quest to pursue peace and mend hearts in a broken world, learning what it means to go beyond good intentions and risk everything for something more: a lifetime of tomorrows for children who were sentenced to death, relationships restored, and violence undone. In Jeremy's own words, "I no longer accept the zero-sum worldview that says we cannot simultaneously be on the side of the Democrats and Republicans; Americans, Israelis, and Ira-nians; Jews and Palestinians; Sunnis and Shias; Arabs, Kurds, and Turks. I choose them all. I don't lean left or right. I lean in. I lean forward, because that's where love lives." Violence unmakes the world. Preemptive love unmakes violence.
Praise For Preemptive Love: Pursuing Peace One Heart at a Time…
"The story of Preemptive Love is so awe-inspiringly powerful it could rewrite the hardwiring that holds humanity hostage. Our perpetual fears and resulting violence stunt evolution; we are a primitive species, still. But Jeremy and his Preemptive Love cohorts are lights revealing humanity's greater, true self. As living, breathing examples of agape they raze the walls that blind and divide us."
-Greg Barrett, journalist and author

"This is a wonderful book with a powerful, time-tested message: love wins. But Jeremy Courtney and his wife aren't just writing about love in theory or theology. They are showing us all the power of God's love in practice evidenced through the love of His people for others very different than themselves. As a former US diplomat and Ivy League professor I highly recommend this book. But more importantly, as a human being looking for God's love in this war-torn and weary world, I thank God for this book."
-The Honorable Gregory W. Slayton, author of national bestseller Be a Better Dad Today

"Jeremy Courtney weaves the compelling, true story of grace in the midst of violence! He and his colleagues risk touching the pain of Iraqi children plagued by heart defects and their families who scramble to get care for them. They all risk betrayal in order to achieve healing. In the process, they discover opportunities for releasing love and hope into a torn world."
-Sister Simone Campbell, executive director of NETWORK, founder of Nuns on the Bus

"Preemptive Love is a beautiful and inspiring book about the power of love in a time of war, and the capacity of personal interactions, based on love, to break through all the geopolitical strategizing and local suspicions to build trust and, in the case of Jeremy and Jessica Courtney, to save lives."
-Joseph Lieberman, former US Senator, author of The Gift of Rest

"Jeremy Courtney's story, and that of the Preemptive Love Coalition, will help you redefine and reimagine what love really means. Preemptive Love will inspire you to dream of a love that risks everything. It is the kind of story and radical surrender the world is longing to see in those who profess to love like Jesus."
-Ken Wytsma, founder of The Justice Conference, author of Pursuing Justice, president of Kilns College

"Compelling! While the rest of us fold our arms and complain about the situation in the Middle East, Courtney proves that one family can begin an avalanche of change."
-Leigh Saxon, coordinator of Mission Waco/Mission World Health Clinic

"I'm a cynic. I have to be in my line of work. But the world of cynicism isn't one in which Jeremy and Jessica inhabit. And Iraq's broken children are all the better for it. . . . I am also a die-hard agnostic. And while Courtney writes of his faith as a powerful motivating factor in what he does, he doesn't preach. This is just one man's journey, told from the heart. What Preemptive Love is, above all else, is a book of adventure, tragedy, suffering and hope, and the incredible and indomitable power of human compassion. . . . A thoroughly gripping and moving tale of what motivates one group of people to help the children who suffered the most in Iraq."
-Alex Hannaford, journalist (GQ, The Atlantic, Esquire); author, Last of the Rock Romantics

"In Preemptive Love, Courtney deftly chronicles his journey to help children obtain life-saving surgeries in battered regions where hospitals had long been gutted and clinics closed. In the process, he finds that his family's strategy of defeating hate and prejudice with unconditional love heals hearts beyond the ones he set out to fix. Courtney's moving story gives us some of the best news to come out of Iraq in ages."
-Lorraine Ali, Los Angeles Times

"Jeremy Courtney is doing some of the most redemptive work on the planet, providing life-saving surgeries for Iraqi children. Their motto, 'Love now, and ask questions later,' is a brilliant critique of preemptive war. Jeremy has become a close friend over the years, and many of us have been waiting for this book like kids on Christmas morning. From TED talks,to megachurches, to Congress and the UN, Jeremy's message that 'Violence unmakes the world, and love remakes it' has been transforming hearts and minds. Now that message is in your hands. Share it with the world."
-Shane Claiborne, author, activist, and preemptivelover, www.thesimpleway

"Preemptive Love is a story of caring for and bringing healing to those who have suffered violence and war. Jeremy Courtney clearly identifies the need for compassion and forgiveness; spreading this message is his mission. He has shown his love and generosity to many of Iraqi's neediest children. Jeremy is moved by faith and acts with grace and love."
-Imam Mohamed Magid, Imam of ADAMS Center Virginia and President of Islamic Society of North America
Advertisement