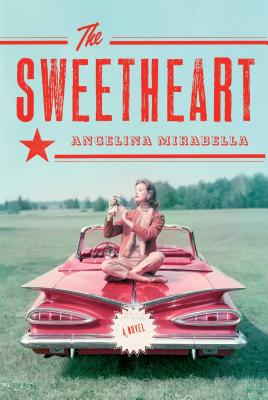 The Sweetheart (Hardcover)
A Novel
Simon & Schuster, 9781476733876, 352pp.
Publication Date: January 20, 2015
* Individual store prices may vary.
Description
In a "powerful tale of a person's capacity for reinvention" (Kirkus Reviews), a teenage girl from Philadelphia leaves her old life behind to become The Sweetheart, one of America's most infamous female wrestlers.

It's 1953 and seventeen-year-old Leonie Putzkammer feels destined to spend the rest of her life waiting tables and living with her widowed father, Franz, in their Philadelphia row house. Until the day legendary wrestling promoter Salvatore Costantini walks into the local diner and offers her the chance to make a name for herself in the ring.

Leonie sets off for Florida to train at Joe Pospisil's School for Lady Grappling. There, she transforms into Gorgeous Gwen Davies, tag-team partner of legendary Screaming Mimi Hollander, and begins a romance with the soon-to-be Junior Heavyweight Champion Spider McGee. But when life as Gorgeous Gwen leaves her wanting more, she orchestrates a move that will catapult her from heel to hero: she becomes The Sweetheart, a choice that attracts the fans she desires but complicates all of her relationships—with Franz, Joe, Spider, Mimi (who becomes her fiercest competitor), and even with herself.

Asking the big questions about what it means to grow up, and stay true to yourself, The Sweetheart is daring, innovative, and powerful storytelling. "With a debut both endearing and enjoyable, this is a hands-down winner" (Star-Telegram, Dallas).
About the Author
Angelina Mirabella received her Master of Arts in English (Creative Writing) from Florida State University in 2003. Her work has appeared in The Southern Review, The Mid-American Review, and The Greensboro Review. In 2007, she attended the Sewanee Writers' Conference as a Tennessee Williams scholar. She lives in Ithaca, New York, with her husband and two daughters. The Sweetheart is her first novel.
Praise For The Sweetheart: A Novel…
"You would be forgiven for thinking Angelina Mirabella had herself been a star lady wrestler in the 1950s, given how authentically detailed her debut novel is. Fortunately for us, she's a fiction writer—and a superb one—who has penned The Sweetheart, bringing all her glorious gifts of empathy and language to bear on its unforgettable heroine."
— Teddy Wayne, author of The Love Song of Jonny Valentine

"Smart, funny, and poignant, Angelina Mirabella's THE SWEETHEART puts a hammerlock on one of literature's most important themes, the search for an identity, and makes it cry 'Auntie!' This is a delightfully original novel by a champ of a new writer."
— Robert Olen Butler, Pulitzer Prize-winning author of A Good Scent from a Strange Mountain

"Like Gwen Davies, its deeply loveable heroine, THE SWEETHEART is a delightful combination of beauty, brawn, and heart. Angelina Mirabella revives the entertainment of 'lady wrestling' from its black-and-white age and raises it to the level of art. This is a bold, agile, and breathlessly exuberant debut."
— Eleanor Henderson, author of Ten Thousand Saints

"Why haven't there been more novels written about the lady wrestling circuit of the 1950s? Thank God the talented Angelina Mirabella has opened up this fascinating world for us in her mesmerizing debut novel, The Sweetheart. Its heroine—Gorgeous Gwen Davies—is the most feisty and vulnerable character you'll ever meet. Once she leaps from the turnbuckle and takes the competition to the mat, you'll find yourself out of your seat and cheering. THE SWEETHEART made me downright giddy."
— Elizabeth Stuckey-French, author of The Revenge of the Radioactive Lady and Mermaids on the Moon

"An engrossing portrait of the little-known world of women's wrestling with questions about the nature of stardom and showing love. Leonie will fascinate teens, especially girls, as she makes her own way in a male-dominated sport. There's much here for book clubs to discuss."

"Debut novelist Mirabella delivers a powerful blow with her coming-of-age story set in the world of women's professional wrestling in 1953. Leonie Putzkammer is a 17-year-old who's primed to reinvent herself...The novel is bursting with colorful characters who are far more complex than the heels and faces they portray in the theater of professional wrestling. A powerful tale of a person's capacity for reinvention."

"An unusual coming-of-age novel with a focus on being true to oneself."

"Spunky and colorful…The Sweetheart is a smart and touching romp through the history of women's wrestling, and it just may give you more respect and understanding for those spangly WWE Divas."

"The Sweetheart is well-balanced in its humor and pathos…full of seamless sentences and surprising swerves of action."

"A wonderfully straightforward coming-of-age story that's set against a backdrop that's anything but."—

"[An] impressive coming-of-age novel."

"A heartwarming novel about love, relationships and lady wrestling debuts. Yep, Angelina Mirabella's The Sweetheart is about the unforgettable lady wrestling circuit in the 1950s, and it's a hands-down winner."

"The setting is based in historical fact—actual "lady grapplers" performed in matches that were staged much like professional wrestling is today. But this isn't just a book about subverting stereotypes (although that'd be enough to make it a worthy read); it also examines the impact Leonie's pursuit of fame has on those close to her."

"Told from an unusual retrospective second-person perspective and perfectly evoking 1950s culture, The Sweetheart is often hilarious but also filled with the wholly realistic yearnings and heartbreak of young-adult reinvention, and is peopled by familiar, sympathetic characters. Mirabella's impressive debut offers laughter, tears, failure, redemption, striving, success and a sweetheart we can't help but love."

"Like Gwen Davies' signature dropkicks, Mirabella gives the reader a few jolts and some well-scripted writing. If you're an old school wrestling fan, this book will resonate. And newer fans will get a taste of what wrestling was like before it became simply glitter and cartoonish. And that's no illusion."

"Readers will find this backdrop refreshing, unique and an interesting look into the world of wrestling…Life is complicated and messy, and as Leonie learned it is impossible to play a part forever."

"Leonie's journey, including the depictions of her wrestling training and matches are written so realistically. It is almost inconceivable that Mirabella is neither a huge wrestling fan nor a fellow wrestler. Wrestling fans, both males and females, looking to read about wrestling and this incredible time in its history will be impressed and entertained."

"The Sweetheart pulls off that rare task of being an engaging novel in its own right that will appeal to a general audience, but being credible for pro wrestling fans, with the wrestling scenes an integral part of the storyline and themes rather than merely being a backdrop… anyone who has a keen interest in wrestling and also enjoys reading fiction will certainly find it a worthwhile purchase."

"Wow."
or
Not Currently Available for Direct Purchase