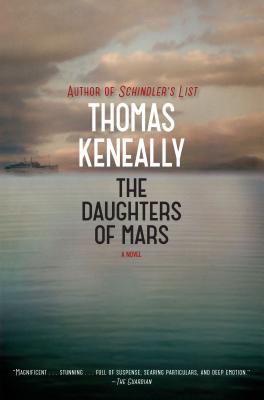 The Daughters of Mars
A Novel
Hardcover

* Individual store prices may vary.
Other Editions of This Title:
Paperback (5/6/2014)
Hardcover, Large Print (2/12/2014)
MP3 CD (4/1/2014)
Compact Disc (5/6/2014)
MP3 CD (8/20/2013)
MP3 CD (8/20/2013)
Compact Disc (8/20/2013)
Description
From the acclaimed author of Schindler's List, the epic, unforgettable story of two sisters from Australia, both trained nurses, whose lives are transformed by the cataclysm of the first World War.

From the acclaimed author of Schindler's List comes the epic, unforgettable story of two sisters whose lives are transformed by the cataclysm of the First World War.

IN 1915, Naomi and Sally Durance, two spirited Australian sisters, join the war effort as nurses, escaping the confines of their father's farm and carrying a guilty secret with them. Though they are used to tending the sick, nothing could have prepared them for what they confront, first on a hospital ship near Gallipoli, then on the Western Front.

Yet amid the carnage, the sisters become the friends they never were at home and find them­selves courageous in the face of extreme danger and also the hostility from some on their own side. There is great bravery, humor, and compassion, too, and the inspiring example of the remarkable women they serve alongside. In France, where Naomi nurses in a hospital set up by the eccen­tric Lady Tarlton while Sally works in a casualty clearing station, each meets an exceptional man: the kind of men for whom they might give up some of their newfound independence—if only they all survive.

At once vast in scope and extraordinarily intimate, The Daughters of Mars brings World War I vividly to life from an uncommon perspec­tive. Thomas Keneally has written a remarkable novel about suffering and transcendence, despair and triumph, and the simple acts of decency that make us human even in a world gone mad.
Praise For The Daughters of Mars: A Novel…
"Poignant . . . masterly . . . epic . . . [Keneally] has rescued forgotten heroines from obscurity and briefly placed them center stage."

"A burly, captivating saga of Australian nurses on the front lines of World War I... Inscribed with the stately, benign authority of an eminent tale-spinner. "

"Magnificent… a stunning performance, full of suspense, searing particulars, and deep emotion.… The huge talents of Thomas Keneally are everywhere on display."

"The Daughters of Mars is the work of a master storyteller, sharing a tale that is simultaneously sprawling and intimate."

"The story has a surprise ending — two, in fact — that add to its fascinations. Keneally's best-known book is likely to remain 'Schindler's List,' but this is his masterpiece."

"[A] poignant novel."

"May be the best novel of Keneally's career… a book that aims for, and achieves, real grandeur."

"An epic, sweeping book."

"Extraordinarily moving… Keneally is a master of character development and period detail…. Fans of Downton Abbey and Gallipoli alike will find much to admire in Keneally's fast-moving, flawlessly written pages."

"Superbly exciting to read….. An unmissable, unforgettable tribute."

"Keneally has a Tolstoy-like gift for getting into his characters' heads, as well as for portraying great turns of history in scenes of everyday life."

"Not only is The Daughters of Mars one of the most ambitious novels in a career that stretches back to 1964, but it might even be the best… The result is something few other authors would aim for, let alone achieve: genuine grandeur."

"A big and brutal book, a new prism through which to think about World War I…breathtaking…magnificent and almost magical. There are moments of joy, of pleasure, that make you look up from their page for a while to arrest and savour their sensation."

"Along with a Tolstoyan ability to describe the horrors of battle, this amazing book also has an extraordinary intimacy, especially in the relationship between the sisters...an altogether towering achievement."
— A.N. Wilson

"Now, at last and triumphantly, there is a full-scale Keneally novel of the Great War...All of it is handled by Keneally with calm mastery. If epic is no longer a literary category that fits this world, The Daughters of Mars nonetheless has a tragic and humane span that few recent novels have attempted, let alone equalled."

"Expansive and brilliant…a masterpiece that is sure to rank among Keneally's best works. "

"Greatly detailed... boasts authentic characters set in equally authentic locations."

"Like the warriors of Homer's Iliad, Keneally gives readers a sense of the vast and continuous casualties dealt by war and reminds us that each soldier was once a boy armed with little more than a pitchfork."

"Keneally has summoned all of his ample talent to write a sweeping novel of World War I."

"By Page 6, readers can put up their feet and relax. They know they're in the reassuring hands of a master storyteller, and a fascinating read lies ahead. "

"A bravura piece of writing."
Atria Books, 9781476734613, 528pp.
Publication Date: August 20, 2013
About the Author
Thomas Keneally began his writing career in 1964 and has published thirty-three novels since, most recently Crimes of the Father, Napoleon's Last Island, Shame and the Captives, and the New York Times bestselling The Daughters of Mars. His novels include Schindler's List, which won the Booker Prize in 1982, The Chant of Jimmie Blacksmith, Gossip from the Forest, and Confederates, all of which were shortlisted for the Booker Prize. He has also written several works of nonfiction, including his boyhood memoir Homebush Boy, The Commonwealth of Thieves, and Searching for Schindler. He is married with two daughters and lives in Sydney, Australia.
or
Not Currently Available for Direct Purchase