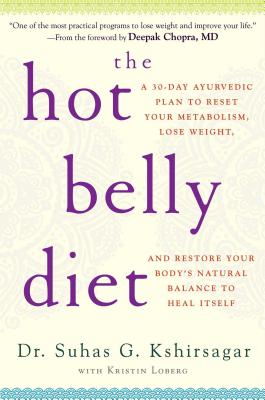 The Hot Belly Diet (Hardcover)
A 30-Day Ayurvedic Plan to Reset Your Metabolism, Lose Weight, and Restore Your Body's Natural Balance to Heal Itself
Atria Books, 9781476734804, 304pp.
Publication Date: August 26, 2014
Other Editions of This Title:
Paperback (12/29/2015)
* Individual store prices may vary.
Description
From an internationally recognized physician who combines Eastern and Western medicine, a groundbreaking diet and total body health plan centered on digestive balance and metabolic transformation.

The complaints that Dr. Suhas hears on a daily basis, from body weight chaos, low energy, and poor sleep, to headaches, unexplained congestion, and depression, all have a surprising common denominator: a weak digestive "fire." Drawing on ancient Indian practices and principles, The Hot Belly Diet shows you how to optimize your digestive powers to foster rapid weight loss and vibrant health.

At the core of this three-phase diet that makes lunch the most important meal of the day is a dish called khichadi (pronounced kitch-a-de)—a complete but incredibly easy-to-make meal that helps clear out your "ama," or the digestive sludge that antagonizes weight loss, provokes hormonal imbalances, and ultimately triggers inflammation—the root cause of virtually all disease. This unique book also explains incompatible foods (milk and eggs, for example), why the sensation of hunger is essential, and how to time your meals throughout the day without snacking. The Hot Belly Diet changes your relationship with food to make healthy eating—and living—effortless.

Whether you're suffering from a chronic condition, looking to prevent future illness, or just want to feel your best every day, The Hot Belly Diet will re-establish your body's natural balance, creating a thinner, healthier, and happier you.
About the Author
Dr. Suhas G. Kshirsagar is an internationally recognized leader in the ancient science of Ayurveda, which emphasizes a comprehensive, whole-body approach to health. His mission is to empower people to take control of their wellbeing and help them restore their body's natural, happy balance. In addition to running his private clinic in Santa Cruz, California, he frequently shares the stage with many of the top pioneers in health and wellness circles, including Deepak Chopra, Tony Robbins, and Wayne Dyer, and is a keynote speaker and faculty member at several Ayurvedic institutions worldwide.

Kristin Loberg has collaborated on a lengthy list of successful books, including three #1 New York Times bestsellers, most recently The End of Illness by David B. Agus, MD.

Deepak Chopra, MD, has gained worldwide acclaim as a teacher and writer in fields as diverse as mind-body medicine, Ayurveda, the nature of God, and the path to success. Time magazine called him one of the 100 icons of the twentieth century, "the poet-prophet of alternative medicine." The author of more than sixty-four books translated into over eighty-five languages, including nineteen New York Times bestsellers, Dr. Chopra has sold more than twenty million copies of his books worldwide. He is the founder of the Chopra Center in Carlsbad, California.
Praise For The Hot Belly Diet: A 30-Day Ayurvedic Plan to Reset Your Metabolism, Lose Weight, and Restore Your Body's Natural Balance to Heal Itself…
"A modern perspective of a timeless tradition ofhealth and healing."
— Dean Ornish, M.D., New York Times bestselling author of The Spectrum and Dr. Dean Ornish's Program for Reversing Heart Disease

"The Hot Belly Diet makes good sense on so many levels! And it's just the approach we all need to lose weight and get in touch – literally – with the fire in our bellies."
— Christiane Northrup, M.D., ob/gyn physician and author of the New York Times bestsellers Women's Bodies, Women's Wisdom and The Wisdom of Menopause

"In this timely and important book, Dr. Suhas Kshirsagar presentsthe scientific evidence for embracing many ancient Indian health practices andprinciples. Best of all, he offers a three-phase dietary prescription thatanyone can use to lose weight and optimize well-being. Many of hisrecommendations will surprise you, such as making lunch the most important mealof the day and learning to enjoy the sensation of hunger."
— Andrew Weil, M.D., author of 8 WEEKS TO OPTIMUM HEALTH and HEALTHY AGING

"The Hot Belly Diet reveals many Ayurveda secrets for lasting weight loss that are designed to fix a broken metabolism, unleash one's slimmest self, and achieve vibrant health. Dr. Kshirsagar's unique four-tiered approach will entice you with deliciously aromatic foods brimming with flavor that will not only enhance digestion but will also fire up weight loss for good!"
— Ann Louise Gittleman, New York Times bestselling author The Fat Flush Plan and Before the Change

"This book goes beyond recommending a diet. It is a book on living: an owners manual based on Ayurveda, the science of life. Follow this simple program and experience satisfaction, steady intellect, soft and lustrous skin and a warm sensation radiating from your abdomen after every meal."
— Cesar R. Molina, MD FACC

"A perfect blend of East and West, validated by modern medical research. A breakthrough in transforming the body's metabolism and thereby enhancing human potential."
— Dr. LeRoy Perry, Chiropractic Orthopedist and five-time official Olympic team doctor

"Dr. Suhas Kshirsagar is one of the great holistic practitioners of our age. The Hot Belly Diet reframes the entire discussion of wellness, weight loss, and what it means to be healthy. Instead of worrying about calories, fat, or going gluten-free, Kshirsagar focuses on the importance of honoring the body's innate digestive 'fire,' and how we can change the course of our health for the better through digestive balance alone. Before you try another weight loss diet, read this book."
— William Farley, CEO of Zrii, LLC

"Dr. Suhas Kshirsagar's approach is practical and transformative.The book is not merely an innovative guide to diet and weight control but introduces the reader to the full scope of Ayurvedic knowledge and treatment for body, mind and consciousness."
— Dr. David Frawley, author of Yoga and Ayurveda

"Dr. Suhas Kshirsagar is a dedicated physician who has successfully treated people that mainstream physicians were not able to help, and a talented teacher…His book will invite a larger audience to learn the concepts of Ayurveda and upon implementing them in their lifestyle improve their health and well-being."
— Tamar Hoffmann, M.D.

"The beauty of The Hot Belly Diet is Dr Kshirsagar's unique ability to take ancient Ayurvedic principles such as Agni (Digestive Fire) and Ama (Toxins) to describe how one can lose weight and feel optimal not only by changing what they eat, but howand when they eat certain foods. Honoring when our digestive fire is the strongest, along with recommending foods that enhance our fire, is one of the key concepts discussed in weight maintenance. In addition, using foods that detoxify the body is beautifully explained in this program. Fundamental in his book is the discussion of how stress and one's emotional health affects weight. This is a must read for everyone who wants to know the truth behind how to lose weight and keep it off for many years to come!"
— Trupti Gokani, MD, Board-Certified Neurologist and Founder, Zira Mind and Body Center

"Dr. Suhas Kshirsagar has an extraordinary ability to share the ancient wisdom of Ayurveda with clarity, inspiration and humor. I've observed him lecture, teach and inspire. This book is a must read for anyone who is struggling with weight issues and/or who wants to understand more about a holistic approach to everyday life, health and balance."
— Daniel Vicario, M.D., ABIHM, Director, Integrative Oncology Program, San Diego Cancer Research Institute

"The Hot Belly Diet provides a simple solution for the complicated conundrums of the modern lifestyle—too little time, too little enjoyment, too much stress. Dr. Suhas translates ancient self-healing practices into convenient daily actions—igniting our innate power to transform our bodies, our habits, our outlook."
— Thomas Yarema, MD, author of Eat-Taste-Heal and founder of GetYourBodyBack.org

"Beyond mere diets, Hot Belly addresses a key hidden driver of weight, metabolism and health itself—your digestive "fire." Hot Belly puts the digestive process front center, as the missing ingredient to rev up metabolism and ramp up health as you lose weight gradually, and permanently."
— Nancy Lonsdorf, M.D., author of The Ageless Woman, Natural Health and Beauty After Forty with Maharishi Ayurveda, co-author of A Woman's Best Medicine

"Perhaps the Western world's greatest and most dangerous epidemic is the lack of digestive fire needed to digest, assimilate and detoxify. In Dr.Suhas's book, The Hot Belly Diet, he describes time tested practices to turn on the digestive fire and restore optimal health in the most natural way possible."
— Dr, John Douillard, DC, LifeSpa.com

"What makes thisbook indispensable is Dr Kshirsagar's ability to takehis profound and deep knowledge of Ayurveda, and make it applicable andpractical for the Western world. It gives readers a holisticunderstanding of health as well as guidance toward achieving their weightand health goals. I will be recommending it to all of my patients who arestruggling with a way to achieve healthy, permanent weight loss, as well asthose looking to improve their overall wellbeing."
— Sheila Patel, M.D., Medical Director of the Chopra Center

"With the ancient, timelesswisdom of Ayurveda, Dr. Kshirsagar has put together a 30-day plan of profoundsimplicity. Anyone reading this book can balance his or her agni (metabolicfire) and live a long, healthy, happy life."
— Vasant Lad, B.A.M.&S., M.A.Sc, Ayurvedic Physician, Author of Several Ayurvedic Books

"As one of the leading teachers of Ayurvedain the US, Dr. Suhas Kshirsagar brings this ancient wisdom into modern light. With practical tips on what and how to eat as well as lifestyle tips, this plan will steer you towards a healthier and happier you.More than a diet book, this is a recipe for life!"
— Valencia Porter, MD, MPH, FACN Director of Integrative Medicine The Chopra Center for Well Being

"Dr. Suhas Kshirsagar is one of the great holistic practitionersof our age. He's rescued the health of more than 15,000 people—including me.Before you try another weight loss diet, read this book."
— Marci Shimoff, New York Times Bestselling Author of Happy for No Reason
or
Not Currently Available for Direct Purchase