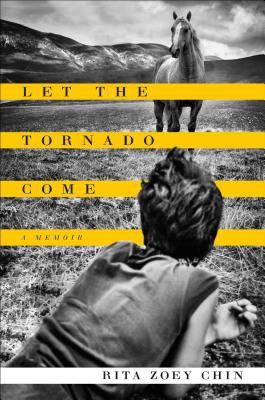 Let the Tornado Come (Hardcover)
A Memoir
Simon & Schuster, 9781476734866, 336pp.
Publication Date: June 24, 2014
Other Editions of This Title:
Paperback (8/25/2015)
* Individual store prices may vary.
Description
From an award-winning poet comes this riveting, gorgeous memoir about a young runaway, the trauma that haunted her as an adult, and the friendship with a horse that finally set her free.

When she was eleven years old, Rita began to run away. Her father's violence and her mother's hostility drove her out of the house and into the streets in search of a better life. This soon led her into a dangerous world of drugs, predatory older men, and the occasional kindness of strangers, but despite the dangers, Rita kept running. One day she came upon a field of horses galloping along a roadside fence, and the sight of them gave her hope. The memory of their hoofbeats stayed with her.

Rita survives her harrowing childhood to become a prize-winning writer and the wife of a promising surgeon. But when she is suddenly besieged by terrifying panic attacks, her past trauma threatens her hard-won happiness and the stable, comfortable life she's built with her husband. Within weeks, she is incapacitated with fear—literally afraid of her own shadow. Realizing that she is facing a life of psychological imprisonment, Rita undertakes a journey to find help through a variety of treatments. It is ultimately through chasing her childhood passion for horses that she meets a spirited, endearing horse named Claret—with his own troubled history—and together they surmount daunting odds as they move toward fear and learn to trust, and ultimately save, each other.
About the Author
Rita Zoey Chin's writing has appeared in Tin House, Guernica,The Rumpus, Freerange Nonfiction, and elsewhere. She received her MFA from the University of Maryland and now lives in Boston, where she teaches at Grub Street, mentors teenage girls, and rides her mischievous horse.
Praise For Let the Tornado Come: A Memoir…
"Although Rita Zoey Chin vividly describes a brutal and despairing life her writing is never consumed with despair. Let the Tornado Come is a clear-eyed book written with poetry and compassion. Chin may have had little control over her life, but she demonstrates a remarkable control over her story."

"A near euphoric ode to the human spirit... It is one thing to have lived a life worth writing about, but it is a talent to search that undeniably particular life for the moments that can ring true to those who will never know even a second of the darkness that fell so insistently and relentlessly upon her, first as a child, and later as a young adult."
— Ru Freeman

"A beautiful memoir of hope in even the most trying of situations."

"[An] intense, disturbing memoir.… As [Chin] finally connects with those who understand her pain and, in the process, figures out how to save her horse, [she] emerges triumphant. Her message: never give up until you find the help you need, and don't be afraid to keep looking. Book clubs will find hours of discussion here."

"Luminous… A haunting yet hopeful saga that shows how trauma and fear can transform themselves into enduring strength."

This lyrical debut memoir reveals the indelible consequences of childhood abuse.... Chin deftly creates the palimpsest of those stories, past and present, in this candid, graceful testimony to remarkable resilience.

"The language in Let the Tornado Come is beautiful, and Rita's lyricism alone makes the book worth reading. That it's a memoir of perseverance, that it speaks to all of us—riders, runaways, panickers, and indeed anyone else who's discovered that we all have the power to improve our lives—makes this a must-read."

"Unbearably beautiful and unflinching, Rita Zoey Chin's Let the Tornado Come is a brilliant portrait of a life skirting the precipice. She has captured masterfully the maelstrom of her years as a runaway, a wife, a sister, a rider, a searcher. But what shines, page after page, is her resilience, in how every day is built. This is a story full of lightning—sudden, intimate, radiant."
— Paul Yoon, author of Snow Hunters

Let the Tornado Come is as riveting as it sounds. In lyrical yet clear-eyed prose, with a gentleness and humility that belie a fierce inner strength, Rita Zoey Chin illuminates the debilitating consequences of childhood abuse and her search for its antidote. At once heartbreaking and heartening, compassionate and wise, Let the Tornado Come is a story about love—its unmatched enormity, its curative power, its reverberating force that, though not dissimilar to the tremors of fear in our heart, can carry us to a place where we are cherished, and in turn, learn to cherish the life in our care.
— Vaddey Ratner, bestselling author of In the Shadow of the Banyan

At the heart of this brave,beautiful memoir is an extraordinary tale of hard-earned compassion and love.Despite all odds, some of the most broken down souls, human and animal alike,can not only heal but can take wing and soar. Rita Zoey Chin offers us herunforgettable story with richly textured, luminous prose—I fell in love withher book from the very first line.
— Mira Bartók, bestselling author of The Memory Palace
or
Not Currently Available for Direct Purchase