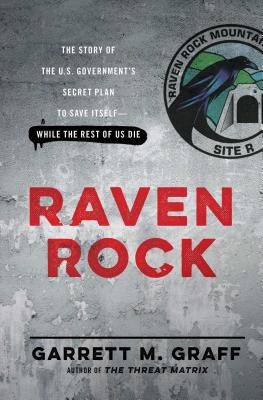 Raven Rock (Hardcover)
The Story of the U.S. Government's Secret Plan to Save Itself--While the Rest of Us Die
Simon & Schuster, 9781476735405, 560pp.
Publication Date: May 2, 2017
Other Editions of This Title:
Digital Audiobook (5/1/2017)
Paperback (5/22/2018)
* Individual store prices may vary.
Description
The eye-opening true story of the government's secret plans to survive and rebuild after a catastrophic attack on US soil—a narrative that spans from the dawn of the nuclear age to today.

Every day in Washington, DC, the blue-and-gold 1st Helicopter Squadron, code-named "MUSSEL," flies over the Potomac River. As obvious as the presidential motorcade, the squadron is assumed by most people to be a travel perk for VIPs. They're only half right: while the helicopters do provide transport, the unit exists to evacuate high-ranking officials in the event of a terrorist or nuclear attack on the capital. In the event of an attack, select officials would be whisked by helicopters to a ring of secret bunkers around Washington, even as ordinary citizens are left to fend for themselves.

For sixty years, the US government has been developing secret Doomsday plans to protect itself, and the multibillion-dollar Continuity of Government (COG) program takes numerous forms—from its plans to evacuate the Liberty Bell from Philadelphia and our most precious documents from the National Archives to the plans to launch nuclear missiles from a Boeing 747 jet flying high over Nebraska.

In Raven Rock, Garrett Graff sheds light on the inner workings of the 650-acre compound (called Raven Rock) just miles from Camp David, as well as dozens of other bunkers the government built its top leaders during the Cold War, from the White House lawn to Cheyenne Mountain in Colorado to Palm Beach, Florida, and the secret plans that would have kicked in after a Cold War nuclear attack to round up foreigners and dissidents, and nationalize industries.

Equal parts a presidential, military, and political history, Raven Rock tracks the evolution of the government's plans and the threats of global war from the dawn of the nuclear era through the present day. Relying upon thousands of pages of once-classified documents, as well as original interviews and visits to former and current COG facilities, Graff brings readers through the back channels of government to understand exactly what is at stake if our nation is attacked, and how we're prepared to respond if it is.
About the Author
Garrett M. Graff, a magazine journalist and historian, has spent more than a dozen years covering politics, technology, and national security. He's written for publications from Wired to The New York Times, and served as the editor of two of Washington's most prestigious magazines, Washingtonian and POLITICO Magazine. His books include Raven Rock: The Story of the U.S. Government's Secret Plan to Save Itself—While the Rest of Us Die, The Threat Matrix: The FBI War in the Age of Global Terror and The First Campaign: Globalization, the Web, and the Race for the White House.
Praise For Raven Rock: The Story of the U.S. Government's Secret Plan to Save Itself--While the Rest of Us Die…
"Comically macabre . . . A thorough investigation of Washington's longstanding efforts to maintain order in the face of catastrophe. In exploring the incredible lengths (and depths) that successive administrations have gone to in planning for the aftermath of a nuclear assault, Graff deftly weaves a tale of secrecy and paranoia. . . . Raven Rock is at heart a history of the Cold War and an exploration of its lasting effects on American politics. Graff's portrait of that era is more Dr. Strangelove than James Bond." —New York Times Book Review

"Raven Rock is gripping from page one. Brilliantly sourced and reported with exquisite detail, Garrett Graff's new book is terrifying, outrageous, and illuminating." —Annie Jacobsen, author of Area 51 and Phenomena

"You may think you have some idea of how the United States prepared for nuclear war, but you will be shocked, appalled, amazed, fascinated, darkly amused, and just plain gob-smacked by what Garrett Graff has dug up. Deeply researched and lucidly written, Raven Rock is a haunting, compelling journey into the past—with disturbing meaning for the future." —Evan Thomas, author of Ike's Bluff and Being Nixon

"In this spellbinding narrative, Graff reveals the top secret plans the government has for its own survival and asks the reader to consider a nightmarish scenario. Crammed with new revelations—from the locations of secret bunkers hidden in the nation's small towns and dense woods to the ever-changing presidential evacuation plan—Graff carefully considers what would happen if the unthinkable occurred. I could not put it down." —Kate Andersen Brower, author of The Residence and First Women

"Garrett Graff has given us a colorful and frightening account of the American government's plans for doomsday, and the secret bunkers where official could go to save themselves. These early plans still have their counterparts today, and they reveal a lot about how warfighting doctrine evolved. Read it and be fascinated—and a little scared." —Walter Isaacson, author of Steve Jobs and Einstein

"Equal parts thriller, sober history, and tragic comedy, Garrett Graff's Raven Rock is an indispensable volume for anyone seeking to understand how the Cold War and the specter of nuclear annihilation shaped the world. Graff is a meticulous researcher and truly gifted storyteller. Readers will find themselves mesmerized by his careful and fast-paced examination of our government's top-secret plans to survive a nuclear attack while the rest of us are turned to ash." —Del Quentin Wilber, author of Rawhide Down: The Near Assassination of Ronald Reagan

"A detailed exploration of the United States' doomsday prepping during the Cold War . . . Graff, a former editor of Washingtonian and Politico magazines, covers every technicality of the construction of underground bunkers and secret command posts, every war game and exercise, every debate over presidential succession planning and continuity of government, every accident that left us verging on nuclear war. . . . But if there is anything that Raven Rock proves with grim certitude, it is that we have little idea how events would have unfolded in a superpower nuclear conflict, and that technological limits, human emotion and enemy tactics can render the most painstaking and complex arrangements irrelevant, obsolete, or simply obscene." —Carlos Lozada, The Washington Post

"In a new book exploring United States officials' detailed doomsday plans during the Cold War, writer and historian Garrett Graff presents a look at how nuclear disaster preparation shaped the modern world. . . . Through his research, Graff reveals how ineffective plans for nuclear disaster actually are when put into action. The problem with org charts and instructions? Humans." —Time magazine

"An encyclopedic chronicle of how the American government, for more than sixty years, has prepared for nuclear attack, most notably with bunkers underground and inside mountains to shelter government officials and other personnel—men and women who could retaliate against the enemy with nuclear weapons and begin to rebuild society. Raven Rock contains everything one could possibly want to know about these seemingly still-continuing measures to confront Armageddon." —The Wall Street Journal

"There are details in Raven Rock that read like they've been ripped from the pages of a pulp spy novel. The book, written by national security expert Garrett M. Graff, takes us inside the bunkers cut into granite mountainsides and dug under an elite country club. He brings us deep beneath the White House on 9/11 and into the cockpit of an airplane that doesn't officially exist. As you make your way through Raven Rock, it's easy to forget that all this elaborate high-tech doomsday infrastructure is actually real. . . . Raven Rock, which should have been a Cold War history, now feels especially timely, hitting bookstores right as a President Donald Trump and North Korea's Kim Jong-un's on-again, off-again relationship pushes us ever closer to nuclear holocaust." —Vice

"A chilling portrait of how the government planned to continue to function during and after a nuclear holocaust is brilliantly told in this new valuable addition to Cold War literature that goes beyond policy and delves into logistical plans. Graff mines classified and unclassified material to create this highly informative work." —Library Journal (starred review)
Coverage from NPR
or
Not Currently Available for Direct Purchase