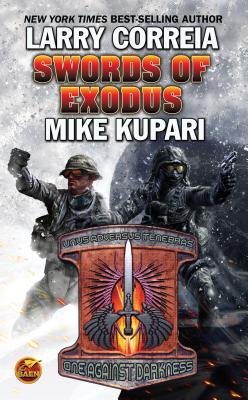 Swords of Exodus (Dead Six #2)
Mass Market

* Individual store prices may vary.
Other Editions of This Title:
MP3 CD (6/9/2015)
Description
ORIGINAL MASS MARKET. Sequel to thriller Dead Six. From the author of the New York Times bestselling Monster Hunter series and an Air Force weapons expert, an edge-of-your-seat military-political thriller. A master thief and a hardhitting mercenary team up to defeat a Central Asian warlord with world-wide destruction on his mind.

The hard-hitting sequel to groundbreaking military adventure Dead Six.

On the far side of the world, deep in former Soviet Central Asia, lies a stronghold called the Crossroads. It is run with an iron fist by a brutal warlord calling himself Sala Jihan. He is far more than a petty dictator, for Jihan holds the fate of nations in his grasp. To save a world slipping into chaos, Jihan must either fall or be controlled.

One secret military organization called Exodus plans to see that this happens. For this mission, they need the best of the best. Unfortunately the man they need is rotting in an almost unassailable foreign prison.

Enter Lorenzo, thief extraordinaire. Lorenzo is now retired, happily married and living in paradise. His Achilles heel: an FBI-agent brother who has gone missing—disappeared into the stronghold of warlord Jihan. Exodus promises to give Lorenzo his chance to rescue his brother if and only if Lorenzo will perform one service for them: break Michael Valentine out of a captivity from which no one has ever emerged alive.

And if Lorenzo can accomplish that—well then, the Crossroads awaits the sword of Exodus.

About Larry Correia's Monster Hunter series:
"[A] no-holds-barred all-out page turner that is part science fiction, part horror, and an absolute blast to read."—Bookreporter.com

"If you love monsters and action, you'll love this book. If you love guns, you'll love this book. If you love fantasy, and especially horror fantasy, you'll love this book."—Knotclan.com

"A gun person who likes science fiction—or, heck, anyone who likes science fiction—will enjoy [these books]…The plotting is excellent, and Correia makes you care about the characters…I read both books without putting them down except for work…so whaddaya waitin' for? Go and buy some…for yourself and for stocking stuffers."—Massad Ayoob

About Larry Correia's Monster Hunter Vendetta:
"This lighthearted, testosterone-soaked sequel to 2009's Monster Hunter International will delight fans of action horror with elaborate weaponry, hand-to-hand combat, disgusting monsters, and an endless stream of blood and body parts."—Publishers Weekly
Baen, 9781476736112, 608pp.
Publication Date: September 24, 2013
About the Author
Larry Correia is the creator of the Wall Street Journal and New York Times best-selling Monster Hunter International series, with first entry Monster Hunter International; as well as urban fantasy hardboiled adventure saga The Grimnoir Chronicles, with first entry Hard Magic; and epic fantasy series The Saga of the Forgotten Warrior, with first entry Son of the Black Sword. He is an avid gun user and advocate who shot on a competitive level for many years. Before becoming a full-time writer, he was a military contract accountant, and a small business accountant and manager. Correia lives in Utah with his wife and family.
or
Not Currently Available for Direct Purchase