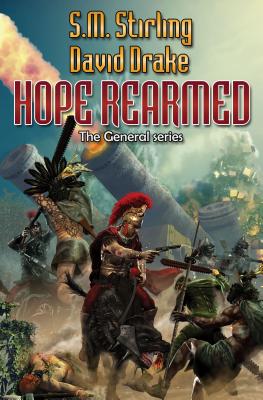 Hope Rearmed
Paperback

* Individual store prices may vary.
Description
Sequel omnibus edition to Hope Reborn. A young hero overcomes implacable foes to lead a planet fallen into a dark age back to the high point of its lost technological civilization. Contains The Anvil and The Steel in the General series. Series relaunched in The Heretic and continuing in The Savior.

After the collapse of the galactic Web, civilizations crumbled and chaos reigned on thousands of planets. Only on planet Bellevue was there a difference. There, a Fleet Battle Computer named Center had survived from the old civilization. When it found Raj Whitehall, the man who could execute its plan for reviving human civilization, he and Center started Bellevue back on the road leading to the stars.

Now Raj Whitehall has come close to reuniting the entire planet of Bellevue. Because of his victories and because of the way he won them, Raj is loved by the people—and his army would follow him to Hell. Even those closest to him, his band of sworn companions and his wickedly subtle but utterly loyal wife, hold him in awe.

And that's the problem. For though Raj battles only in the name of his emperor and has proven his loyalty again and again, still the half-mad jealousy and fear of that emperor Clerett is about to give Raj no choice but to revolt or face death and the loss of all he has gained for freedom.

About prequel omnibus volume, Hope Reborn:
"The various battles and intrigues–all of them very clever and some of them very unexpected–make up the core of these extremely well-written and unabashedly fun books. And really, the action never stops. I highly recommend them to you as they've come out in a tasty trade format that's very easy to hold and lug around (they are, in other words, backpackable)."—Amazing Stories

About the Raj Whitehall series:
"[T]old with knowledge of military tactics and hardware, and vividly described action. . .devotees of military SF should enjoy themselves."—Publishers Weekly

"[A] thoroughly engrossing military sf series. . .superb battle scenes, ingenious weaponry and tactics, homages to Kipling, and many other goodies. High fun."—Booklist
Baen, 9781476736303, 544pp.
Publication Date: March 4, 2014
About the Author
S.M. Stirling is the New York Times best-selling author of the Draka series, the Lords of Creation series, and the Emberverse series, among others. With David Drake, he is the author of several novels in the General series. He cowrote novels in the Falkenberg's Legion series with Jerry Pournelle. He lives in New Mexico.