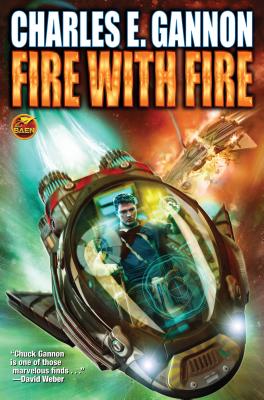 Fire with Fire
Mass Market

* Individual store prices may vary.
Other Editions of This Title:
MP3 CD (7/12/2016)
Description
COMPTON CROOK AWARD FOR BEST FIRST NOVEL. NEBULA AWARD FINALIST. New Science Fiction Adventure Series! National Bestseller in trade paperback. An agent for a spy organization uncovers an alien alliance in nearby interstellar space—an alliance that will soon involve humanity in politics and war on a galactic scale.

2105, September: Intelligence Analyst Caine Riordan uncovers a conspiracy on Earth's Moon—a history-changing clandestine project—and ends up involuntarily cryocelled for his troubles. Twelve years later, Riordan awakens to a changed world. Humanity has achieved faster-than-light travel and is pioneering nearby star systems. And now, Riordan is compelled to become an inadvertent agent of conspiracy himself. Riordan's mission: travel to a newly settled world and investigate whether a primitive local species was once sentient—enough so to have built a lost civilization.

However, arriving on site in the Delta Pavonis system, Caine discovers that the job he's been given is anything but secret or safe. With assassins and saboteurs dogging his every step, it's clear that someone doesn't want his mission to succeed. In the end, it takes the broad-based insights of an intelligence analyst and a matching instinct for intrigue to ferret out the truth: that humanity is neither alone in the cosmos nor safe. Earth is revealed to be the lynchpin planet in an impending struggle for interstellar dominance, a struggle into which it is being irresistibly dragged. Discovering new dangers at every turn, Riordan must now convince the powers-that-be that the only way for humanity to survive as a free species is to face the perils directly—and to fight fire with fire.

WINNER OF THE COMPTON CROOK AWARD FOR BEST FIRST NOVEL

About Fire with Fire:
"Chuck Gannon is one of those marvelous finds—someone as comfortable with characters as he is with technology, and equally adept at providing those characters with problems to solve. Imaginative, fun, and not afraid to step on the occasional toe or gore the occasional sacred cow, his stories do not disappoint."—David Weber

"If we meet strong aliens out there, will we suffer the fate of the Aztecs and Incas, or find the agility to survive? Gannon fizzes with ideas about the dangerous politics of first contact."—David Brin

"The plot is intriguing and then some. Well-developed and self-consistent; intelligent readers are going to like it."—Jerry Pournelle

"[T]he intersecting plot threads, action and well-conceived science kept those pages turning."—SF Crowsnest

About Starfire series hit, Extremis, coauthored by Charles E. Gannon:
"Vivid. . . Battle sequences mingle with thought-provoking exegesis . . ."–Publishers Weekly

"It's a grand, fun series of battles and campaigns, worthy of anything Dale Brown or Larry Bond ever wrote." –Analog

About Charles E. Gannon:
"[A] strong [writer of]. . .military SF. . .[much] action going on in his work, with a lot of physics behind it. There is a real sense of the urgency of war and the sacrifices it demands." –Locus
Baen, 9781476736327, 656pp.
Publication Date: February 25, 2014
About the Author
Charles E. Gannon is the author of the Compton Crook Award–winning, Nebula-nominated Caine Riordan series, as well as two novels in John Ringo's Black Tide Rising series. With best seller Steve White, Gannon is the coauthor of several entries in the Starfire series. With Eric Flint, he has written several novels in the best-selling Ring of Fire series.
or
Not Currently Available for Direct Purchase