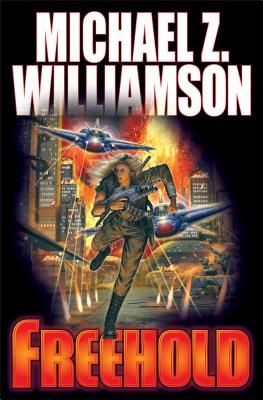 Freehold (Hardcover)
Baen Books, 9781476736341, 515pp.
Publication Date: May 6, 2014
Other Editions of This Title:
Mass Market (1/1/2004)
MP3 CD (5/17/2016)
* Individual store prices may vary.
Description
BOOK ONE OF THE FREEHOLD SERIES - LIMITED SIGNED HARDCOVER EDITION. First entry in the Freehold Universe series. Science fiction high adventure with a gritty military edge. A fast-paced novel of an indomitable individual against a monolithic tyranny. Sergeant Kendra Pacelli is innocent, but that doesn't matter to the repressive government pursuing her. Mistakes might be made, but they are never acknowledged, especially when billions of embezzled dollars earned from illegal weapons sales are at stake. But where does one run when all Earth and most settled planets are under the aegis of one government? Answer: The Freehold of Grainne. There, one may seek asylum and build a new life in a society that doesn't track its residents every move, which is just what Pacelli has done. But now things are about to go royally to hell. Because Earth's government has found out where she is, and they want her back. Or dead. About Michael Z. Williamson:
"A fast-paced, compulsive read...will appeal to fans of John Ringo, David Drake, Lois McMaster Bujold, and David Weber." - Kliatt "Williamson's military expertise is impressive." -SF Reviews
About the Author
Michael Z. Williamsonis retired from the US military, having served twenty-five years in the U.S. Army and the U.S. Air Force. He was deployed for Operation Iraqi Freedom and Operation Desert Fox. Williamson is a state-ranked competitive shooter in combat rifle and combat pistol. He has consulted on military matters, weapons and disaster preparedness for Discovery Channel and Outdoor Channel productions and is Editor-at-Large for Survivalblog, with 300,000 weekly readers. In addition, Williamson tests and reviews firearms and gear for manufacturers. Williamson's books set in his Freehold Universe include Freehold, Better to Beg Forgiveness, and When Diplomacy Fails. He is also the author of The Hero-written in collaboration with New York Times best-selling author John Ringo. Williamson was born in England, raised in Liverpool and Toronto, Canada, and now resides in Indianapolis with his wife and two children.