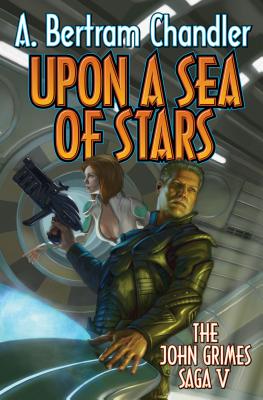 Upon a Sea of Stars
Paperback

* Individual store prices may vary.
Description
The fifth omnibus edition of the classic science fiction of A. Bertram Chandler's John Grimes books and stories in this renowned SF space-faring saga. Contains Into the Alternate Universe, Contraband from Otherspace, The Rim Gods (1969)--a story collection, The Commodore at Sea (a.k.a. Alternate Orbits, 1971)--four novellas. Pipe-smoking, action-loving spaceship commander Lieutenant John Grimes (think Captain Kirk with more of a navy, salty attitude) moves out of the Federation navy and finds his true calling adventuring along the spaceways of the galactic rim. Number five in the collected adventures of the legendary John Grimes of the Galactic Rim series, including four novels:

Into the Alternate Universe (1964)
Contraband from Otherspace (1967)
The Rim Gods (1969)--story collection
The Commodore at Sea (a.k.a. Alternate Orbits, 1971)--four novelets About A. Bertram Chandler and the John Grimes series:
"SF's answer to Horatio Hornblower." --Publishers Weekly "As Asimov chronicled the Foundation, as Heinlein built his Future History, so Chandler constructs the epic of the Rim Worlds." --Analog " Grimes] establishes a loyalty in his readers rather similar to that felt by readers of Hornblower. Indeed Chandler's] space operas are among the most likeable and well constructed in the genre. . . ." --The Encyclopedia of Science Fiction

Baen, 9781476736365, 630pp.
Publication Date: April 1, 2014
About the Author
A. Bertram Chandler was an Australian SF master who filled magazines such as Astounding with adventure and space opera extraordinaire from the 1940s into the 1970s. He was a favorite of legendary editor John W. Campbell and was a merchantman seaman commanding various ships in the Australian and New Zealand navies during much of his early life--a background Chandler puts to full use in his John Grimes stories.
or
Not Currently Available for Direct Purchase