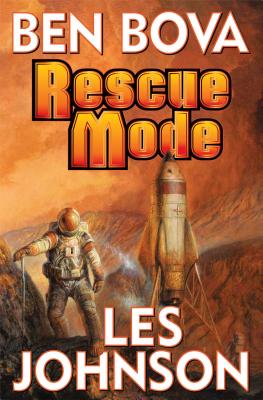 Rescue Mode
Hardcover

* Individual store prices may vary.
Other Editions of This Title:
Mass Market (9/29/2015)
Description
Gritty and scientifically accurate science fiction adventure from New York Times best-selling author Ben Bova and NASA space scientist Les Johnson.

The first human mission to Mars meets with near-disaster when a meteoroid strikes the spacecraft, almost destroying it. The ship is too far from Earth to simply turn around and return home. The eight-person crew must ride their crippled ship to Mars while they desperately struggle to survive.

On Earth, powerful political forces that oppose human spaceflight try to use the accident as proof that sending humans into space is too dangerous to continue. The whole human space flight program hangs in the balance. And if the astronauts can't nurse their ship to Mars and back, the voyagers will become either the first Martian colonists—or the first humans to perish on another planet.

About Rescue Mode:
"Space enthusiasts will appreciate the technical accuracy of Rescue Mode which reflects the engineering background of author Les Johnson, a rocket scientist. . . . Space enthusiasts . . . will want to add this one to their collection."—Ad Astra, National Space Society

"Bova and Johnson artfully introduce us to the major players in . . . the ambitious program for humankind's first manned mission to Mars . . . and a tribute to Bova and Johnson's story-telling skill . . . [which] shows plausible scientists at work in spite of daunting obstacles. . . . a story well-told."—LabLit

About Mars, Inc.:
"The Hugo winner returns to his most popular subject: the quest for Mars."—Publishers Weekly

About the award winning novels of Ben Bova:
"Technically accurate and absorbing . . ."—Kirkus

"[Bova is] the science fiction author who will have the greatest effect on the world."—Ray Bradbury

"A masterful storyteller"—Vector

"Gives a good read while turning your eyes to what might be in the not so distant future, just like Clarke and Asimov used to do so well."—SFX
Baen, 9781476736471, 432pp.
Publication Date: June 3, 2014
About the Author
Les Johnson is a physicist and author. With Ben Bova, he is the coauthor of Rescue Mode, and with Travis S. Taylor, he is the coauthor of Back to the Moon and On to the Asteroid. He is the coeditor of the science/science fiction collection Going Interstellar. His first solo novel was Mission to Methone. He was technical consultant for the movies Europa Report and Lost in Space and has appeared on the Discovery Channel series Physics of the Impossible in the "How to Build a Starship" episode. He has also appeared in three episodes of the Science Channel series Exodus Earth. By day, he serves as Solar Sail Principal Investigator of NASA's first interplanetary solar sail mission and leads research on various other advanced space propulsion technologies at the George C. Marshall Space Flight Center in Huntsville, Alabama.