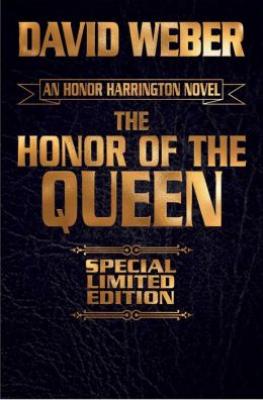 Honor of the Queen Signed Leatherbound Edition
Leather

* Individual store prices may vary.
Other Editions of This Title:
Mass Market (8/1/2002)
MP3 CD (11/18/2014)
Compact Disc (7/15/2009)
MP3 CD (7/15/2009)
Description
Limited signed leatherbound edition of Book 2 in the internationally best-selling Honor Harrington science fiction series. It's hard to give peace a chance when the other side regards conquest as the only option and a sneak attack as the best means to that end. That's why the Kingdom of Manticore needs allies against the Republic of Haven--and the planet Grayson is strategically situated to make a very good ally indeed. But Her Majesty's Foreign Office overlooked a "minor cultural difference" when they chose Honor Harrington to carry the flag: women on the planet of Grayson are without rank or rights and Honor's mere presence is an intolerable affront to every male on the planet. At first Honor doesn't take it personally; where she comes from gender discrimination is barely a historical memory, right up there in significance with fear of the left-handed. But in time such treatment becomes taxing and she makes plans to withdraw until Grayson's fratricidal sister planet attacks without warning. Now, Honor must stay and prevail, not just for her honor, but for her sovereign's, for the honor of the Queen. About David Weber and the Honor Harrington series:
." . .everything you could want in a heroine.... Excellent ... plenty of action."-Science Fiction Age "Brilliant Brilliant Brilliant "-Anne McCaffrey "Compelling combat combined with engaging characters for a great space opera adventure."-Locus "Weber combines realistic, engaging characters with intelligent technological projection . . . Fans of this venerable space opera will rejoice . . ."-Publishers Weekly About Shadow of Freedom, #15 in the Honor Harrington series:
"This entry is just as exciting as Weber's initial offering. . . .The result is a fast-paced and action-packed story that follows our characters] as they move from reaction to command of the situation. Weber builds Shadow of Freedom to an exciting and unexpected climax."--Daily News of Galveston About Mission of Honor, #13 in the Honor Harrington series:
"Weber combines realistic, engaging characters with intelligent technological projection and a deep understanding of military bureaucracy in this long-awaited Honor Harrington novel ... Fans of this venerable space opera will rejoice to see Honor back in action."-Publishers Weekly "This latest Honor Harrington novel brings the saga to another crucial turning point ... Readers may feel confident that they will be Honored many more times and enjoy it every time."-Booklist Honor Harrington Main Series:
On Basilisk Station
The Honor of the Queen
The Short Victorious War
Field of Dishonor
Flag in Exile
Honor Among Enemies
In Enemy Hands
Echoes of Honor
Ashes of Victory
War of Honor
The Shadow of Saganami
At All Costs
Storm from the Shadows
Mission of Honor
A Rising Thunder
Shadow of Freedom
Baen Books, 9781476736488, 400pp.
Publication Date: June 3, 2014
About the Author
With over seven million copies of his books in print and seventeen titles on the New York Times bestseller list, David Weber is the science fiction publishing phenomenon of the new millennium. In the hugely popular Honor Harrington series, the spirit of C.S. Forester's Horatio Hornblower and Patrick O'Brian's Master and Commander lives on--into the galactic future. Books in the Honor Harrington and Honoverse series have appeared on fourteen best seller lists, including those of The Wall Street Journal, The New York Times, and USA Today. While Weber is best known for his spirited, modern-minded space operas, he is also the creator of the Oath of Swords fantasy series and the Dahak saga. Weber has also written highly popular collaborations, including his Starfire Series with Steve White, which produced the New York Times bestseller The Shiva Option among others. Weber's collaboration with alternate history master Eric Flint led to the bestselling 1634: The Baltic War, and his planetary adventure novels with military science fiction ace and multiple national best-seller John Ringo includes the blockbusters March to the Stars and We Few. Finally, Weber's teaming with Linda Evans produced the bestselling Multiverse series. David Weber makes his home in South Carolina with his wife and children.
or
Not Currently Available for Direct Purchase