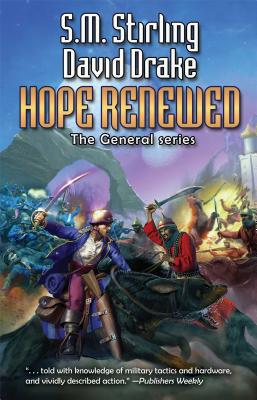 Hope Renewed (General (Baen))
Paperback

* Individual store prices may vary.
Description
Contains Books #5 and #6 The Sword and The Chosen, in the best selling General series. The Empire of Man has fallen and a new Dark Age is upon the stars. With planets cut off and reduced to subsistence and ignorance, humanity has nearly forgotten its past greatness. But one battle computer has survived the Collapse. He is Center. And Center is determined to find and aid leaders who can return a star-faring republic to the galaxy. The first of these leaders is Raj Whitehall, a man born to be a general, and molded to retake civilization itself from the jaws of barbarism. The Sword
For five years Raj Whitehall has led his men across the face of the planet Bellevue. With saber and bayonet he has conquered one barbarian nation after another. Now his greatest enemy is his own overlord, Barholm Clerett, who's so paranoid of Raj's victories that he is reduced to only one thought: Raj Whitehall must die. The Chosen
Planted by interstellar probes on hundreds of human-occupied worlds, the downloaded personalities of Raj Whitehall and the ancient battle computer known as Center work together for planetary unity. On Visager, a nation-state of vicious militarists is about to start the final war that will bring their fatal racist infection to the stars. Now two young men once at odds in war must unite and, with the aid of the disembodied voices of their mentors from the stars, stand against exporting eternal tyranny to the galaxy itself. About the Raj Whitehall series: " T]old with knowledge of military tactics and hardware, and vividly described action . . . devotees of military SF should enjoy themselves."--Publishers Weekly " A] thoroughly engrossing military sf series . . . superb battle scenes, ingenious weaponry and tactics, homages to Kipling, and many other goodies. High fun."--Booklist About David Drake: " P]rose as cold and hard's the metal alloy of a tank ... rivals Crane and Remarque ..." -Chicago Sun-Times "Drake couldn't write a bad action scene at gunpoint." -Booklist The General Series
The Forge
S. M. Stirling
David Drake The Hammer
S. M. Stirling
David Drake The Anvil
S. M. Stirling
David Drake The Steel
S. M. Stirling
David Drake The Sword
S. M. Stirling
David Drake The Chosen
S. M. Stirling
David Drake The Reformer
S. M. Stirling
David Drake The Tyrant
Eric Flint
David Drake The Heretic
Tony Daniel
David Drake The Savior
Tony Daniel
David Drake Omnibus Editions
Warlord
David Drake
S. M. Stirling
Contains The Forge and The Hammer

Conqueror
David Drake
S. M. Stirling
Contains The Anvil and The Steel
Hope Reborn
David Drake
S. M. Stirling
Contains The Forge and The Hammer

Hope Rearmed
David Drake
S. M. Stirling
Contains The Anvil and The Steel
Baen, 9781476736587, 742pp.
Publication Date: July 1, 2014
About the Author
The Army took David Drake from Duke Law School and sent him on a motorized tour of Viet Nam and Cambodia with the 11th Cav, the Blackhorse. He learned new skills, saw interesting sights, and met exotic people who hadn't run fast enough to get away. Dave returned to become Chapel Hill's Assistant Town Attorney and to try to put his life back together through fiction making sense of his Army experiences. Dave describes war from where he saw it: the loader's hatch of a tank in Cambodia. His military experience, combined with his formal education in history and Latin, has made him one of the foremost writers of realistic action SF and fantasy. His books include the genre-defining and bestselling Hammer's Slammers series, the RCN series including What Distant Deeps, In the Stormy Red Sky, The Way to Glory, and many more. His bestselling Hammer's Slammers series is credited with creating the genre of modern Military SF. He often wishes he had a less interesting background. Dave lives with his family in rural North Carolina. S.M. Stirling is a writer by trade, born in France but Canadian by origin and American by naturalization, and living in New Mexico at present. His hobbies are mostly related to the craft, with a love of history, anthropology and archaeology, and an interest in the sciences. His books include Drakas! and The Reformer.Eric Flint is a modern master of alternate history fiction, with over three million books in print. He's theauthor/creator of the New York Times best-selling Ring of Fire series. With David Drake he has written six popular novels in the "Belisarius" alternate Roman history series, including, and with David Weber collaborated on 1633 and 1634 The Baltic War. Flint was for many years a labor union activist. He lives in Chicago, Illinois.
or
Not Currently Available for Direct Purchase