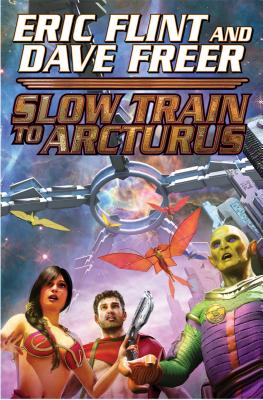 Slow Train to Arcturus (Paperback)
Baen Books, 9781476736655, 314pp.
Publication Date: August 12, 2014
Other Editions of This Title:
Mass Market Paperback (3/30/2010)
Hardcover (10/7/2008)
* Individual store prices may vary.
Description
A reissued edition of the critically acclaimed novel by New York Times best-selling author Eric Flint and Dave Freer. NEW ART BY SAM KENNEDY The planet Miran had sent a spaceship to rendezvous with the enormous vessel that was approaching their star system. The vessel's design was odd--a multitude of separate globular habitats in a framework--and most of the alien team that entered one of the habitats were slaughtered by savage creatures called "humans." One alien had barely managed to escape to another habitat where the humans were more friendly, if rather technologically backward. But he needed to get back to his spaceship, and he would need one human's help to do that. They would have to travel through several more habitats, each one isolated from the other, each with its own bizarre dangers and customs. And friendliness toward strangers was not one of those customs. . . . About Eric Flint and Dave Freer:
" P]olitically correct? C'mon Great fun? Ah, yes."--Booklist ." . . Inventive . . . smile-worthy . . ."--Kirkus Reviews "A good choice for hardcore aficionados of blood-and-guts military sf."--Library Journal " E]nlivened with . . . explosive military action, and plenty of interspecies banter to keep things fun."--Locus
About the Author
Eric Flint is a modern master of alternate history fiction, with over three million books in print. He's the author/creator of the New York Times best-selling Ring of Fire series. With David Drake he has written six popular novels in the "Belisarius"alternate Roman history series, and with David Weber collaborated on 1633and 1634 The Baltic War. Flint was for many years a labor union activist. He lives in Chicago, Illinois. Dave Freer is an ichthyologist turned author who lives on Flinders Island (between mainland Australia and Tasmania) with his wife, four dogs and four cats, and two sons. He has coauthored a range of novels with Eric Flint (Rats, Bats and Vats, The Rats, the Bats and the Ugly, Pyramid Scheme, and Pyramid Power), with Mercedes Lackey and Eric Flint (The Shadow of the Lion, This Rough Magic, The Wizard of Karres, Much Fall of Blood and Freer's solo entry in the series, A Mankind Witch) as well as writing the Dragon's Ring novels Dragon's Ring and Dog and Dragon.
or
Not Currently Available for Direct Purchase