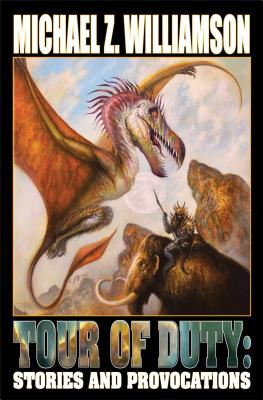 Tour of Duty
Stories and Provocations
Mass Market

* Individual store prices may vary.
Other Editions of This Title:
Paperback (8/6/2013)
Description
A collection of provacative short stories and nonfiction pieces from the author of the best-selling Freehold series.

It's a tough universe out there. A hard-hitting collection of the best fiction of Michael Z. Williamson, creator of the popular Freehold military SF saga, along with a helping of truth-telling nonfiction by a guy who has been there and done that, both at home and abroad.

Duty in the face of danger on a planetary scale. Pride and competence in the face of idiotic clients who hate that that they need your services, and an enemy who wants to make your bad day even worse. These are stories of the warriors and civilians who get things done in extreme situations, whether it's rescue from a ship broken in space, hard choices by a brigade of mercenary swords in a world of blood and magic, or scramble and response by troops in the Sandbox doing what it takes to make it through another scorching, rocket-filled day.

About Tour of Duty:
". . . strong . . . subtly haunting . . .Williamson cheerfully and sometimes grimly bounces among military expertise, humor, controlled anger, and the gruesome and sublime extremes of a soldier's world. . . . Williamson's forte [is] military speculative fiction."—Publishers Weekly

About Michael Z. Williamson:
"A fast-paced, compulsive read…will appeal to fans of John Ringo, David Drake, Lois McMaster Bujold, and David Weber." – Kliatt

"Williamson's military expertise is impressive." –SF Reviews
Baen, 9781476736761, 480pp.
Publication Date: September 30, 2014
About the Author
Michael Z. Williamson is retired military, having served twenty-five years in the U.S. Army and the U.S. Air Force. He was deployed for Operation Iraqi Freedom and Operation Desert Fox. Williamson is a state-ranked competitive shooter in combat rifle and combat pistol. He has consulted on military matters, weapons and disaster preparedness for Discovery Channel and Outdoor Channel productions and is Editor-at-Large for Survivalblog, with 300,000 weekly readers. In addition, Williamson tests and reviews firearms and gear for manufacturers. Williamson's books set in his Freehold Universe include Freehold, Better to Beg Forgiveness, Do Unto Others, and When Diplomacy Fails. He is also the author of The Hero–written in collaboration with New York Times bestselling author John Ringo. Williamson was born in England, raised in Liverpool and Toronto, Canada, and now resides in Indianapolis with his wife and two children.
or
Not Currently Available for Direct Purchase