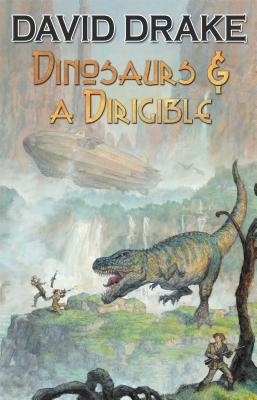 Dinosaurs and a Dirigible (BAEN #1)
Paperback

* Individual store prices may vary.
Description
All five of David Drake's time travel stories collected for the first time in one volume, including dinosaur tale "Time Safari."

Henry Vickers's job is to keep clients safe from the dinosaurs they're hunting. That's the easy part. The hard part is to keep the clients safe from themselves and each other. Men with enough money to go into the past to hunt the largest land animals of all time are powerful and self-willed. Some make an effort to act like decent human beings, but more are selfish, stupid, sadistic--or all three together. The few women are likely to be worse.

Vickers doesn't expect rich people to understand the dangers of where they are and what they're doing; he doesn't expect them to be competent with the powerful rifles they carry; and he particularly doesn't expect them to be reasonable. He treats his clients' behavior as he does the rain and the baking heat--the cost of having a life he loves and which he couldn't afford in any other way.

But no matter how detached Vickers tries to be, eventually there are moral questions that he can't ignore. And when Henry Vickers starts to behave like a human being instead of a hunting guide, things get really dangerous.

And in a complete change of pace: "Travellers." An airship is crossing the United States in 1897 in search of the weird and the wonderful. The two teenagers aboard know that the airship's captain is a great scientist and inventor--but they don't know how much more he is also.

All five of David Drake's time travel stories collected for the first time.

About Dinosaurs and a Dirigible:
"Drake's tales are among the first featuring the smart, active dinosaur. . . . [They are] fun to read. Drake imagines worlds worth exploring."--Daily News of Galveston County

Baen, 9781476736839, 304pp.
Publication Date: September 2, 2014
About the Author
The Army took David Drake from Duke Law School and sent him on a motorized tour of Viet Nam and Cambodia with the 11th Cav, the Blackhorse. He learned new skills, saw interesting sights, and met exotic people who hadn't run fast enough to get away. Dave returned to become Chapel Hill's Assistant Town Attorney and to try to put his life back together through fiction making sense of his Army experiences. Dave often describes war from where he saw it: the loader's hatch of a tank in Cambodia. His military experience, combined with his formal education in history and Latin, has made him one of the foremost writers of realistic action His books include the genre-defining and bestselling Hammer's Slammers series, short story collection Night & Demons, as well as the RCN military SF series including What Distant Deeps, In the Stormy Red Sky, The Road of Danger, The Sea without a Shore, and many more.
or
Not Currently Available for Direct Purchase