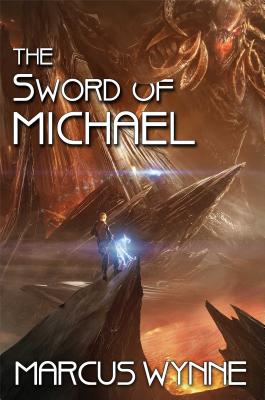 The Sword of Michael (Paperback)
Baen, 9781476736891, 288pp.
Publication Date: November 4, 2014
Other Editions of This Title:
Mass Market Paperbound (12/29/2015)
* Individual store prices may vary.
Description
Book One in a new hard-hitting contemporary fantasy saga. Marius Winter doesn't walk the road of the shaman-warrior alone. He has powerful allies in the Other Realms and in ordinary reality. His spirit guides are a Lakota war-chief and medicine man, First In Front; Tigre, a powerful feminine spirit who appears as a white tiger; and Burt, a spirit raven who channels an old Jewish bookie from the Bronx. Now Marius is targeted by a powerful sorcerer. In the battle for the souls of his friends and lover, he must storm the gates of the underworld and fight through the Seven Demi-Demons of Hell to the deepest dungeons to confront Belial himself. About Marcus Wynne and The Sword of Michael
" A] novel that rips the veil off of our everyday perceptions . . . C]ombines Heinlein's unique and memorable characterizations with . . . Carlos Castaneda, and anthropology, and religion with munitions and hand-to-hand combat. . . . a book you simply have to read."--Bookreporter

" Wynne takes a page out of the Raymond Chandler book of writing and has someone kick in a door and start shooting every time the plot slows down, so there is never a dull moment...I t is a fun book, fast paced with oodles of action."--New Myth "Marcus Wynne has created a rare find--an action packed book with characters filled with heart and soul. This is a true "keeper." You have to keep reading--and then keep to read again and savor one more because the story is so rich."--Heather Graham, #1 New York Times best-selling fantasy author "I'm glad to welcome Marcus Wynne back to the author fold. His own personal journey through Hell and hardship has been transformed into a gripping, action-filled urban fantasy about a man's Journey to Hell to ave all those he loves best in the world. A great debut in a new genre by one of the best action writers in any genre."--David Morrell, New York Times best-selling author of Murder as a Fine Art "Marcus Wynne's newest page-turner--his best to date--rips the veil off of our everyday perceptions to reveal the eternal battle between good and evil that takes place around us and, yes, within us. Labeled as fiction, THE SWORD OF MICHAEL is very real, a story where even Humanists and Theists can find common and exciting ground and which features a New Age shaman exorcist who hopefully has a real world model. If he doesn't, we are all in deep trouble. --"Joseph Hartlaub, Senior reviewer, BOOKREPORTER.COM "Marcus Wynne delivers again . . . Shamanic practitioner Marius Winter risks all traveling to the depths of Hell to save everything and everyone important to him. "--WWE Legend Lance Storm "In Sword of Michael, my good friend Marcus Wynne has created a world where the fight between good and evil is as close as the next visitor or the next town over. The action, both physical and spiritual, jumps off the pages and exposes you to a side of conflict and human nature that is rarely considered by the conscious mind. Sword of Michael provides a modern urban backdrop for a story that is as powerful as it is personal."--Senior Training NCO, John F. Kennedy Special Warfare Center, SERE Cadre, Fort Bragg About Marcus Wynne's No Other Option
"At the heart of this thoughtful thriller is a compelling question: why does a man go bad? Intelligent in content and competent in execution, this is a most suspenseful and entertaining tale."--Publishers Weekly
About the Author
Marcus Wynne is a charter member of the Been There, Done That Club. He's got all the T-shirts and knows all the secret handshakes. He enjoys poetry, ballet, knife fighting, and serial monogamy with fierce feminists. He is the author of multiple Amazon ebook bestsellers including contemporary thrillers No Other Option, Warrior in the Shadows, Brother in Arms, as well as With a Vengeance, Johnny Wylde, and Air Marshals.
or
Not Currently Available for Direct Purchase