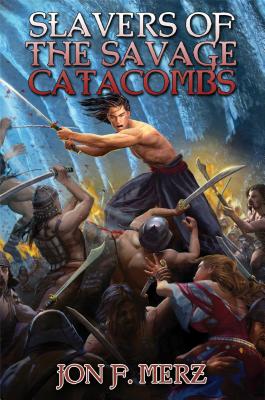 Slavers of the Savage Catacombs
Paperback

* Individual store prices may vary.
Description
Ninjas versus Slave Drivers Book 2 in the Shadow Warrior saga. A young ninja in an Asian-flavored fantasy land of dreams and nightmares must save a beautiful captive. When Ran, the Shadow Warrior, is dispatched to investigate rumors of an invasion massing to the north, he signs on as protection for a trade caravan. But once underway, the caravan is attacked by an overwhelming force of slavers who take Ran and several others captive. Dragged into the bowels of the earth as slave labor for a despot-in-exile eager to reclaim his throne, Ran must make a desperate escape with his friends if he has any hope of uncovering the truth about the invasion above ground. But there's more at play than a mere power struggle in the catacombs, and the earth does not give up its secrets easily--even for Ran, the Shadow Warrior. About Book One in the Shadow Warrior Series, The Undead Hordes of Kan-Gul
"Merz keeps the action uptempo and the swordplay fast and furious. The cover is no doubt eye catching, but the thrills inside are just as enchanting. A real winner."--Examiner.com About Jon F. Merz:
"Jon F. Merz's novels move at a break-neck pace, twisting through a landscape of thrills and terror." -- Douglas Clegg, best selling author of The Infinite The Shadow Warrior Series
The Undead Hordes of Kan-Gul
Slavers of the Silk Road
Baen, 9781476736976, 304pp.
Publication Date: January 6, 2015
About the Author
Jon F. Merz grew up a reader and explorer in Boston, Massachusetts. After college and stint in the Air Force, Merz worked in private security, handling a wide array of assignments including executive protection and corporate investigations. In 1998, he left the corporate world behind and became a full-time writer. His works include the Jake Thunder and Lawson Vampire series, and Slavers of the Silk Road, latest entry in the Shadow Warrior saga.
or
Not Currently Available for Direct Purchase