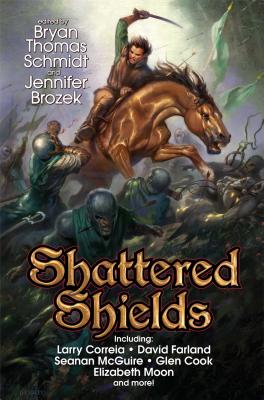 Shattered Shields
Paperback

* Individual store prices may vary.
Other Editions of This Title:
Paperback (1/26/2016)
Description
Original military themed high fantasy anthology featuring hard-hitting stories from Elizabeth Moon, Larry Correia, Sarah A. Hoyt, Glen Cook, and more. Swords and Shields. Faith and Magic. Grab your weapons and prepare, for the enemy is on the move. High fantasy and mighty conflicts go hand-in-hand. In great wars, armies rise to fight evil hordes and heroes struggle to push beyond their imperfections to save the day. These stories include more than just epic landscapes and characters...they also feature epic battles. Imagine a doctor struggling to identify the spy who has infiltrated his company's ranks and poisoned his colleagues or a boy suspected of murder by a king yet protected by a princess as he helps her father against his own people. Imagine a butcher discovering that he's called to lead an uprising, or a First Born knowing that she must betray her own in order to save humanity. The possibilities are endless, but at the heart they have this in common: soldiers--ordinary and otherwise-struggling against extraordinary odds to survive the day. They must withstand dark magic, dodge enemy blades, and defy the odds to survive SHATTERED SHIELDS. Contributors: Contributors: Larry Correia
Sarah A. Hoyt
Gray Rinehart
David Farland
Glen Cook
Seanan McGuire
John Helfers
Annie Bellet
Joseph Zieja
Wendy N. Wagner
David Farland
Cat Rambo
Robin Wayne Bailey
Nancy Fulda
John R. Fultz
Dave Gross
James L. Sutter
Elizabeth Moon About Shattered Shields:
"An inventive and thought-provoking set of tales that capture the bravery and terrors of battle. Carries the banner of military fantasy proudly."--John Marco, author of The Bronze Knight Series About The Raygun Chronicles edited by Bryan Thomas Schmidt:
"Fans of sf should enjoy this stylistically varied homage to a genre as old as the fiction . . . "--Library Journal About Beyond the Sun edited by Bryan Thomas Schmidt:
"Beyond the Sun mixes courage, redemption, and stark terror in tales of distant worlds. Buckle in."--Jack McDevitt, author of Firebird
Baen Books, 9781476737010, 260pp.
Publication Date: November 4, 2014
About the Author
Bryan Thomas Schmidt is an author and editor of adult and children's speculative fiction. His debut science fiction novel was The Worker Prince, followed by sequels The Returning and The Exodus. His childrens' books include 102 More Hilarious Dinosaur Jokes For Kids and Abraham Lincoln: Dinosaur Hunter--Land Of Legends. Schmidt has edited edited anthologies Space Battles: Full Throttle Space Tales #6, Beyond The Sun, Raygun Chronicles: Space Opera For a New Age and, with Jennifer Brozek, coedited military high fantasy original anthology, Shattered Shields. Schmidt hosts #sffwrtcht (Science Fiction & Fantasy Writer's Chat) Wednesdays at 9 pm ET on Twitter. Jennifer Brozek is an award winning editor, game designer, and author. Winner of the Australian Shadows Award for best edited publication, Jennifer has edited ten anthologies. Author of In a Gilded Light, The Lady of Seeking in the City of Waiting, Industry Talk, and the Karen Wilson Chronicles, she has more than fifty published short stories, and is the Creative Director of Apocalypse Ink Productions. Jennifer also is a freelance author for numerous RPG companies. Winner of both the Origins and the ENnie award, her contributions to RPG sourcebooks include Dragonlance, Colonial Gothic, Shadowrun, Serenity, Savage Worlds, and White Wolf SAS. Jennifer is also the author of the YA Battletech novel, The Nellus Academy Incident. When she is not writing her heart out, she is gallivanting around the Pacific Northwest in its wonderfully mercurial weather.
or
Not Currently Available for Direct Purchase