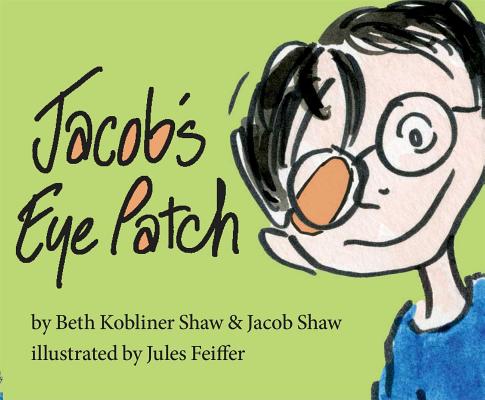 Jacob's Eye Patch
Hardcover

* Individual store prices may vary.
Description
Being different can be hard.

This funny, spirited story—written by bestselling author of Get a Financial Life Beth Kobliner Shaw with her son Jacob, and illustrated by award-winning picture book artist Jules Feiffer—encourages young readers to embrace the thing that makes them unique...

Jacob is in a hurry—a really big hurry—to get to the store to buy a special toy. There's only one left, and if he doesn't get to it soon, he'll never forgive his mom and dad for making him late. Strangers often stop Jacob's parents on the street to ask about him. See, Jacob is unusual: He has an eye patch. Jacob knows people like to ask questions, but do they have to ask right now?

Luckily, Jacob gets to the store in time, and he meets a new friend who has something different, too. In the end, Jacob's journey makes him more aware of other people's feelings. Jacob's Eye Patch is the go-to book for talking about differences that kids can enjoy and parents can turn to for guidance.

Everyone has something different! What's your something? Share your child's story at JacobsEyePatch.com.
Praise For Jacob's Eye Patch…
"A winning picture book."
— ENTERTAINMENT WEEKLY

"A charming, funny, and inspiring book about how being a little bit different is no big deal."
— DAN GREENBURG

"Readers learn that everyone has something that makes others curious, but that people don't always want to discuss it."
— KELLI FITZPATRICK

"This book will provide tremendous help to children who wear an eye patch."
— CHRISTIE L. MORSE, MD

"With enormous charm and delightful drawings, this book reminds us of two crucial truths: It is really hard to be different from other kids in any way, and even well-meaning parents can be incredibly annoying!"
— MICHAEL THOMPSON, PHD

"Finally, a book that addresses the stigma that many kids must feel, handled in a gentle way that they'll appreciate and enjoy. Hooray for Jacob, the eye patch-wearing hero!"
— CHRIS VAN DUSEN

"A valuable, unique perspective on what it is like to be a child and parent patching."
— THOMAS ROGERS

"Jacob's Eye Patch is so insightful. It's a reminder of how frustrated kids feel to be dependent on others."
— DAVID A. ADLER

"I admire Jacob's courage and strength. As a child, I used to always be embarrassed or insecure about my eyes. Now, I am living my dream of playing in the NFL and wouldn't change anything I went through. Keep inspiring and keep being YOU."
— MATT LEINART

"Funny story. I like his glasses."
— EILIDH RUSSO

"Amblyopia and strabismus—commonly known as 'lazy eye' and 'crossed-eye' respectively—are common eye conditions in children, and eye patching offers a simple and effective treatment option. It's not always easy for children who may feel embarrassed when wearing a patch or frustrated by the questions it prompts in others, but Jacob's story can help."
— DAVID W. PARKE II, MD, CEO, American Academy of Ophthalmology
Simon & Schuster, 9781476737324, 32pp.
Publication Date: September 24, 2013
About the Author
Beth Kobliner is a personal finance commentator and journalist, and the author of the New York Times bestseller Get a Financial Life as well as a book for parents, Make Your Kid a Money Genius (Even If You're Not). Beth was selected by President Obama to serve on the President's Advisory Council on Financial Capability for Young Americans, dedicated to increasing the financial know-how of kids of all ages and economic backgrounds. A former staff writer at Money magazine, Beth has contributed to The New York Times and The Wall Street Journal and has appeared on CNN, MSNBC, Today, Sesame Street, and NPR.

Jacob Shaw is a nine-year-old boy. He has worn an eye patch since he was five days old. When he turns ten, he won't need to wear it anymore.

Jules Feiffer has won a number of prizes for his cartoons, plays, and screenplays, including the Pulitzer Prize for editorial cartooning. Among the books he's illustrated for children are The Phantom Tollbooth, Some Things Are Scary, and in collaboration with his daughter Kate, Henry the Dog with No Tail, and No Go Sleep. He is the author and illustrator of Bark, George, I Lost My Bear, Meanwhile, and The Man in the Ceiling.