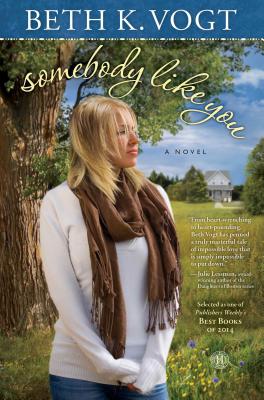 Somebody Like You
A Novel
Paperback

* Individual store prices may vary.
Other Editions of This Title:
Digital Audiobook (3/23/2020)
MP3 CD (3/24/2020)
Compact Disc (3/24/2020)
Library Binding, Large Print (7/1/2014)
Description
In this beautifully rendered, affecting novel, a young widow's world is shattered when she meets her late husband's identical twin—and finds herself caught between honoring her husband's memory and falling in love with his reflection.

Haley's three-year marriage to Sam, an army medic, ends tragically when he's killed in Afghanistan. Her attempts to create a new life for herself are ambushed when she arrives home one evening—and finds her husband waiting for her. Did the military make an unimaginable mistake when they told her Sam was killed?

Too late to make things right with his estranged twin brother, Stephen discovers Sam never told Haley about him. As Haley and Stephen navigate their fragile relation­ship, they are inexorably drawn to each other. How can they honor the memory of a man whose death brought them together—and whose ghost could drive them apart?

Somebody Like You is a beautifully rendered, affecting novel, reminding us that while we can't change the past, we have the choice to change the future and start anew.
Praise For Somebody Like You: A Novel…
"In Vogt's quietly beautiful inspirational contemporary, two people learn to let go of the past and discover that God often works in mysterious ways. . . . Vivid depictions of grief and love will tug at every available heartstring. . . . a heartwarming tearjerker about learning what love is. "
— Publishers Weekly (starred review)

"Beth Vogt gets better with every book. Somebody Like You wrestles with the tough topics of widowhood and family while wrapped in the heart-warming cocoon of romance. Bravo to Vogt for coming up with an intriguing concept and executing it brilliantly."
— Rachel Hauck, award-winning author of Once Upon a Prince and Princess Ever After

"A beautiful story of an unexpected second chance at love and redemption by one of my favorite authors. I loved this book!"
— Susan May Warren, bestselling, award-winning author of It Had to Be You

"In Somebody Like You, Beth K. Vogt captures the tender emotions of loss with grace and sincere understanding. An expertly handled story of rekindled hearts and the whisper of a hope-filled future are safe in her very capable hands. For the broken, for the awakening of new love, for the heart that seeks a champion to heal its wounds . . . this is a special book."
— Kristy Cambron, author of The Butterfly and the Violin

"From heart-wrenching to heart-pounding, Beth Vogt has penned a truly masterful tale of impossible love that is simply impossible to put down. With crisp prose, flesh-and-blood characters who live and breathe on the page, and a poignancy that reaches into one's very soul, Somebody Like You is not only a must read for somebody like you . . . but for anyone who loves great fiction."
— Julie Lessman, award-winning author of the Daughters of Boston and Winds of Change series

"Beth Vogt captures the reader completely and doesn't let go until the last page is turned. Somebody Like You is a novel that will keep you turning pages well into the night; challenge, inspire, and encourage; and leave you wanting more. As a longtime fan of Beth's writing, I was immediately captured by this unique story. Realistic characters who face real challenges with courage, grace, and faith make this novel one you don't want to miss. As always, Beth does not disappoint. A great read!"
— Catherine West, award-winning author of Yesterday's Tomorrow & Hidden in the Heart

"Beth Vogt does it again! Somebody Like You weaves a heartfelt story of life and loss, love and regret, remembering what was and embracing what is. Haley and Stephen's journey reminds us that God can use the messiest of circumstances to offer healing, hope, and abundantly more than we dare to ask."
— Katie Ganshert, award-winning author of Wildflowers from Winter & Wishing on Willows

"Woven with grace and sensitivity, author Beth K. Vogt sheds a tender light on the human spirit in this bittersweet story of love and loss. Beautiful and emotion-packed, the only bookmark for this is a Kleenex, for Somebody Like You will tug at your heart in a way that is not easily forgotten."
— Joanne Bischof, award-winning author of Be Still My Soul and Though My Heart is Torn

"Somebody Like You is a story filled with characters I adored from the opening paragraphs. Two people trapped by choices in the past must choose whether to remain mired in the ramifications or step into the future. I couldn't wait to return to the story and the journey. At the end, I sighed, longing for just a few more pages with my new friends. A perfect read for those who like a romance with a rich story and heart."
— Cara Putman, award-winning author of Shadowed by Grace

"Poignant, intriguing, and not without its lighter moments, too, Beth Vogt's Somebody Like You captured me from the first chapter. The unique premise—can a woman fall in love with her brother's reflection?—had me curious from the start, but it was the emotional depth combined with heart-tugging characters that had me reading until late at night. A beautiful story, beautifully told."
— Melissa Tagg, author of Made to Last and Here to Stay

"The lovely and talented Beth Vogt weaves truth, grace, and romance into her novels. With a poignant plot and a tenderness that grips your heart, Somebody Like You is a story to be savored. Vogt shows how God restores the brokenness in lives for his happily ever after. This engaging read brought tears to my eyes several times, but it concluded with a heart-sighing smile."
— Lisa Jordan, award-winning author of Lakeside Reunion and Lakeside Family

"Somebody Like You grabbed my interest from page one and didn't let go. Beth K. Vogt pens this heart-wrenching and tender romance between a military widow and her husband's estranged twin brother with the deftness and assurance of a skilled storyteller, rendering deep emotion without ever dissolving into melodrama. My only complaint is that it had to end! If Beth's first two novels marked her as an author to watch, Somebody Like You proves she's here to stay."
— Carla Laureano, author of Five Days in Skye

"The tragedy of widowhood dampens the joy of new motherhood, but the faithfulness of God brings Haley the possibility of a whole new life in an unexpected way. Somebody Like You takes you on an emotional journey to witness the bravery of a widow in the face of impossible circumstances. Beth Vogt has written a book you will not soon forget."
— Elizabeth Byler Younts, author of Promise to Return
Howard Books, 9781476737584, 368pp.
Publication Date: May 13, 2014
About the Author
Beth K. Vogt is a nonfiction writer who said she'd never write fiction. After saying she'd never marry a doctor or anyone in the military, she is now happily married to a former Air Force family physician. Beth believes God's best is often behind the door marked "never." An established magazine writer and editor, she now writes inspirational contemporary romance because she believes there is more to happily ever after than the fairy tales tell us.
or
Not Currently Available for Direct Purchase