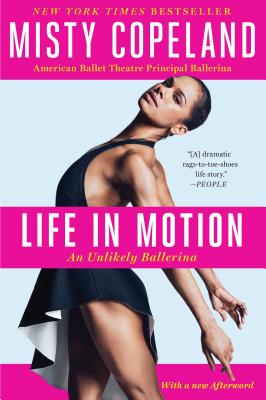 Life in Motion
An Unlikely Ballerina
Hardcover

* Individual store prices may vary.
Other Editions of This Title:
Digital Audiobook (3/10/2014)
Hardcover (12/6/2016)
Paperback (12/16/2014)
Paperback (11/8/2022)
Compact Disc (3/11/2014)
MP3 CD (3/11/2014)
Compact Disc (3/11/2014)
MP3 CD (3/11/2014)
Compact Disc (3/11/2014)
Description
A bestselling and prize-winning memoir by African-American ballerina Misty Copeland, Life in Motion is the vividly told story of her journey to the world-class American Ballet Theatre—and delves into the harrowing family conflicts that nearly drove her away from ballet as a thirteen-year-old prodigy.

Determination meets dance in this New York Times bestselling memoir by the history-making ballerina Misty Copeland, recounting the story of her journey to become the first African-American principal ballerina at the prestigious American Ballet Theatre. When she first placed her hands on the barre at an after-school community center, no one expected the undersized, underprivileged, and anxious thirteen-year-old to become one of America's most groundbreaking dancers . A true prodigy, she was attempting in months roles that take most dancers years to master. But when Misty became caught between the control and comfort she found in the world of ballet and the harsh realities of her own life, she had to choose to embrace both her identity and her dreams, and find the courage to be one of a kind.

With an insider's passion, Misty opens a window into the life of an artist who lives life center stage, from behind the scenes at her first classes to her triumphant roles in some of the world's most iconic ballets. A sensational memoir as "sensitive" and "clear-eyed" (The Washington Post) as her dancing, Life in Motion is a story of passion, identity and grace for anyone who has dared to dream of a different life.
Praise For Life in Motion: An Unlikely Ballerina…
Wrenching and revelatory.
— The New York Times

An unexpected page-turner...Her story is an inspiration to anyone—man or woman, black or white—who has ever chased a dream against the odds, and the grace with which she triumphs is an example for us all.
— Booklist (starred review)

Thorough, sensitive...clear-eyed.
— The Washington Post

[A] dramatic rags-to-toe shoes life story.
— People

Engaging... [Copeland is] a poised, intelligent writer whose temperament—disciplined, determined, driven—gives the book a special spark… In LIFE IN MOTION, she looks back on the past without bitterness or anger, only gratitude. Hers is an out-of-the-ordinary story about defying stereotypes, and she shares it in an inspiring narrative that's enlivened by her own grace and generous spirit.
— BookPage

Captivating...heartrending...literary.
— Lisa Jo Sagolla

Remarkable.
— Juicy Magazine

[LIFE IN MOTION] reveals a woman as graceful and powerful in life as she is in dance.
— Melissa Harris-Perry

A raw, honest tale….Her memoir is filled with passion, pain, success, and…pure joy.
— Ebony.com

Reads as a modern day Cinderella story…this memoir is an inspirational read—especially for aspiring dancers.
— JET Magazine

Misty Copeland, a ballerina of extraordinary talent and charisma, offers an autobiography as mesmeric as her dancing. She overcame adversity in the studio, in her home life, and in ballet's own traditionalism to become one of its brightest stars — her passion and perseverance will inspire dancers and non-dancers alike.

— Eliza Minden, author of The Ballet Companion and Co-Founder and Head of Design at dancewear company Gaynor Minden, Inc.

[Misty Copeland's] book is a breezy read for such deep subject matter, but her beautiful and prevailing spirit shines through on every page.
— The Inlander

Reading her memoir...it becomes even more apparent how this 31-year-old woman has parlayed her natural talent along with an uber intense discipline, passion and focus, into a stellar career.
— The NWI Times

Misty Copeland's LIFE IN MOTION is an inspiration to all young people. She is the Jackie Robinson of the ballet world, and a true role model for an entire generation of new ballerinas.

— Frank Sanchez, Vice President, Boys & Girls Clubs of America

[LIFE IN MOTION] is the stuff of which movies are made.
— Chicago Sun-Times

What a remarkable, encouraging story. Written naturally, modestly, and conversationally...[readers will] feel her triumphs and tragedies, wincing whenever she falls and cheering her on every time she gets back up….Brava, Misty.
— Bildungsroman

A tale of hardship and remarkable success.
— Los Angeles Magazine

A poignant primer proving the power of perseverance in the face of adversity.
— The LA Sentinel

An important book for teen collections.
— Angela Carstensen

Told in graceful prose...[Copeland's] achievements will encourage all those attempting to beat the odds in competitive fields.
— Publishers Weekly

A page-turner...fascinating and emotional.
— The Philadelphia Enquirer

[Parts] the curtain on the ballet's central illusion: that it is empowering for the female dancers at its centre. Providing a behind-the-scenes look at the glory and gore of ballet...you find yourself rooting for her.
— Deidre Kelly

A gift to all balletomanes, not just the brown ones.
— Esther Cepeda

Misty's unwavering belief that we can be anything that we dream is an inspiration – an inspiration to break the mold, follow your passion, never take no for an answer and do it all with grace, kindness and the spirit to help others on their journey. I am thrilled that my two daughters have a role model in Misty, who is breaking down doors that that they will never have to.
— Rachel Roy
Touchstone, 9781476737980, 288pp.
Publication Date: March 4, 2014
About the Author
Misty Copeland made history by becoming the third African-American ballerina for the American Ballet Theatre, the first in decades. A recipient of the Leonore Annenberg Fellowship in the Arts and an inductee into the Boys and Girls Club Alumni Hall of Fame, she currently lives in New York City. Visit her online at MistyCopeland.com.
or
Not Currently Available for Direct Purchase