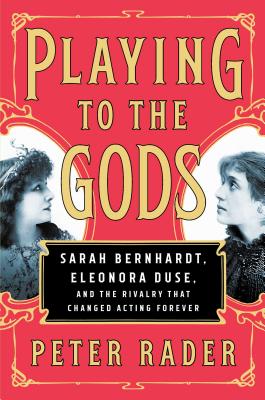 Playing to the Gods (Hardcover)
Sarah Bernhardt, Eleonora Duse, and the Rivalry That Changed Acting Forever
Simon & Schuster, 9781476738376, 288pp.
Publication Date: August 21, 2018
Other Editions of This Title:
Digital Audiobook (8/20/2018)
Paperback (8/13/2019)
Compact Disc (8/21/2018)
* Individual store prices may vary.
Description
The riveting story of the rivalry between the two most renowned actresses of the nineteenth century: legendary Sarah Bernhardt, whose eccentricity on and off the stage made her the original diva, and mystical Eleonora Duse, who broke all the rules to popularize the natural style of acting we celebrate today.

Audiences across Europe and the Americas clamored to see the divine Sarah Bernhardt swoon—and she gave them their money's worth. The world's first superstar, she traveled with a chimpanzee named Darwin and a pet alligator that drank champagne, shamelessly supplementing her income by endorsing everything from aperitifs to beef bouillon, and spreading rumors that she slept in a coffin to better understand the macabre heroines she played.

Eleonora Duse shied away from the spotlight. Born to a penniless family of itinerant troubadours, she disappeared into the characters she portrayed—channeling their spirits, she claimed. Her new, empathetic style of acting revolutionized the theater—and earned her the ire of Sarah Bernhardt in what would become the most tumultuous theatrical showdown of the nineteenth century. Bernhardt and Duse seduced each other's lovers, stole one another's favorite playwrights, and took to the world's stages to outperform their rival in her most iconic roles.

A scandalous, enormously entertaining history full of high drama and low blows, Playing to the Gods is the page-turning account of the feud that changed theater forever.
About the Author
Peter Rader is a writer, director, producer, cinematographer, and editor who has worked for Hollywood's leading film and television studios over a career spanning three decades. The author of Playing to the Gods and Mike Wallace: A Life, he has mentored writers and taught classes and workshops at the Los Angeles Film School, the California State University system, and Harvard University. He lives in Los Angeles with his wife and two sons.
Praise For Playing to the Gods: Sarah Bernhardt, Eleonora Duse, and the Rivalry That Changed Acting Forever…
"Thrilling [and] deeply researched. [Rader] has a sizzling way of delivering 100-year-old scandals."
— The New York Times Book Review

"Riveting."
—Bustle

"Playing to the Gods is the best sort of dual biography, deftly intertwining the lives of two fascinating people. Rader masterfully plays these powerful women off each other. This is the book for all of us who binge-watched Feud."
—Daniel de Visé, author of Andy & Don: The Making of a Friendship and a Classic American TV Show

"Rader's fluid narrative moves from stage to boudoir with grace and intrigue, pitting two great theater rivals against one another in an epic battle of styles that elevates both to the iconic status they deserve."
—Michael Sucsy, writer, director, and producer of Grey Gardens

"Playing to the Gods argues that the Duse-Bernhardt rivalry, dragging on for years, was more than just personal, it was crucial to the art of modern acting.... [Rader] has done his research and he clearly has sympathy for his leading ladies."
— The Wall Street Journal

"Writing in a style both humorous and romantic, and throwing in juicy tidbits (catty notes, cheating lovers) all along.... This entertaining chronicle illustrates how both women captivated audiences and made a lasting impact on the theater."
—Publishers Weekly

"Palpably sensuous. Rader brings surging back to life two 19th century theatrical titans and the world they inhabited. Bravo!"
—Scott Eyman, bestselling author of Hank and Jim: The Fifty-Year Friendship of Henry Fonda and James Stuart

"Theater buffs will love the way Rader captures a global moment in theater—Ibsen, Chekhov, and Shaw all make appearances. A fascinating and thoroughly enjoyable book."
—Booklist

"Lovers of theater and theater history will devour this book, an entertaining and immaculate look at a time that in many ways served as the primordial beginnings of the modern stage."
—The Maine Edge

"Delightfully readable and informative, Rader's book examines a rivalry that defined modern theater while also exploring the origins of modern celebrity culture. A well-researched and thoroughly entertaining dual biography."
—Kirkus Reviews

"Entertaining and insightful. Rader has taken two legendary figures from theater's past and put flesh on their bones—bringing them to life, charting their amazing careers, and illuminating their impact on the modern stage."
—Richard Zoglin, author of Hope: Entertainer of the Century