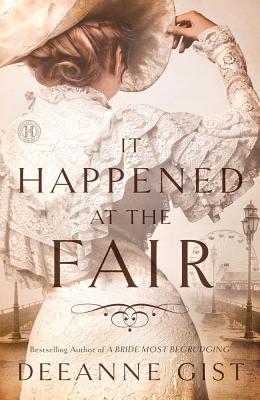 It Happened at the Fair (Hardcover)
Howard Books, 9781476738499, 432pp.
Publication Date: April 30, 2013
* Individual store prices may vary.
or
Not Currently Available for Direct Purchase
Description
A transporting historical novel about a promising young inventor, his struggle with loss, and the attractive teacher who changes his life, all set against the razzle-dazzle of the 1893 Chicago World's Fair. Gambling everything--including the family farm--Cullen McNamara travels to the 1893 Chicago World's Fair with his most recent invention. But the noise in the fair's Machinery Hall makes it impossible to communicate with potential buyers. In an act of desperation, he hires Della Wentworth, a teacher of the deaf, to tutor him in the art of lip-reading. The young teacher is reluctant to participate, and Cullen has trouble keeping his mind on his lessons while intently watching her lips. Like the newly invented Ferris wheel, he is caught in a whirl between his girl back home, his dreams as an inventor, and his unexpected attraction to his new tutor. Can he keep his feet on the ground, or will he be carried away? *** Cullen whistled and whipped off his hat, swinging it in the air, just like acres and acres of like-minded citizens. A hundred thousand handkerchiefs appeared, fluttering in the breeze like a sudden fall of snowflakes. With an exaggerated flourish, Cleveland pushed down the golden telegraph key and set off a chain reaction. Old Glory, whose silken folds had been bound, whipped open to catch the razor-sharp breeze. A massive cheesecloth veil fell from a ninety-foot gilded figure of the Republic posing in the waters of the Basin. A halo of electric lamps illuminated her crown. Her uplifted arms held a staff of Liberty and an eagle with wings spreading over the court. . . . The crowd quieted, momentarily awed into stillness, before letting out a cheer that lasted minutes. Then, like a lightning bolt fracturing the sky, they broke apart and dashed in a thousand directions, hurrying to take in the wonders set before them. The 1893 World's Columbian Exposition had officially begun.
Praise For It Happened at the Fair…
"Gist's work is comical, sassy, and sweet."



"Gist's historical romances have increasingly gained popularity, combining witty dialog, well-balanced plots, and fully developed characters who seem almost real."



"Gist takes intriguing historical facts and creates a world of fascinating characters, lighthearted moments, and timeless crises that we can still relate to today. A keeper!"



"With her knowledge of history, attention to detail, and lively humor, talented Gist has written a story about a man at the end of his rope and a very stubborn woman sure to delight readers."
Advertisement