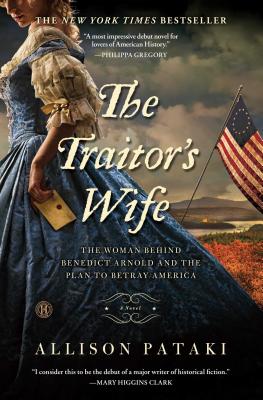 The Traitor's Wife (Paperback)
A Novel
Howard Books, 9781476738604, 496pp.
Publication Date: February 11, 2014
Other Editions of This Title:
Digital Audiobook (4/28/2014)
Prebound (2/11/2014)
Hardcover, Large Print (8/6/2014)
Paperback, Large Print (7/16/2014)
* Individual store prices may vary.
Description
A riveting historical novel about Peggy Shippen Arnold, the cunning wife of Benedict Arnold and mastermind behind America's most infamous act of treason...

Everyone knows Benedict Arnold—the Revolutionary War general who betrayed America and fled to the British—as history's most notorious turncoat. Many know Arnold's co-conspirator, Major John André, who was apprehended with Arnold's documents in his boots and hanged at the orders of General George Washington. But few know of the integral third character in the plot: a charming young woman who not only contributed to the betrayal but orchestrated it.

Socialite Peggy Shippen is half Benedict Arnold's age when she seduces the war hero during his stint as military commander of Philadelphia. Blinded by his young bride's beauty and wit, Arnold does not realize that she harbors a secret: loyalty to the British. Nor does he know that she hides a past romance with the handsome British spy John André. Peggy watches as her husband, crippled from battle wounds and in debt from years of service to the colonies, grows ever more disillusioned with his hero, Washington, and the American cause. Together with her former love and her disaffected husband, Peggy hatches the plot to deliver West Point to the British and, in exchange, win fame and fortune for herself and Arnold.

Told from the perspective of Peggy's maid, whose faith in the new nation inspires her to intervene in her mistress's affairs even when it could cost her everything, The Traitor's Wife brings these infamous figures to life, illuminating the sordid details and the love triangle that nearly destroyed the American fight for freedom.
About the Author
Allison Pataki is the New York Times bestselling author of four fiction novels and one nonfiction memoir. Allison's books have been translated into more than a dozen languages. A former news writer and producer, Allison graduated cum laude from Yale University with a major in English. An avid traveler and reader, Allison lives in New York with her husband, children, and rescue pup. To learn more and connect with Allison, please visit AllisonPataki.com.
Praise For The Traitor's Wife: A Novel…
"A most impressive debut."
— Philippa Gregory

"One of the best, best, best historical novels, I was riveted…I couldn't put it down."
— Kathie Lee Gifford, The TODAY Show

"Pataki smoothly weaves intrigue and personality with critical historical facts...Historical fiction lovers will look forward to more from this promising new novelist."
— Publisher's Weekly

"A well-balanced narrative… events offers fresh perspective, plenty of intrigue and a host of interesting, multidimensional characters."
— Kirkus (starred review)

"If you read one book this year, make it Allison Pataki's THE TRAITOR'S WIFE. Few authors have taken on America's Revolutionary War so convincingly, and this story of Benedict Arnold's wife will appeal to lovers of historical fiction everywhere. Highly, highly recommended!"
— Michelle Moran, international bestselling author of Madame Tussaud

"Allison Pataki's captivating debut novel examines history's most famous tale of treachery through a woman's eyes. Meticulously written and well-researched, this story will transport you back to the American Revolution and keep you turning pages with both its intrigue and love story. The Traitor's Wife is a well-told tale."
— Lee Woodruff, author, blogger and television personality

"I consider this to be the debut of a major writer of historical fiction."
— Mary Higgins Clark

"The Traitor's Wife is a gripping novel steeped in compelling historical detail. Pataki writes lyrically and succeeds in bringing to life, and humanizing, notorious characters from our nation's past. Ultimately a story about honor and heart, readers will have a hard time putting this book down."
— Aidan Donnelley Rowley, author of Life After Yes

Allison Pataki has given us a great gift: a powerful story of love and betrayal, drawn straight from the swiftly beating heart of the American Revolution. Replete with compelling characters, richly realized settings, a sweeping plot, and a heroine who comes to feel like a dear, familiar friend, The Traitor's Wife is sure to delight readers of romance and lovers of history alike.
— Karen Halvorsen Schreck, author of Sing For Me

"Everything the casual reader of American history thinks they know about Benedict Arnold will be handily upset by the skillful and mesmerizing storytelling of fiction newcomer Allison Pataki. This text is a treasure and a treat."
— CBA Retailers and Resources
Book Videos