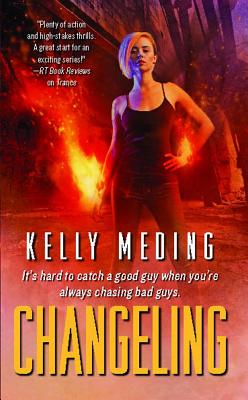 Changeling (Paperback)
Glly - Gallery Books, 9781476738857, 384pp.
Publication Date: April 4, 2016
* Individual store prices may vary.
Description
The second in a new series by popular urban fantasy author Kelly Meding, about an X-Men-like group of young people with superpowers who must find a way to work together. Five months ago, Dahlia Perkins was a struggling newspaper journalist whose biggest responsibility was paying her rent on time. After learning she has the ability to absorb and deflect massive amounts of heat and fire, Dahlia is struggling to find her place as the newest hero in an established team of former Rangers freelancing their abilities in post-Meta War Los Angeles.
The team's first major case: two discarded human skins. One is a John Doe, the other was a janitor for Weatherfield R&D, a scientific research and development firm Dahlia once investigated--and she's itching to investigate them again. The ability to use and shed another person's skin isn't a power any of them have encountered before, nor something any of their former Meta enemies possess. But when a third skin appears and one of Dahlia's teammates is nearly killed by an assassin's bullet, it's clear someone else besides Weatherfield is targeting the Rangers--and their killer may not be Meta at all.
About the Author
Kelly Meding received her Bachelor's Degree in Communication in 2002 and she hasn't used it since, preferring instead to wile away her non-writing hours on the sales floor of a national retail chain. When not writing, she can be found crafting jewelry, enjoying a good cup of coffee, or scouring the Internet for gossip on her favorite television shows. She is the author of the Dreg City series.