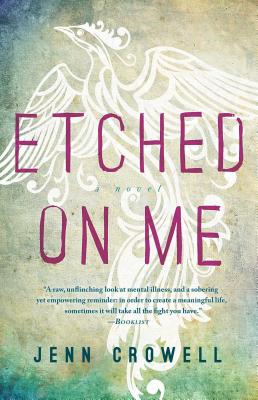 Etched on Me
A Novel
Paperback

* Individual store prices may vary.
Description
Girl, Interrupted meets Best Kept Secret in this riveting, redemptive coming-of-age story about a young woman who overcomes a troubled adolescence, only to lose custody of her daughter when her mental health history is used against her.

On the surface, sixteen-year-old Lesley Holloway is just another bright new student at Hawthorn Hill, a posh all-girls' prep school north of London. Little do her classmates know that she recently ran away from home, where her father had spent years sexually abusing her. Nor does anyone know that she's secretly cutting herself as a coping mechanism...until the day she goes too far and ends up in the hospital.

Lesley spends the next two years in and out of psychiatric facilities, where she overcomes her traumatic memories and finds the support of a surrogate family. Eventually completing university and earning her degree, she is a social services success story—until she becomes unexpectedly pregnant in her early twenties. Despite the overwhelming odds she has overcome, the same team that saved her as an adolescent will now question whether Lesley is fit to be a mother. And so she embarks upon her biggest battle yet: the fight for her unborn daughter.
Praise For Etched on Me: A Novel…
"With its deft plotting, rich characterization and often hilariously poignant dialogue, Crowell's latest is a gem."
— Kirkus Reviews

"Readers will cheer for Lesley's progress in this against-all-odds, sometimes grueling, suspenseful, and character-rich tale of individuation. Bringing to mind Susanna Kaysen's memoir Girl, Interrupted or Jeffrey Eugenides's The Virgin Suicides, Crowell's novel darkly fascinates."
— Library Journal

"At turns heartbreaking and difficult to read, this is a raw, unflinching look at mental illness and one girl's one-step-forward, two-steps-back attempts to claw herself out from under. It's a sobering, yet empowering reminder: in order to create a meaningful life, sometimes it will take all the fight you have."
— Booklist

"Etched on Me is one of the first authentic, searing portraits of a young woman's all-out fight for her sanity since I Never Promised You a Rose Garden. There is not one false note in this stark, frightening, and tender story. You will not forget Lesley, or her trials and triumph."
— Jacquelyn Mitchard

"Lesley is set to become your favorite steel-boot-sporting, Kate Bush-loving, self profressed "queer" single mother of all time. Her story will resonate with anyone who understands what it's like to do battle with your mind while simply trying to remember to take a breath and just be here."
— Curve Magazine

"Etched on Me reinvents the "coming-of-age" novel by making the body of a young woman the center of the drama... As she beats back the abuse from her past and the self-destruction driving her, she discovers there is something alive in her bigger than her rage and hurt. What she has to fight for next will break your heart--just as it should--because what we tell females about themselves is a story that can indeed make or break them. Jenn Crowell will open your eyes with this tale of how the body and heart of a girl can, on her own terms, become that of a woman."
— Lidia Yuknavitch

"I read the entire novel at a sitting and loved it. In fact, I think it's remarkable. Humane, insightful, intelligent, unflinching. There's such warmth here too, the very best and the very worst of which human beings are capable. The narrator makes delightful and engaging company (I'm kind of a bit in love with her) and the story is utterly compelling. I just HAD to read on to find out what happened in the end; it really mattered to me because Crowell made it matter, and that's what great writing can do. The world would be a better place if everyone read this book."
— Clare Allan

"Jenn Crowell fuses compelling social drama, page-turning stay-up-past-midnight storytelling, and unforgettable characters in this honest, smart novel. Lesley's transformation from being defined by her abusive father, to grasping for and accepting strength from the social services in which she could have drowned will, without an ounce of sugarcoating, melt away your preconceptions and steal your heart."
— Randy Susan Meyers

"Etched on Me is what you call a comeback. The mature Jenn Crowell writes with a razor's edge."
— Madison Smartt Bell, author of All Souls' Rising

"Filled with moments of biting humor and sharp insight…I couldn't put it down."
— Amy Hatvany

"In Lesley Holloway, Crowell has created a protagonist whom I wish I could meet off the page. Confronted with abuse, stigma, and shame, Lesley takes real risks to do more than survive her circumstances: she changes them. Along the way, Lesley draws strength from a small but hardy cast of supporting characters we'd also all benefit from knowing in everyday life. In the hands of an author lacking Crowell's skill, the novel might risk falling into stereotype and caricature. But Crowell deftly maintains control—unflinching, authentic, and empathic—throughout."
— Erika Dreifus

"Jenn Crowell has written a miracle of a novel, full of grit and grace; her Lesley Holloway is a character for the ages—wry and whip smart and achingly real. This book will forever be etched upon my heart."
— Gayle Brandeis

"A harrowing and riveting story of a young woman struggling against inner and outer destructive forces to find peace, equanimity and connection. Crowell has written a moving psychological thriller that offers us deep insights into the legacies of trauma and the difficulties of moving forward. It's a wonderful novel."
— Leonard Chang
Washington Square Press, 9781476739069, 336pp.
Publication Date: February 4, 2014
About the Author
Jenn Crowell is the critically acclaimed author of the novels Necessary Madness and Letting the Body Lead. She holds an MFA in creative writing and lives near Portland, Oregon, with her husband and daughter.
or
Not Currently Available for Direct Purchase