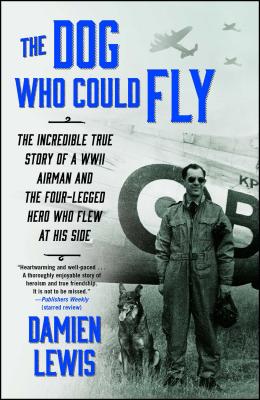 The Dog Who Could Fly (Paperback)
The Incredible True Story of a WWII Airman and the Four-Legged Hero Who Flew At His Side
Atria Books, 9781476739151, 304pp.
Publication Date: July 21, 2015
* Individual store prices may vary.
Description
"A thoroughly enjoyable story of heroism and true friendship" (Publishers Weekly, starred review), this Sunday Times top ten bestseller is the true account of a German shepherd who was adopted by the Royal Air Force during World War II, flying countless combat missions and surviving everything from crash-landings to parachute bailouts—ultimately saving the life of his owner and dearest friend.

In the winter of 1939 in the cold snow of no-man's-land, two loners met and began an extraordinary journey that would turn them into lifelong friends. One was an orphaned puppy, abandoned by his owners as they fled Nazi forces. The other was a different kind of lost soul—a Czech airman bound for the Royal Air Force and the country that he would come to call home.

Airman Robert Bozdech stumbled across the tiny German shepherd—whom he named Ant—after being shot down on a daring mission over enemy lines. Unable to desert the puppy, Robert hid Ant inside his jacket as he escaped. In the months that followed, the pair would save each other's lives countless times as they flew together with RAF Bomber Command. Finally grounded after being injured on a flight mission, Ant refused to abandon his duty, waiting patiently beside the runway for his master's return from every sortie, and refusing food and sleep until they were reunited. By the end of the war, Robert and Ant had become true war heroes, and Ant was justly awarded the Dickin Medal, the "Animal VC."

With beautiful vintage black-and-white photos of Robert and Ant, The Dog Who Could Fly is a deeply moving story of loyalty in the face of adversity and the unshakable bond between a man and his best friend.
About the Author
Damien Lewis is a lifelong dog lover and award-winning writer who has spent twenty years reporting from war, disaster, and conflict zones for the BBC and other global news organizations. He is the bestselling author of more than twenty books, including several acclaimed memoirs about military working dogs—Sergeant Rex, It's All About Treo, Judy, and The Dog Who Could Fly.
Praise For The Dog Who Could Fly: The Incredible True Story of a WWII Airman and the Four-Legged Hero Who Flew At His Side…
"Heartwarming and well-paced... Lewis takes readers on a roller-coaster ride with as many ups and downs as a bombing mission... A thoroughly enjoyable story of heroism and true friendship, and for lovers of WWII history and animals it is not to be missed."

"A great war story, packed with excitement and suspense. But it's the love between the two aviators, man and dog, that will linger in your mind."
— Spencer Quinn, New York Times bestselling author of Dog On It

"A gripping war story and an utterly heartfelt narrative... A stirring drama of WWII that dog lovers will not be able to resist."

— Booklist

"Fasten your seatbelt, this fast-moving World War II docudrama keeps you on edge from cover to cover – with an intoxicating blend of tension and passion, from air raids over Europe to blackouts in England and Scotland."

"A real gem of modern history, both poignant and beautifully told."

"Truly epic... Reveals just how deep the bond between man and dog can be... A story of animal bravery which is unlikely to be repeated."

"A story of love and loyalty guaranteed to capture hearts."

"You'll be wiping the tears from your eyes as you read the story of this orphaned puppy... Damien Lewis has written a tearjerker to touch the heart of even the most hardened member of the anti-dog brigade."

"Uplifting... Their bond [is] testament to the relationship forged between man and dog."